UPDATE: The Kodak-Trump loan scandal continues, as the attorney general of New York is suing the company and its executive chairman for insider trading over the $765 million loan received from the Trump administration last year.
In July 2020, Kodak received the enormous grant from the United States government in order to produce domestic drugs to combat the coronavirus outbreak. Subsequently, its share price rocketed almost 3,000%.
• Read more: Kodak Step review
However, the company's CEO and executive chairman Jim Continenza purchased 47,000 immediately preceding the deal – leading to an investigation by the US International Development Finance Corporation last year, which initially halted the loan, and now the new insider trading lawsuit.
"In a statement provided to Reuters, Kodak said Continenza did not possess material nonpublic information when he purchased his shares and 'did not engage in insider trading'," reports Reuters.
While the Kodak declined to make him available for comment, it did add that, "Continenza has also regularly purchased stock during internally approved time windows, which included the June 2020 trades, and has never sold his shares".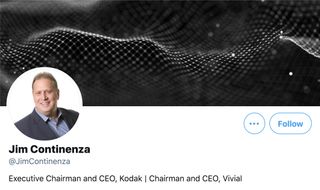 UPDATE (09 Dec 2020): Following an investigation by the US International Development Finance Corporation (DFC), no wrongdoing has been found with regard to Kodak's receipt of a $765 million grant from the US government.
Awarded in July 2020, Kodak was awarded the loan in order to produce domestic generic drugs to fight the coronavirus pandemic (rather than leaning on imported foreign treatments), leading to a near 3,000% jump in stock price.
However, the grant was halted after it was discovered that Kodak's CEO and executive chairman, Jim Continenza, received stock options just a day prior to the announcement being made.
According to The Wall Street Journal, though, the DFC found no evidence of wrongdoing on Kodak's part, which should allow for the grant to proceed as planned. Consequently, the company's stock price jumped by a more modest but still impressive 80% following the news.
…
ORIGINAL STORY (30 Jul 2020): Earlier this week Kodak secured a $765M loan from the US government in order to pivot to producing ingredients for generic drugs used to fight coronavirus. Ever since the announcement was made on Tuesday, Kodak's share price has risen exponentially, giving the company the biggest boost it's received in the past couple of decades.
This sudden change in Kodak's fortunes won't only please the company executives – anyone with the foresight to invest in Kodak before this announcement will have seen their stock rise by over 2,000%. On Monday night, Kodak stock closed at $2.62, but after the announcement it hit an impressive peak of $60.00.
• Read more: Best film cameras
Jim Continenza, Executive Chairman of Kodak, said, "Kodak is proud to be a part of strengthening America's self-sufficiency in producing the key pharmaceutical ingredients we need to keep our citizens safe."
Out of all of the film photography-related companies, Kodak arguably suffered the most when the digital camera revolution hit. Just eight years ago, Kodak filed for bankruptcy protection and began to sell off assets in order to stay afloat. One of Kodak's main strategies over the past few years seems to have been to license out its name to outside companies. This has lead to the Kodak name splashed across a variety of ventures, including iPhone accessories, 3D printers and even Bitcoin (yes, really).
This $765M loan from the US government could be exactly what Kodak has been needing to turn the company around and make it profitable. However, only time will tell if Kodak is able to permanently change its fortunes with this much-needed injection of cash.
Read more:
Best film: our picks of the best film for your camera
Best film scanners: give your cherished negatives and slides new life
Best digital instant cameras: hybrid cameras and instant printers