Image: Matt Emmett
The Historic Photographer of the Year competition is now open for entries, offering photographers the chance to win up to £1,000 with images of historically or culturally significant places.
Last year, photographer Matt Emmett won the judges' top prize with an image of Nocton Hall Military Hospital in Lincolnshire (above). The winner of the public vote was Jenna Johnston with a shot of Jedburgh Abbey, a building dating back to the 12th Century.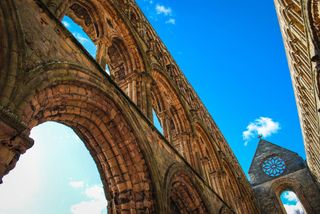 Judges for this year's competition include TV historian Dan Snow, CEO of Trip Historic Mike Lewis and CEO of Historic England Duncan Wilson.
Photographers from all around the world can enter, whether amateur or professional, and video shooters are also catered for with a new 'HISTORY Short Filmmaker of the Year' category. 'English History' is another new category on the list.
Images will be judged on originality, composition and technical proficiency. Also factored in will be "the story behind the submission and its historical impact", meaning it's vital to think about where you want to take your shot, and do some research into its history.
First prize is £1,000, and the winning photographer's image will also be widely published in the media. The competition will be open for entries until 30 September 2018, so you'll have plenty of time to plan out your winning entry. If you need some inspiration or tips, there are plenty of resources available at the competition's dedicated photographer's site, here.
Award's judge Dan Snow said, "Exploring the history around us truly opens our eyes to the wonders that sit on our doorstep. Last year's awards were a testament to that experience, as the quality of entries was not only astounding but also highlighted a host of incredible historic places across the globe. And with this year's awards now even bigger and better, there's never been a more exciting opportunity to get out exploring to capture those inspirational places from the past."
For full details, and to submit your entry, head to the competition's official website.
Read more: Nikon SLR cameras: A visual history