For more than 50 years, Nikon has led the way when it comes to SLR design and performance. From the legendary Nikon F which single-handedly started the system camera revolution, to a full-frame SLR dedicated to astrophotography, Nikon cameras have always been at the cutting edge.
This high-resolution infographic, courtesy of the Nikon magazine, N-Photo, shows the 50 Nikon SLRs that shaped the future of photography.
For some of us it will be like a trip down memory lane as we rediscover the cameras that ignited our passion for photography, while for others it will be a reminder that photography is not just about digital cameras, and that the design of the cameras we use today is driven by decades of photographic innovation and development.
We have an especially soft spot for the Nikon FM2. Why? Because Nikon has based two of its contemporary DSLRs on this iconic design. The full frame Nikon Df has now been phased out, but Nikon has now introduced the Nikon Z fc, a new mirrorless model with a classic retro film camera look but thoroughly modern digital technology inside.
Click on the image below to see the high-res version.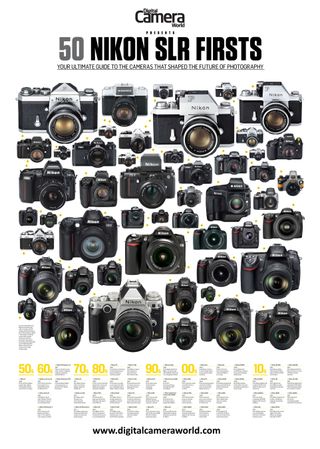 For more Nikon news, reviews, and inspiration, join N-Photo's Facebook page or subscribe to the award-winning magazine.