At last! Google has now officially announced the Pixel 6 and Pixel 6 Pro! It comes shortly after Google's reveal of the upcoming Android 12 operating system which will debut on Pixel 6 phones and brings with it a host of new interface features.
Up to now we've had to make do with unofficial concept renders of what the phone would potentially look like, but Google has revealed that these renders were pretty much correct all along: the Pixel 6 will arguably the best looking Pixel phone in the family's eight year history.
But don't get too excited. The recent Pixel 6 'launch' doesn't reveal all the features and specs of the upcoming handsets. It's more of a teaser to keep us interested until the full product launch this Autumn/Fall.
Here's everything we now know about the Pixel 6 phones....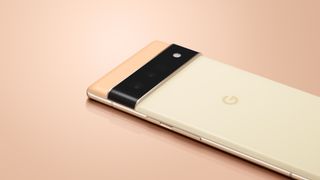 The line-up
There are two versions of the phone. Last year Google released the Pixel 5, but there was not large-screen Pixel 5 XL model to be seen to replace the Pixel 4 XL. The bigger version will ditch the old XL moniker and will be known as the Pixel 6 Pro, presumably to compete directly with the upcoming iPhone 13 Pro.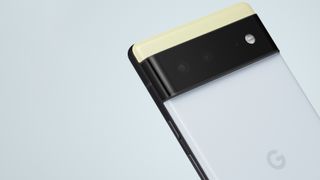 Styling
As we'd suspected from serial smartphone leaker Jon Prosser and his preview renders, Google has created a whole new design for the exterior of the Pixel 6 and Pixel 6 Pro.
• The most obvious design feature is the bridge-like camera unit on the back of the phone - which looks a bit like the visor used by Star Trek character Jordi Laforge. It is a big bump, and not as we know it - but which sets the designed tone of the new handset.
• There are colored versions of the phone. Rather than the Pixel being available in any color you like as long as you choose black, it will now be available in Apple-like shades including pastel shades of pink, gold and cool green. Google calls the new look 'Industrial Design', with the Pixel 6 sporting a matte aluminium finish, and the 6 Pro featuring a light polished aluminium frame.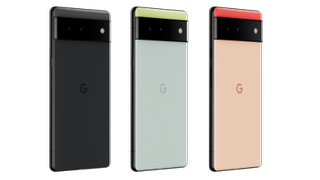 Cameras and screens
• The standard Pixel will feature a a 6.4-inch display with dual rear-facing cameras - a wide and an ultra-wide snapper. The top-tier Pixel 6 Pro (think Pixel XL in the old Pixel naming scheme) gets an additional telephoto camera, set behind a 6.7-inch screen sporting a smooth 120Hz refresh rate. Both models will be substantially larger that then current 6-inch Pixel 5.
• There is a punch-hole selfie camera on the front of the Pixel 6. This means that the under-screen camera technology we know Google is working on won't appear this year.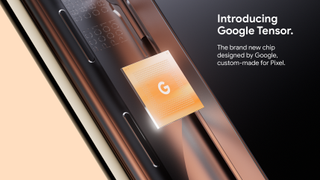 Radical new hardware
It's not just the exterior that marks a major change for Google. Pixel 6 will be the first Pixel phone to pack a brand new, in-house System on Chip developed by Google. Yes, just as Apple designs its own A-series chipsets for iPhone, Google has revealed it's been working on its own mobile chipset, named Tensor.
As yet, little is known about the design or precise features of the Tensor SoC - Google simply states that the hardware has been customised to enable better implementation of its existing computational photography models, as well as enabling new features which harness AI and machine learning.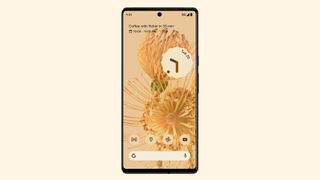 Android 12
Pixel 6 phones will run Android 12, while will feature Google's upcoming 'Material You' design language. This is said to "mix color science with years of work in interaction design and engineering ... to make using your Pixel feel incredibly natural because everything runs smoothly on the Tensor chip" Expect interface highlights like a larger home screen clock that adapts it size according to the number of on-screen notifications, as well as improved UI responsiveness and improved battery life.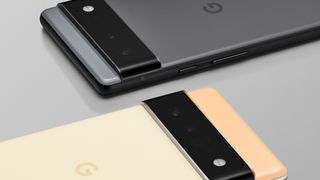 Pricing and availability
The full launch date for the Pixel 6 hasn't yet been revealed - we've only been told it'll be this Autumn/Fall. What we do know is that Google is repositioning the Pixel phone from the current Pixel 5's upper-mid-range status to that of a true, out-and-out flagship to rival the the iPhone Pro and Galaxy S. Pixel 6 and 6 Pro pricing is also yet to be officially announced, but in the case of the 6 Pro, we'd bet you won't get much (if any) change from a four-figure price tag.
Read more:
• Best camera phone in 2021
• Best budget camera phones
• Best iPhone for photography
• Best burner phone
• Best 5G phone
• Best phablets
• Best flip phones
• Best phablets