Happy Star Wars Day! As well as greeting fellow fans with the customary "May the fourth be with you," we thought we'd share a bit of trivia with you: did you know that the second most expensive piece of Star Wars memorabilia ever sold is none other than the Panavision camera used by George Lucas to shoot the very first film, Star Wars – Episode IV: A New Hope?
George Lucas' Panavision PSR-200 35mm camera was used to shoot the original Star Wars back in 1976 (before it had a the chapter and subtitle added to it). Some 35 years later, it was sold at an auction in Beverly Hills by Profiles in History fetching a cool $625,000 (£474,360 / AU$918,774) in 2011 (thanks, Robb Report).
Aside from the unique distinction of this particular camera, the Panavision PSR-200 was quite an exclusive camera in its own right, as only 29 of them were manufactured. Even a standard, non-Star Wars-related outfit (including Super Panazoom lens, tripod with gear head, magazine, matte box and motor) still commands $150,000 online (£113,846 / AU$220,506).
Still, despite its $625,000 price tag, somehow the actual camera used to film one of the most culturally significant movies of all time is only the second most expensive piece of Star Wars memorabilia. And the most expensive? That honor goes to the most famous Dark Lord of the Sith himself.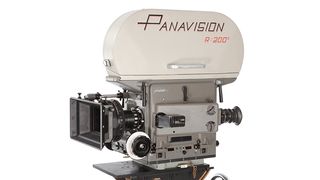 While the PSR-200 enabled you to see through the same lens that filmed Star Wars, that's not nearly as cool as seeing through the actual helmet of Darth Vader. Which is why Darth Vader's helmet, from Star Wars – Episode V: The Empire Strikes Back is the most expensive Star Wars item ever sold, at a star-destroying $900,000 (£683,071 / AU$1,322,723).
In fact, with auction fees, it is believed that the helmet (worn by Darth Vader performer David Prowse) actually fetched over a million bucks when all was said and done in its iCollector listing.
If you would like to own (or gift) your own Star Wars camera, albeit one that wasn't used by George Lucas, you should check out the Mandalorian Polaroid Now camera and film. It may not have shot Episode IV, but it's a much more affordable Star Wars collectible!
And of course, it's worth pointing out that you can watch A New Hope – along with The Mandalorian, and 7 Marvel movies shot on Canon cameras – on the Disney Plus streaming service.
Christmas gift guides:
• Photography lover gifts for Christmas: Quirky & unusual Christmas camera gifts
• The 47 best Christmas gifts for photographers
• The best stocking stuffers for photographers