Update: Fuji Rumors has reported that the new Fujifilm X-T4 will be receiving a brand new battery that we've never seen before. Apparently, Fujifilm has been using the same NP-W126 battery for their Fujifilm X MILC system since 2012. Aside from a minor improvement from the X-T2 to the X-T3 due to a more energy efficient processor, there hasn't been much significant change.
However, that will all change with the release of the Fujifilm X-T4. This completely new battery won't be the NP-W126, nor the GFX NP-T125 battery either. We can only assume that it's been designed specifically for the X-T4 system to give users more efficient batteries. This will come as welcome news to Fujifilm fans, who have been calling for better battery life for years now.
ORIGINAL STORY:
The Fujifilm X-T4 has received a lot of online attention recently, with leaks springing forth so frequently it might as well be a colander. However, this latest batch of rumors is particularly interesting.
• Read more: Best Fujifilm camera
Apparently, the Fujifilm X-T3's successor will not only have IBIS (something that was conspicuously missing from its predecessor), but will also have an improved battery life and "best in class" EVF.
These rumors were reported by Fuji Rumors, who did caution to take the information with a grain of salt as it came from an anonymous source.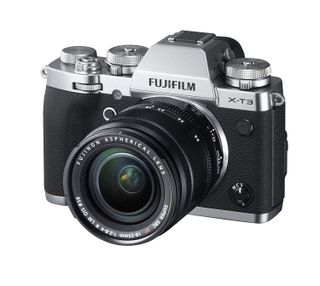 We had already heard about the inclusion of IBIS in the Fujifilm X-T4, but the other two tidbits of information are new - and certainly very interesting. One of the biggest questions we have about these juicy new rumors relates to the improved battery life. Does this mean that Fujifilm have been able to squeeze new levels of efficiency out of the existing X-T3 batteries, or will we be receiving a brand new battery shape?
If there will be an entirely new battery for the Fujifilm X-T4, this then raises the question about what this would mean about the body of the camera. A larger battery would either require some internal juggling, or a larger camera body. Currently the Fujifilm X-T3 has quite a slim profile, with a relatively small grip.
In our opinion, increasing the size of the grip and providing the camera with a larger battery that lasts for longer could be a win-win situation. While we appreciate that the traditional draw of mirrorless cameras is that they're small and light, the Nikon Z7 proves that you can have a small camera with a decent ergonomic grip.
While these rumors may prove to be false, they're certainly very interesting. The Fujifilm X-T4 is due to be released in February, so it won't be long until we find out exactly what improvements have been made on the X-T3.
Read more
Best Fujifilm lenses: perfect zoom and prime lenses for your X-mount camera
Fujifilm GFX 100 vs GFX 50S: key differences between the two cameras
Best medium format camera: big sensor cameras for experts and pros