Designed specially for mirrorless systems, DJI's Ronin-SC is itself smaller and lighter than the DSLR-focused Ronin-S. And that means it's a lot easier on the arms when you need to shoot all day.
Weighing in at just 971g, its portability is enhanced by how easy it is to take apart and put back together.
The 3-axis stabilisation system is capable of handling up to 2kg of payload, so you get professional-grade, smooth footage each and every time. Moreover, an in-built battery with up to 11 hours of power will keep you on track if you're following a tight schedule.
The Ronin-SC takes it up a notch with locks on the pan, tilt and roll axes, making it easy to balance a camera. An update to the companion app has brought a new Force Mobile mode that syncs the movement of the gimbal to your phone for better control.
In addition, the new Active Track feature on the app allows users to select a subject to follow, and the Ronin-SC does the rest, thanks to deep-learning algorithms.
So take the weight off and get yourself this excellent gimbal stabiliser for 21% off on the Pro Combo pack when shopping on Amazon.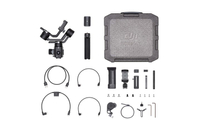 DJI Ronin-SC Pro Combo | AU$559 (RRP AU$709; save AU$150)
Shipping with the focus wheel, focus motor and the rod mount, along with an RSS splitter and gear strip, the Ronin-SC Pro Combo is the complete filmmaker's kit for mirrorless systems that usually costs over AU$700. Thanks to Amazon's Mid-Year Sale, that's now down to just AU$559, all packed wonderfully well in a fabulous carry case.
Read more:
The best gimbals for your iPhone, GoPro and camera
Best gimbal heads for tripods
Best pro video accessories