What would classic Disney Princesses look like through a more diverse lens? Thanks to a new initiative, we're about to find out.
Regis and Kahran Bethencourt are the founders of CreativeSoul Photography, a business based out of Atlanta, Georgia. It is spreading a powerful and beautiful message through photography by showcasing kids across the African diaspora to create a society where all kids are represented equally, believing that everyone deserves to truly be seen.
• Check out the best streaming services for movies and TV
The amazing efforts and stunning imagery created by the duo has caught the eye of Disney, resulting in a collaboration to create a special-edition artist series of dolls inspired by Disney Princesses – such as Tiana, Snow White, Rapunzel and Cinderella – reimagined from a perspective that encompasses the African diaspora and intricate Afrocentric elements.
Disney's collaboration with CreativeSoul Photography has resulted in the CreativeSoul Doll Collection, based on existing work by the black-owned photography business – which created a photo series of young models that reshaped the view of how a traditional Disney Princess might be portrayed.
The dolls feature distinct elements such as more natural hairstyles, are dressed with intricate Afrocentric fabrics and adornments, and represent a wide spectrum of individuals that form part of the African diaspora.
The Disney x CreativeSoul Photography collection will be debut on shelves at ShopDisney, Walt Disney World Resort, and Disneyland Resort as early as February 03, expected to retail for $59.99 each (approximately £48 / AU$85).
In addition to the creation of the inclusive dolls, CreativeSoul Photography is also releasing a series of five photographic prints of the models that inspired the dolls – including one bonus print that is said to pay tribute to Elsa, Frozen's famous ice princess, and will be available for a limited time in large-format wall art sizes and smaller deluxe prints.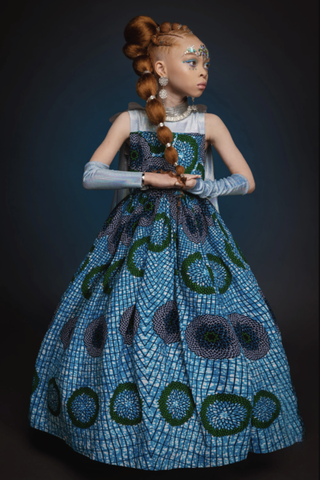 The collection will also feature at Walt Disney World Resort's month-long EPCOT International Festival of the Arts celebration, which runs through until February 20, 2023.
The original natural-styled wigs and life-sized gowns worn by the models will also be on display at the festival until February 05, 2023 and CreativeSoul Photography founders Regis and Kahran will be present for book and doll signings at the festival.
Disney is no doubt taking steps in the right direction lately, with the overwhelming success of its musical animated fantasy Encanto proving that representation on-screen for younger audiences is absolutely crucial. It was the first non-princess Disney movie (if we're not mistaken) in which a lot of younger children could see the resemblance to themselves in the main Colombian character of Mirabel, with her curly hair and glasses, along with other traits of the Madrigal family.
Another recent cinematic release from Disney, Strange World, was highly praised for its diversity by featuring the first ever openly queer characters in a Disney animation film! The biggest step towards inclusivity that the company has ever taken, other notable diverse characters from Strange World include black and mixed-race main characters, gay/queer characters, and even a disabled three-legged dog.
Disney has also developed an initiative that it calls Soulfully, whereby the company brings families and loved ones together for experiences that honor black heritage and culture through multiple experiences involving music, food, and art.
It's amazing to see that Regis and Kahran's work has resulted in such a positive impact on younger children's own perceptions of themselves, and CreativeSoul Photography is constantly pursuing its mission of celebrating the youth of color in artistic new ways, by adding Afrocentric design elements to their visuals to showcase the beauty and strength of diversity.
Kahran has shared that "Our mission has always been to bring bold inspiring images of people of color to life," while Regis adds, "We are both excited and proud of this project and hope that through the lens of photography, it will help further empower young girls of color and show they can be a princess too."
• Take a look at our guides to the best lens for portraits, and the best cameras for kids. Did you know these 8 Marvel movies were shot on Canon cameras, and check out this Kids of Cosplay photobook which combines the ordinary and extraordinary.
• You may also be interested in checking out this Short documentary film Fortitude asks what it means to be Black and British, as well as the Home is Not a Place exhibition which asks - What is Black Britain?