In celebration of Datacolor's 50th anniversary, the Switzerland-based color management outfit is launching the SpyderX Photo Kit. The celebratory box set includes three color management tools: The SpyderX Elite, Spyder Checkr 24 and Spyder Cube.
The SpyderX Photo Kit is set to retail at $399 (£399). However, Datacolor is offering customers the chance to pick it up at a heavily discounted $199 (£199) in honor of its five-decade milestone. But this special price is only available in limited quantities and while supplies last.
• Read more: Best monitor calibrators
Color management is important for those who regularly edit and/or print photos. The SpyderX Photo Kit's trio of tools will help boost color accuracy both in-camera and on-screen. Datacolor calls the SpyderX its "best Spyder ever". The Elite is the definitive version and can calibrate and match multiple displays, calibrate digital projectors and even read a room's light levels (which affects the viewing experience).
The Spyder Checkr 24 features 24 spectrally engineered color patches and an in-camera white balance tool. Its calibration software creates a profile, which can be used in conjunction with dedicated editing software to boost color accuracy. Finally, the Spyder Cube can be used as a reference when setting various properties including white balance, exposure and brightness throughout a series of images.
The SpyderX Photo Kit is currently available for $199 from B&H for the next 10 hours from the time this article is published.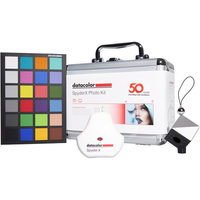 Datacolor SpyderX Photo Kit: $199 from $399
You can now pick up the new Datacolor SpyderX Photo Kit for the fantastic price of just $199, which is an incredible $200 off its original price.
Ends midnight ET, 8 June 2020
Read more:
Best photo editing tools and accessories in 2020
Best photo editing software: image editors for all prices and user levels
Best camera backpack in 2020: carry camera gear, lenses, laptops, and more