Any city-dwelling photographer is well aware of the plague of light pollution and how it can interfere with images, especially of the night sky. Well, it looks like Cokin has come up with a solution in the form of its new CLEARSKY filters.
Light pollution is largely caused by street lights using mercury or sodium vapour lamps, which is visible to the naked eye from long distances, and is especially known for causing a yellow/orange colour cast to camera sensors. This can be very difficult to correct in post-production without affecting the colour cast of the entire image.
Cokin's CLEARSKY filters are designed specifically to combat this. Constructed from high-resolution, phosphate laser neodymium glass, the filters are designed to block specific wavelengths of light, producing natural-looking nightscapes and astro shots with better detail and increased contrast.
This is aided by multi-layer AR and AF coatings on both sides of the filters, aiding light transmission, reducing reflections and also protecting the filter from scratches, fingerprints, water marks and grease.
Cokin also released a sample image of a cityscape taken by Christophe Anagnostopoulos using the new filter, and early impressions are pretty good! There's a good amount of detail, and none of the haze that can be common in urban nightscape images. You can check it out below: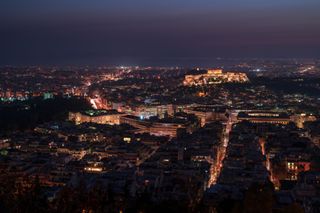 We'll have to get our hands on the filter and try it for ourselves before we can say for certain how well it performs, but it's safe to say we're excited by the possibilities.
The new filters are part of Cokin's Nuances range. They're available in rectangular widths of 84mm, 100mm and 130mm, or as round screw-in filters from diameters of 52mm to 82mm. Prices range from £69 to £199 ($80 - $200).
Read more:
The best neutral density filters
How to use a polarizing filter