Canon has announced the Canon RF 10-20mm f/4L IS STM, a full-frame mirrorless successor to the Canon EF 11-24mm f/4L USM lens for DSLRs launched back in 2015.
The new Canon RF 10-20mm f/4L IS STM lens now makes full use of the company's full-frame mirrorless RF mount, which the manufacturer claims makes the new optic lighter, smaller, sharper, more feature-packed and overall improved in every way imaginable.
• These are the best Canon RF lenses you can buy right now
Last week you may have seen that Sigma launched the world's smallest and lightest ultra-wide-angle zoom for APS-C cameras, with the Sigma 10-18mm f/2.8 DC DN | Contemporary. Well, Canon's new lens takes the title as the world's widest rectilinear zoom for full-frame cameras to also feature autofocus.
While Canon's new optic only zooms to 20mm, rather than 24mm on the EF model, it does have a slightly broader angle of view at its widest 10mm setting. Arguably most photographers looking to buy this lens will already have access to a 24mm focal length, on lenses such as the Canon RF 24-70mm f/2.8L or Canon RF 24-105mm f/4L, so having an even wider zoom setting is a welcome trade.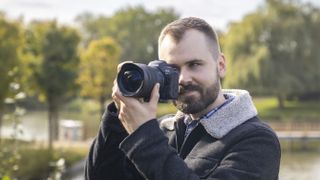 More welcome is that the RF 10-20mm weighs just 570g – that's 610g lighter than its predecessor, and with dimensions of 83.7 x 111mm it's about 35% smaller as well. We recently got hands-on with a beta model and it's considerably better balanced; the old model felt really front-heavy by comparison.
It's also Canon's first L-series lens to feature a stepping motor (STM). These motors are known for their smooth and quiet autofocus capabilities, which makes them ideal for recording video footage.
In another first for Canon, it's the company's first optic to use an STM positioning sensor. This means that the STM autofocus motor doesn't have to reset all the way, each time the camera is turned off, so this should make it faster to get up and running with little delay.
As the front element is bulbous, there is no front filter thread or ability to screw in circular filters to the front of the lens. There is, however, a rear filter holder that can take gelatin filters. The front element also features a built-in lens hood, and a lens cap and soft case are also included with the lens.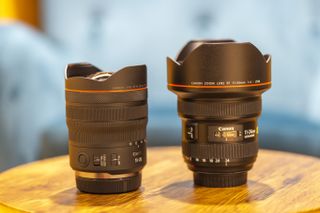 The Canon RF 10-20mm f/4L IS STM boasts an advanced rectilinear optical design for straight vertical lines even at the edges of the frame – which is ideal for architecture, though Canon was keen to stress its capabilities for landscapes, astrophotography, interiors and video, too.
It features sixteen elements in five groups, with three glass-molded aspherical (GMo) elements, one of which is UD, as well as a Super UD element to boot. It also boasts Super Spectra, Air Sphere (ASC) and Sub Wavelength (SWC) coatings designed to combat ghosting and flare for razor-sharp results.
On the lens barrel you'll find the large focus ring for full-time manual focusing, a control ring that can be set to adjust a number of key settings, an AF/MF switch, and a Custom button. There's also a switch to engage the optical Image Stabilization (IS), which offers five stops of stabilization, though is said to offer a six-stop advantage when used with a compatible EOS R body with in-body image stabilization (IBIS).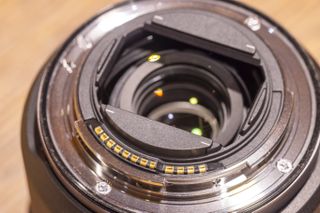 As a professional L-series lens it is weather-sealed, though the focus distance window found on the prior model has been omitted, likely to cut down on size and weight.
A key feature for such a wide lens is the new Peripheral Control Image Stabilizer. This clever bit of tech corrects the Jell-O-like wobble at the corners of the frame caused by the IBIS system when capturing video. In short, an algorithm calculates the amount of distortion occurring at the sensor level; the lens IS is then employed to compensate.
Canon told us, however, that at launch only the Canon EOS R5 running the latest firmware will be able to make full use of the RF 10-20mm's complete raft of features (including Peripheral Control IS), though new firmware updates should be rolled out swiftly so that other EOS R cameras can benefit.
Sales for the Canon RF 10-20mm f/4L IS STM are due to start at the end of October at a price of $2,299 / £2,579 / AU$4,199.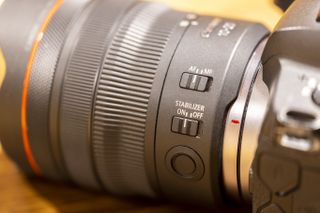 Take a look at the best wide-angle lenses, including the best Canon wide-angle zooms.