Canon Japan is teasing the launch of a new product next week, promising "new possibilities for vlogs" – suggesting that a new vlogging-oriented camera is about to be revealed on Thursday, May 11.
It's worth noting that vlogging cameras – as nebulous a category as it is – is the only segment of the market that has shown serious growth in the past couple of years. And with rivals releasing cameras to capitalize on this interest, such as the recent Sony ZV-E1, it seems that Canon is also about to jump into the fray.
So, what do we know about Canon's new vlogging camera? Precious little. However, while most "vlogging cameras" are little more than traditional cameras that have specs geared towards video, it looks like Canon might be doing something more meaningful and daring: making a vlogging camera that doesn't look like a traditional camera at all.
Given that a huge number of vloggers and content creators use a camera phone rather than a camera, this makes a world of sense. These people are not used to using a camera; they don't want to fiddle with two sets of exposure dials, to set a shutter speed twice that of the frame-rate, to wrestle with ISO and choosing the right lens… and all the other things we have to do with a traditional camera, to make it do what a phone can do with a single tap of the screen.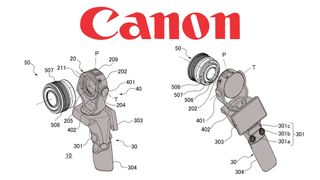 Looking at designs that Canon has patented in recent years, it feels as if the company understands this and is doing something "less like a camera" for its new vlogging camera.
We've seen from previous camera rumors that Canon is experimenting with handheld designs similar to the DJI Osmo Pocket / DJI Pocket 2 – a product that has taken off with consumers who don't historically buy traditional cameras.
It will be interesting to see whether or not this is the final product that is released next week, or at least something similar to it – or whether Canon sticks to the current industry formula of repurposing an existing camera with more "vlogging-oriented specs".
The Canon teaser page gives precious little away, but at least we won't have to wait long to find out.
If this has been of interest, you might be keen for tips on how to vlog. If you're already well versed, check out the best phones for vlogging and the best microphones for vlogging.