If filmmaking is your forte, then I'm sure you have considered or even bought the Canon EOS R5 C – the pure cinematic brother to the Canon EOS R5. The EOS R5 C gives outstanding performance with 8K 60fps or even 4K 120fps with audio, no limitations of record time (depending on your card capacity), as well as 45MP stills resolution.
We'd hope to call it one of the best Canon cameras – except for (until the most recent firmware update) one pretty annoying issue. What if I said that for your well-earned $4,799 / £4,499, you press the record button and capture an amazing sunset, take it to your video editor of choice, hit playback and all you hear over your wonderful footage is wind noise from the built-in microphone.
You're really mad at yourself, but you can just put some good music over the top of your video to fix the issue now, and plan to turn off the mic for future recordings, only to find you CAN'T turn the built-in microphone off, the settings are greyed out – money down the drain.
At this point, on October 5, 2022, Canon has just released a firmware update, firmware v1.0.2.1 to allow you to turn this off – 5 months after its initial launch. To find out how to update your Canon's Firmware you can check out our handy guide: How to update your Canon EOS firmware.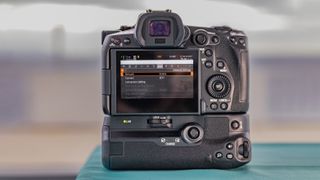 Canon quotes the Canon EOS R5 C as being "for all the multimedia creatives who have professional photo and video needs." Yet, they fail to pinpoint an underlying issue that is as simple as hitting the playback button to diagnose it.
Now, before all you Canon lovers get in touch to say that other camera manufacturers have had the same issue – you are correct. Nikon advertised the Nikon Z9 as an 8K camera... that couldn't record 8K at launch. But when it could, there were no underlying issues such as a microphone that you couldn't ever turn off.
What I am trying to convey in this story is I feel for all of you who went out and bought the EOS R5 C to only find it with this issue. Should Canon have done better to make sure simply issues like this did not come to market? Is there an underlying reason why it couldn't have been fixed sooner?
Plenty of early adopters ran into this issue right away, as any filmmaker would, with one user saying: "I am setting up my R5c to record audio using the Tascam CA-XLR2d-C adapter and a Rode NTG-5 microphone. The combination appears to work well, with one exception, and that is that I cannot find a means of turning off the camera's internal microphone, and all of the options on the audio settings screen are grayed out."
The official response:
"As per Canon Pro Tech support, current firmware does not provide for the ability to turn off the internal microphone." What!
I do acknowledge that Canon has now corrected this issue, but it leads me on to something that I am sure I will write about in the future: are camera manufacturers rushing out products to market too quickly, and advertising features that simply don't work correctly? Should consumers have to wait for firmware updates to either fix or provide features that should have been present or working in the first place?
You might like to read about the best cinema cameras and the best 8K camera, as well as the best audio recorders for filmmakers.