Is the touted Canon EOS 90D the most Doctor Frankenstein camera ever, or is the water cooler being trolled? It's hard to tell, but the latest rumored specs for the new system paint a very puzzling picture.
As we've reported previously, the Canon EOS 90D is expected to merge and replace both the 80D and 7D lines, making it an amalgam of an 80D Mark II and a 7D Mark III.
While our earlier story contained purported specs, including Canon's newly registered 32MP APS-C sensor, a new report by Canon Rumors corroborates certain information and throws a real head-scratcher into the mix.
• Mirrorless APS-C camera body (?????)
• 31.2mp APS-C sensor (We've seen registration of a 32.5mp sensor)
• Shoots 4K with no crop (No mention of DPAF)
• Has full coverage of the sensor for AF
• 10fps
• Can support live eyeAF in 4k and Full HD Video modes
• LP-6N battery
• Supports clean video to HDMI out

"There is one enormous and confusing bit of information in this spec list," writes the site, before sharing the leaked information that the Canon EOS 90D is apparently a mirrorless camera – but still retains the EF mount.
The site speculates that its source might have meant that the camera simply has an electronic viewfinder, rather than being a full-blown mirrorless system.
This would certainly be an intriguing, if ungainly, proposition, effectively having full-time Live View by keeping the mirror locked up and only deploying it for the process of shooting.
Canon News chimed in, noting that a mirrorless 90D could work if it makes use of Canon's recent patent for in-body image stabilization in a DSLR.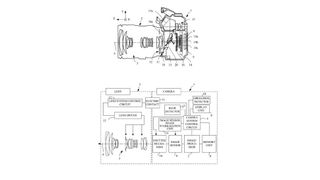 "The main takeaway to an EVF based EF mount camera is to use IBIS effectively… But this does not appear to include IBIS, as it's not mentioned, and that certainly would be a very important feature."
The idea of Canon having three different mirrorless mounts – RF, EF-M and EF – would seem likely to cause market confusion, making it unlikely that the Canon EOS 90D is a full-fledged mirrorless camera.
Indeed, as Canon Rumors notes, "Some specifications can sometimes overlap with a different product, which might be the case here, as we also expect a new EOS M body to be announced around the same time as the EOS 90D."
Still, the idea of an EVF-enabled DSLR is a fascinating one. With the camera apparently being primed for a late-August reveal, we shouldn't have to wait long to find out how much is true.
It's just the latest in a fascinating week of rumors surrounding the manufacturer, including the imminent reveal of two new mirrorless cameras – the Canon EOS M5 II and the Canon EOS M6 II – as well as the bizarre question of is Canon joining Micro Four Thirds after it designed three lenses apparently for the format.
Read more:
Camera rumors 2019: what new cameras are coming out this year?
Canon EOS 80D review
The best Canon EOS 7D Mark II deals in July 2019