According to the latest camera rumors, the Canon EOS-1D X Mark III – successor to the company's current yet outdated flagship model – is being actively field tested in preparation for an anticipated launch prior to the 2020 Olympic Games in Tokyo. Its price will put it out of reach of anyone looking for the best Canon camera for everyday use, but its reputation and status in professional sports photography means any news will be eagerly anticipated.
UPDATE: Canon Rumors has been told that the new camera will be announced between Q4 2019 and Q2 2020, which tallies with our expectations below. Of note, the site was told to "expect an evolutionary update and nothing revolutionary. The EOS-1D series simply has to work and be the workhorse professional photographers expect." Further, it was suggested that the Canon EOS R pro model will not be revealed until after the 1D X Mark III hits the market.
Canon Rumors notes that "a very small number of photographers and/or engineers" are currently testing the product, which makes an imminent announcement exceedingly unlikely.
The Canon EOS-1D X Mark II was announced in February 2016, so a reveal for the successor next February – in all probability synced with the 2020 CP+ event – would make sense.
The big question, of course, is what form factor the Mark III will take: will it remain a DSLR, or will Canon put its money where its mouth is and release it as a mirrorless model?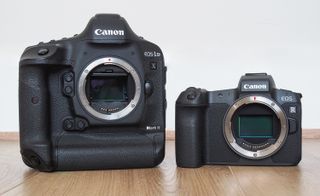 When the Canon EOS R launched last year, it was widely speculated that the follow-up would be a professional-specced version. Instead, however, we have the newly revealed Canon EOS RP for advanced amateurs.
What is certain is that a professional model of the EOS R is in the pipeleine. "Have no doubt that a professional model is coming," said Canon's Yoshiyuki Mizoguchi earlier this year. "We promise we are working on this but it might take some time to introduce." That may well tie into a February 2020 release.
We know that an EOS R with 8K is on the roadmap, and we also know that a 100MP model with in-body image stabilization is in development. Could one of, or even an amalgamation of, these be the basis for the Canon EOS-1D X Mark III?
We look forward to finding out more from the invariable leaks that will occur over the coming months.
Read more:
Best camera rumors 2019: what new cameras are coming out this year?