Canon has launched three new TS-E lenses to extend the range of focal lengths available in its tilt-shift lens category. The new TS-E 50mm f/2.8L Macro and TS-E 90mm f/2.8L Macro replace the existing TS-E 45mm f/2.8 and TS-E 90mm f/2.8, while the TS-E 135mm f/4L Macro is an entirely new lens which has the longest focal length in Canon's TS-E range so far.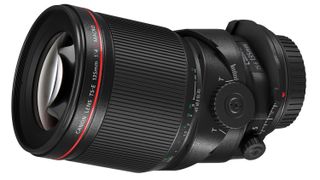 Canon's existing TS-E 17mm f/4L and TS-E 24mm f/3.5L II lenses are ideal for architectural photography, where the shift movement can help counter converging verticals. In the studio, tilt movements become more useful. You can use these to extend the depth of field in a macro shot or a still life. The new 135mm f/4L Macro will enable a more comfortable working distance, especially for smaller subjects.
Read more: Canon announces EOS M100
All three new TS-E lenses are part of Canon's top-quality L-series range and all three have been optimised for close-up photography, with a maximum reproduction ratio of 0.5 (half life size).
The three new TS-E lenses wil be available from November 2017 at an SRP of £2,499.99/$3,210 (est) each.
Canon EF 85mm f/1.4L IS USM
But these are not the only lenses announced by Canon. There's also a new EF 85mm f/1.4L IS USM lens, which slots in between the existing 85mm f/1.8 and 85mm f/1.2 lenses. A key feature of this lens is its in-built 4-stop image stabilisation – neither of the existing Canon 85mm lenses are stabilised.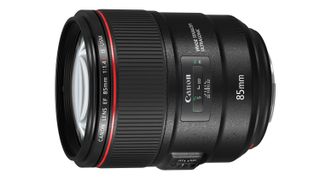 Like the three new TS-E lenses, this new 85mm f/1.4 is also a Canon L-Series lens, which means enhanced durability, weather sealing, dustproofing and fluorine coating. It's been designed to cope with difficult conditions and should be perfect for weddings, studio and indoor/outdoor photography.
The EF 85mm f/1.4L IS USM also has completely silent ring-type USM autofocus system, which will make this lens attractive to videographers as well as stills photographers – it's compatible with the full line up of Canon Cinema EOS cameras too.
The EF 85mm f/1.4L IS USM will be available from November 2017 with an SRP of £1,569.99/$2,016 (est).
MT-24EX Macro Twin Lite
Canon has also introduced a new macro twin-light flash. The Macro Twin Lite MT-26EX-RT replaces the older MT-24EX and brings more power, more versatility, enhanced durability and extra usability. It's perfect for close-ups and confined spaces and consists of two independently movable flash heads mounted on a ring around the lens, each with its own diffuser.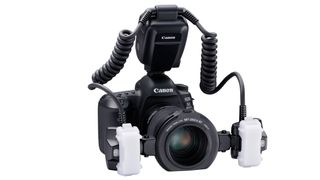 This configuration is very popular for close-ups and macro shots because it provides a relatively even and shadowless light and, with the lights mounted around the lens, the camera itself does not cast a shadow on the subject.
The MT-26EX-RT has bright LED focusing lamps and new Radio Wireless Master functionality for controlling other Speedlites. All this power comes at a cost of £1,079.99/$1,387 (est).
Read more: Canon EOS M100 hands-on review