The Polestar 4 electric SUV, now in pre-production, replaces a traditional rear window with an HD camera that actually offers a wider field of view via a screen that replaces the tradition rear view mirror. A large glass panoramic roof ensures that there is still plenty of light in the car itself.
The technology isn't new. In fact, it is something you can look at fitting to your own car, as you can see in our list of best backup cameras for your vehicle.
Polestar showed the new electrical vehicle at last week's Shanghai Auto Show.
It is interesting, however, to see how this technology might play a part in changing the look of cars going forward. From an optical perspective, we've also got to admit a certain interest in how it'll feel from the driver's perspective. The optics, after all, are now based on a different center point – the camera shield above the rear axle.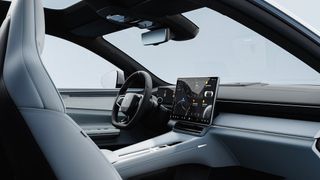 The design seems to owe a little to 2019 World Car of the Year, the Jaguar I-Pace. As an electric vehicle in which aerodynamic efficiency is essential, the I-Pace has a similar profile – an SUV with a curved top and a lower height than traditional equivalents. This meant one of the few complaints leveled at it was about the relatively narrow rear view. Polestar's approach to aerodynamics (and indeed roof glass) is similar to Jaguar's, but the solution to the rear view might be the most dramatic step in car design since the I-Pace.
Oddly the Polestar 4 doesn't make the same choice with the side mirrors, which remain traditional. In Audi's entries into this category, the E-Tron series, offer small cameras in place of mirrors since they have less aerodynamic drag.
Still, the Polestar 4 does have a lot of other cool equipment. There is built-in Google Assistant, so Maps and Home are integrated automatically. Great if you've got alerts set up from home devices like the Nest Cam Wired.
Polestar, once Volvo's racing brand, has become an electric vehicle company in its own right, floated on NASDAQ in June 2022 and still closely linked to Volvo.
Adding cameras to your own car will certainly save on the $70,000 / £60,000 / AU$90,000 price of a new Polestar 4 when they're available in the next year, so do check out list of backup cameras and front and rear dash cams if you want similar functionality on your existing vehicle.
{"data-model-name":"Canon EOS R8","data-widget-type":"review","data-widget-title":"adafa"}