With the anniversary of David Bowie's death having just taken place, Polaroid is celebrating one of music's most iconic artists with a run of limited Bowie Edition Polaroid film.
It's the latest in a long line of pop culture collaborations by the manufacturer, which has seen everything from the Polaroid Stranger Things OneStep 2 and The Mandalorian Polaroid Now cameras to a Keith Harring Polaroid Camera and film.
• Looking for the best Polaroid cameras? Look no further!
"We were inspired by the artist's boundary-pushing imagination at the intersection of art and music culture," said Polaroid of the new Bowie collaboration. "Considering that we've entered the music space, we wanted to celebrate it with a film collaboration, and strengthen our association with music culture."
That allusion to entering the music space refers, of course, to the Polaroid Players Bluetooth audio devices, along with ad-free digital Polaroid Radio and the dedicated Polaroid Music app.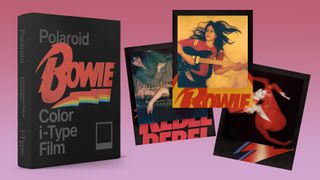 At its core, though, Polaroid has always been a photography company – and it's this convergence of visual art and music that underpins the latest collaboration.
"Bowie was an analog photography enthusiast and has been shot many times on Polaroid cameras, adding an extra element to the story and our partnership… Bowie has worked with various mediums – including Polaroid. The cover artwork of his 1979 Lodger album for instance is a Polaroid photograph by Brian Duffy."
The Color film for i-Type – David Bowie Edition, to give its full name, is instant film designed for Polaroid's i-Type cameras (film can be very confusing, so check out our 'What type of instant film do I need?' guide to see if it's right for you).
There are 10 unique frame designs, inspired by the artwork and imagery of various classic Bowie albums. Frames are selected randomly for each 8-shot pack of film. The film is a one-time edition, so once it's gone there won't be any more!
Single packs of Color film for i-Type – David Bowie Edition are priced at $19.99 / £18.99 (Australian release and pricing TBC). Find out more at the official Polaroid website.