Blackmagic Design has introduced a new box of tricks that will enable YouTubers to use multiple camera angles into whilst live. Launched at IBC 2019, the ATEM mini is a live production switcher and allows you to switch between up to four different live streaming camera inputs at a switch of a button - making it great for any live streaming application including eGaming, corporate presentations over VC, Facebook Live and YouTube.
But the key attraction is the price... such units have often been out of the budget of most would-be users, but the ATEM Mini will go on sale from November for an affordable $295.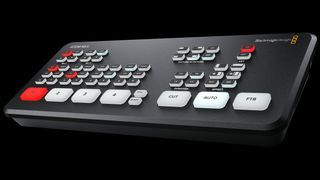 The unit is designed to be extremely simple to use. Four big buttons allow you to switch between four different HDMI video inputs. And set-up is simple as the unit appears as a 1080P webcam when connected via USB to your computer. All the inputs are automatically synchronized and converted to avoid any issues with different frame rates or frame sizes.
But the ATEM Mini doesn't end there, also on board are a range of different effects - allowing you to switch between different inputs in a variety of ways. You can opt for a simple hard cut, but alternatively use wipes and dissolves. Also available are a number of picture in picture options. A built-in sound mixer provides control of up to 12 channels of audio.
Read more:
The best microphone for vlogging and filmmaking
The best cameras for streaming
12 best cameras for vlogging in 2019
The best laptop for video editing
The best streaming services