Sony has officially launched the Sony FE 300mm f/2.8 GM OSS – the "missing link" in its pro sports lineup – having announced its development back in January.
The 73rd lens in the E-Mount lineup, and the 53rd such full frame lens, the Sony FE 300mm f/2.8 GM OSS is also the 19th G Master lens. It joins the Sony FE 400mm f/2.8 GM OSS and Sony FE 600mm f/4 GM OSS, completing the manufacturer's trinity of telephoto prime lenses.
"300mm is the one I've been waiting for," said Bob Martin, award-winning Olympic sports photographer and Sony pro. "It's the missing link in Sony's telephoto lineup. This is the lens that finally completes the prime lenses necessary for sports photography."
The 300mm f/2.8 promises superb sharpness, resolution and optical fidelity from edge to edge. It comprises 20 elements, in 16 groups, including a single extra-low dispersion and a trio of super extra-low dispersion glass elements (to minimize lateral and axial chromatic aberration), with Nano AR II coating (to suppress flare and ghosting).
Honoring the G Master claim to offer a "supreme blend of high resolution and beautiful bokeh", the lens boasts an 11-blade aperture to offer circular bokeh, with "careful control" of spherical aberration both at the design stage and in the manufacturing process.
A pair of XD dynamic linear motors work in conjunction with an optimized algorithm to drive fast and precise autofocus with low vibration and minimal noise, and offers tracking all the way down to f/22.
Optimized for handheld photography, the 300mm f/2.8 measures 265mm in length (with a 124mm diameter) and weighs 1,470g (excluding the tripod mount). It is well balanced with the heavier elements at the rear, keeping the center of gravity towards the camera body, to ensure that the lens isn't too nose-heavy.
Lens stabilization is built-in (though Sony couldn't confirm how many stops of compensation it offers), with three modes: normal (for still to slow subjects), panning (for lateral movements), and dynamic (for unpredictable shots).
Full-time direct manual focus is offered, with linear response that feels immediate and precise. The lens also possesses a customizable function ring, which can be set to control everything from power focus (by default) to APS-C / full frame switching, along with four customizable focus hold buttons.
There is no front filter thread, but drop-in 40mm filters can be inserted at the rear of the optic along with an optional circular polarizer. The lens is constructed from magnesium alloy and is dust moisture resistant, with a fluorine coating, making it suitable for all shooting conditions.
The Sony FE 300mm f/2.8 GM OSS goes on sale in early 2024 and will retail for £5,800 (US and Australian pricing to follow).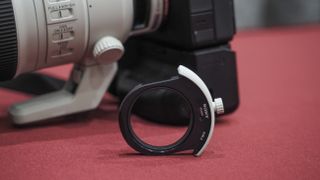 Take a look at the best Sony lenses, and see how the new 300mm f/2.8 compares with the best Sony telephoto lenses and the best telephoto lenses from all brands. If you're looking for seasonal savings, check out the best Sony Black Friday deals and the best Black Friday camera deals overall.