In May of this year, Apple filed a legal petition against one of Red's key patents for the 'Redcode' codec. Enlisting the help of British imaging scientist Cliff Reader, Apple argued that the patent for this codec failed to describe sufficiently novel technology.
However, on August 15 Red came out swinging with responses from company President Jarrad Land, Founder Jim Jannard and the inventor of Redcode Graeme Nattress. Each of the Red representatives counter that the technology described in the patent was indeed novel – and that it helped change the industry.
So, what exactly is Redcode? And why is it so important?
Well, inventor Nattress describes it best: "I first met Mr Jim Hannard in December of 2005. At that meeting, we discussed his desire to create the first ever digital motion picture camera that could record compressed digital motion video at cinema quality levels, including 4K.
"I was intrigued by the possibilities, because combining the ease and flexibility of post-production of digital video while maintaining cinema-quality frame rate and resolution would be a game-changer in the world of movie making."
• Read more: The best 4K camera for filmmaking
What's important to remember here is that, while photography's digital revolution was well under way in 2005, cinema-quality filmmaking seriously lagged behind. In fact, it wasn't until 2013 that digitally shot films were more common than movies captured on film (among the top 100 grossing films).
You may be wondering why it took so long for Hollywood filmmakers to make the switch. Especially considering how eye-wateringly expensive it is to shoot, post-produce, store and print 35mm movies.
The New Republic states "In 2002, Star Wars: Episode II – Attack of the Clones became the first major movie to be shot entirely on digital video… The producers of Attack of the Clones estimate they spent $16,000 on 220 hours of digital tape. If they had used the same amount of film, it would have cost them $1.8 million."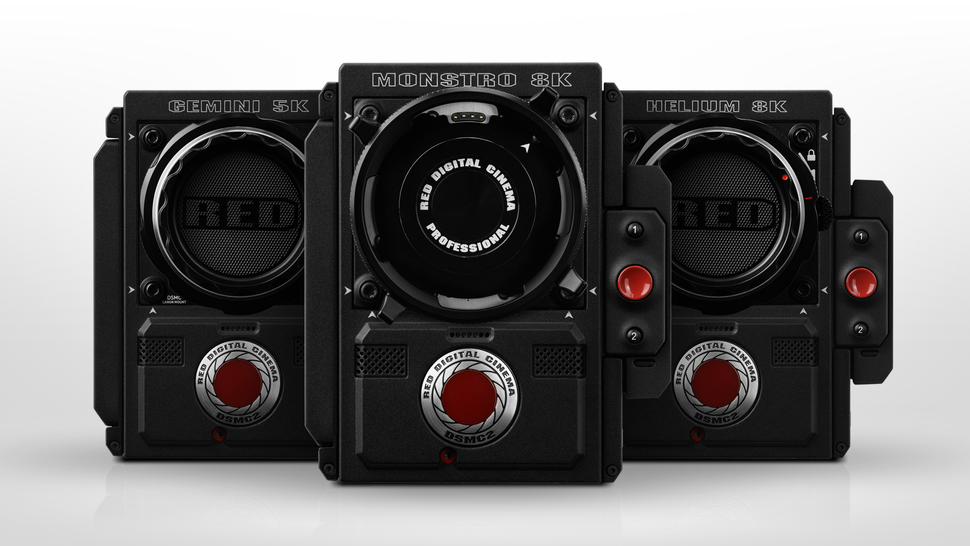 With this in mind, you would imagine Hollywood must have had a very good reason for delaying the switch to digital - and they did. Digital image quality just wasn't as good as film.
As Nattress continues to explain, digital compression was a big problem for cinema, so Red wanted to find a way to make digital compression visually lossless (as in, no perceivable loss in quality).
"To solve this problem, one key area I researched was the use of an image sensor with a Bayer-pattern filter. The industry consensus held that cinema quality cameras would need to utilize three sensors, with a prism to split red, green and blue light to each sensor. However, we believed that the benefits of a Bayer-pattern image sensor could be optimized if the image data remained in raw, mosaiced format for compression."
What this essentially means is that Redcode compresses raw, mosaiced data from the sensor, rather than demosaicing the data first. This enabled Red to give its customers the ability to record visually lossless, compressed 4K video at 23fps and above.
So, why has Apple filed this petition – and how would it benefit if it were to win?
Essentially, Apple is arguing that Red didn't actually create anything new, but rather it just combined two pre-existing patented technologies together to create the Redcode. These technologies included a portable camera system similar to the Red One from Ari M Presler and a processing technique that would achieve nearly lossless compression optimized for data from a Bayer sensor from Molgaard.
Apple posits that Red didn't make a technological break-through – it simply combined two patents, just as any skilled artisan would have done. While Red may have been the first to do it, it didn't actually create anything itself. Therefore the patent should be cancelled.
Now, here's where things get interesting. Apple's own raw codec, ProRes Raw, uses this technology, which means Apple is currently having to pay a likely sizable fee to Red in order to use it.
If Apple wins this legal petition, it (and any other company wishing to create and profit from a similar kind of raw codec) no longer needs to pay Red to license this technology.
Instead, the world of raw video will be blown wide open, with companies free (literally) to develop their own technology without having to worry about paying Red for the pleasure.
And, as we've seen countless times, when the market is competitive, the consumer wins. Capturing raw video could conceivably become cheaper and more accessible for everyone from top Hollywood studios to enthusiast videographers if Apple manages to win this petition.
However, there is a sticking point. Part of Apple's argument rests on Presler's portable camera system that's similar to the Red One. However, his patent was filed in 2008. Meanwhile Red claims that prototypes for the Red One Cinema Camera (known as Boris and Natasha), used to shoot Peter Jackson for his World War I short Crossing the Line, were used in 2007.
Red has also collated a series of photos that shows the company putting together the Boris and Natasha prototypes before 2007. In addition, it has released data on the output of raw from these cameras, stating that Boris achieved visually lossless video at 4K 24p.
Plus, Nattress stated that "immediately following my December 2005 meeting with Mr Jannard, I began working on the design of Red's first commercial digital motion picture camera that would become known as the Red One. This work would last all throughout 2006 and into 2007 when we commercially launched the Red One video camera."
While we're no lawyer, that seems pretty irrefutable. It's also worth mentioning at this point that Sony launched its own lawsuit against Red in 2013 for this exact same patent… and lost.
However, we're never ones to underestimate Apple and its lawyers, so we'll be following this story with a keen eye – and letting you know as soon as we hear any updates.
Read more:
Blackmagic Pocket Cinema Camera 6K raises the bar for video resolution
The best video editing software for vloggers and filmmakers
The best laptop for video editing