After a couple of years of stagnating camera phone tech - 2018 has been a breath of fresh air.
Barriers were broken in terms of the sheer number of cameras crammed on the back of the best camera phones; computational photography hit new heights, especially in terms of night shooting and one things for sure - it's anything but a one horse race going into 2019.
Samsung Galaxy S9, S9 Plus, Note 9 and A9
Samsung's been churning out excellent camera phones for years, but the Korean tech giant has been anything but complacent over the last 12-months.
The release of the Galaxy S9 series saw its first mainstream smartphones to feature dual-apertures hit the market - and that was all the way back in February.
With a single 12MP sensor paired with an f/1.5-2.4 lens, the S9 grabs more light than the competition, exposing scenes for extremely bright shots, even when available light is scarce.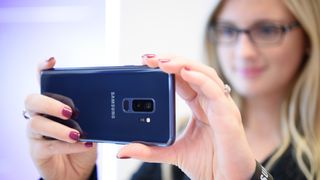 As for the S9 Plus and Note 9, both phones supplement the S9's single camera with a second 12 MP sensor paired with a telephoto, 52mm equivalent lens that works out to a 2x optical zoom.
While this is, generally speaking, a round-up of flagships, despite being a midranger, the Galaxy A9 was also a noteworthy announcement.
Featuring not two, not three, but four rear cameras - wide, ultra-wide, telephoto and depth sensing - it's another first from Samsung and quite possibly an insight into what we can expect from the upcoming Galaxy S10.
Huawei P20 and Mate 20 Pro
If we had to take a guess as to why Samsung's been so hot on world firsts in 2018, Huawei's trailblazing computational photography would probably be a key factor.
It all started at the beginning of the year with the launch of the P20 Pro, a triple camera phone with no less than 92 combined megapixels across the front and rear sensors.
When the leaks of sky high pixel counts surfaced, tech press balked at the resolution overkill - but oh how wrong we were.
Introducing AIS, the P20 series combines optical and electronic image stabilisation like never before while also utilizing those pixels for jaw dropping digital zoom.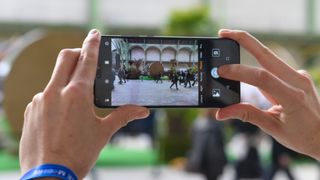 For the first time on any camera system, a 4-second handheld exposure also became a reality and while the results weren't DSLR-beating, the P20 Pro broke new boundaries in the world of smartphone photography.
Fast forward to the second half of the year, and Huawei did it again with the Mate 20 Pro, adding an ultra-wide-angle camera to the mix for a huge amount of versatility across photography and video at up to 4K resolution.
Honor
An apt manufacturer to follow up with - Honor is part of Huawei and benefits from a host of trickledown technologies from flagships like the P20 and Mate 20 series, with smart, electronic image stabilisation being one of them.
While the Honor 10 launched at the start of the year and it was an exceptional smartphone for the price, the camera was only ever good.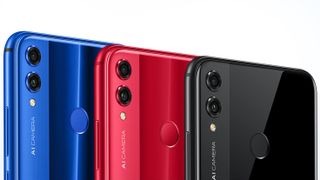 What's truly exceptional, in contrast, is what Honor's been doing in the affordable space lately. The Honor 8X can be had for just £229, packs a huge screen (complete with an iPhone-esque notch) and a best-in-class 20+2MP dual camera, paired with that clever stabilisation found in Huawei's flagships.
Sony Xperia XZ3
Sony is still the only brand able to capture 4K HDR video and 960fps Full HD slow motion on its smartphones, and these are showcased to perfection on the Xperia XZ3's jaw dropping OLED mobile Bravia display.
Less impressive is the still image quality. It's good, not excellent pictures likely come down to the fact the proprietary stacked 19-megapixel sensor is the same as that used on the Xperia XZ1 and XZ2 before it - and neither of those were ever best-in-class either.
For video though, between the 5-axis electronic stabilisation and the HDR video, Sony is a great bet.
LG G7 and V40
Things have been relatively quiet on the LG front, particularly here in the UK.
Its trademark combination of wide and ultrawide angle lenses have made a return on the flagship G7, which was launched at the beginning of the year.
Delivering improvements to image processing and video quality, the G7 was a decent phone, but its camera didn't rock the boat.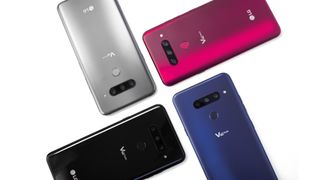 When it comes to imaging and video though, LG's V series is the one to watch, with the LG V40 ThinQ launching in the US and Korea in the second half of the year, with a tantalising triple camera set-up, sporting an f/1.5 aperture on its primary lens.
Unfortunately, the V40 never came to the UK, though the introduction of a third camera module delivering a 2x optical zoom lens could suggest we'll be seeing something similar in the LG G8, expected in early 2019 - hopefully on our fair shores too.
Google
If you want a smartphone camera that keeps on giving, the Google Pixel series is it.
With the introduction of the 12MP Pixel 3 and Pixel 3 XL, Google cemented its position as the point and shoot champion, with class-leading in-camera processing.
When it comes to dynamic range, the series has been impressing us since the first Pixel, but with the second introducing OIS to the mix and the Pixel 3 debuting Night Sight, constant improvement ensures it's still at the top of the pile.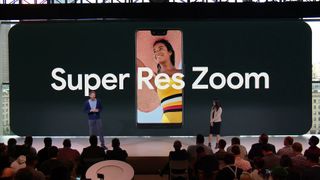 Straight out of Huawei's playbook, the Pixel 3's Night Sight mode delivers long exposure handheld shots that unlock extreme low light photography. What impressed us the most wasn't the feature though, despite the fact it's excellent.
Oh no, it's the fact Night Sight has rolled out to the two year old Pixel and last year's Pixel 2.
So while Pixels aren't the most affordable Android phones around, Google has demonstrated continued support, even for older models which is incredibly reassuring.
Apple
Apple isn't pushing the envelope as hard as the Android competition. With its iPhone XS and XS Max, dual 12MP cameras: one wide-angle and the other telephoto are refinements of the combination introduced in the iPhone X.
With the wide-angle camera sporting a wide ƒ/1.8 aperture, it does a solid job across lighting conditions.
The 2x optical zoom camera also benefits from great OIS for seriously steady video, and the iPhone's simple interface is incredibly easy to get to grips with.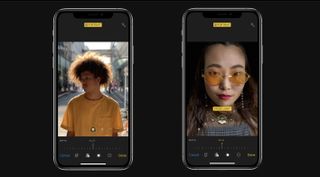 The highlight feature introduced on the Xs is the background defocus mode being adjustable after taking a shot.
Meanwhile, the more affordable iPhone XR sports the same primary camera module of the XS series, but none of the 2x optical zoom, second camera goodness.
Despite this, it can still deliver defocused backgrounds for some artistic artificial bokeh.
OnePlus 6T
Finally, the ultimate challenger brand: OnePlus is fighting for your cash with excellent value in the 6 and One Plus 6T, both featuring identical cameras but ever-improving performance.
Loaded up with a 16MP, f/1.7 module and a second 20MP camera that grabs depth information, it combines plenty of shooting modes with respectable dynamic range, to deliver what could be the best value flagship camera phone around.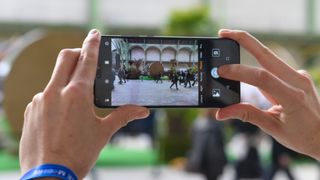 Debuting a night mode of its own - Nightscape, it also delivers long exposure handheld photography, though can't quite stack up to Google and Huawei's Night Mode or Night Sight.
Despite its comparative inferiority, like Google, OnePlus has rolled out its Nightscape feature introduced on the 6T to the OnePlus 6 which is good news, though OnePlus 5 and 5T owners won't be getting the feature.
On the horizon
If 2018 was a breakthrough year for smartphones, with computational photography changing the camera phone game, 2019 looks set to deliver more of the same, with big pixel counts giving brands like Huawei even more scope to play with its intelligent processing and mega smooth AIS.
After all, we've already seen the Huawei made Honor View 20 previewed with its 48MP primary camera.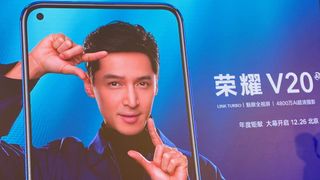 Sony is also expected to finally be shaking things up with a new sensor for its Xperia range and Samsung looks set to continue its trend of upping the number of rear cameras on its phones, and all the while making them foldable too!
If you're a photography purist though, the idea of a camera phone may be a strange beast.
That said, challenges can spawn genius, and with the extreme limitations tiny sensors and lenses are coupled with - while smartphone hardware will never stack up to DSLRs or mirrorless cameras - from a software point of view, it's incredible to see manufacturers doing something totally unconventional, innovative and seriously exciting.