The new Phase One XT is a portable medium format camera that combines Phase One's ultra-high resolution IQ4 camera system with a trio of lenses from renowned optics maker Rodenstock via a slimline camera body.
It's hugely expensive, even compared to the best medium format cameras you can buy right now, but it's not designed for the mass market (the other option is to simply hire not buy). Instead, the Phase One XT Camera System is aimed at high end landscape photographers who need the maximum possible image quality but in a more portable camera than those available to date. It's an echo of old-school 'field cameras' designed for both portability and quality.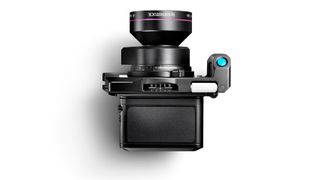 XT Camera System components
There are three main parts to the XT System – the IQ4 capture modules, the Rodenstock lenses and the camera itself which acts as a kind of physical interface between them. It's a completely different, modular, design philosophy compared to regular cameras,
The new camera will be able to use all three of Phase One's IQ4 Infinity Platform modules, including the IQ4 150MP, IQ4 150MP Achromatic or IQ4 Trichromatic. All three have 'full frame' medium format sensors equivalent to the the size of the old 645 format and larger than those in cameras like the Fujifilm GFX series and Hasselblad X1D (these are 'medium format', but in a smaller size).
The camera body has less to do here than in other cameras as much of the work is done by the IQ4 modules and the lenses themselves (which have integrated shutters). It's been designed exclusively for the XT system with 'intuitive' ergonomics and a dual-action shutter button to support future expansion and customisation – though there's no indication yet what this might be.
The three lenses available initially are a Rodenstock HR Digaron-S 23mm f/5.6, Rodenstock HR Digaron-W 32mm f/4 wide-angle and a Rodenstock HR Digaron-W 70mm f/5.6 is a normal focal length lens. These focal lengths sound long by full frame camera standards, but on the larger XT format they correspond to an ultra-wide prime, wide prime and standard prime lens.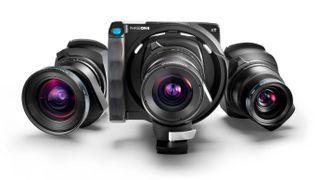 Get a shift on
The XT system carries through another key field camera feature – a built-in lens shift mechanism. This can be used to correct converging vertical and horizontal perspective distortion with a shift adjustment of up to 24mm in both axes. The Rodenstock lenses have large image circles to allow for this shift movement. On regular cameras this can only be achieved using dedicated perspective control lenses, but here it's a standard feature built into the system.
Phase One XT Camera System price and availability
The Phase One XT Camera System is available right now from Phase One partners and resellers worldwide and will sell for a hefty $56,990. This price does include an IQ4 150MP module, the camera unit and a lens of your choice – plus a 5-year warranty.
Read more:
• These are the best medium format cameras available today
• We pick the best cameras for professionals
• The best cinema cameras in 2019
• The ten cheapest full frame cameras you can buy