Happy Star Wars Day! Yes, what started as a bad pun and is now the overachieving "May the 4th be with you" slapped on t-shirts, coffee cups and ad campaigns everywhere.
It's a day to celebrate all things Star Wars – and for us, as imaging aficionados, there's a whole lot of fascinating Star Wars stuff that spans photography, photo editing, the cameras used to shoot the saga, and even Star Wars-branded cameras, film and phones you can buy.
So, to celebrate Star Wars Day, we've pulled together 13 must-read pieces of Star Wars content for you to dip into…
Shooting the Star Wars saga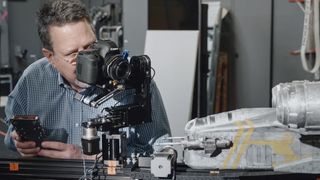 Did you know that some of The Mandalorian was shot using a humble Canon EOS 5D (the first one)? Moreover, did you know that the person who shot it (Jon Knoll, above) is also one of the co-inventors of Photoshop? Check out this story and the brilliant behind-the-scenes video, showing the special effects wizard at work.
If you guessed that the most expensive piece of Star Wars memorabilia ever sold was the camera that filmed the very first movie… well, you'd be wrong. (It was actually the Dart Vader helmet worn by actor David Prowse.) However, George Lucas' Panavision camera is the second most expensive Star Wars item in the galaxy!
Here's a fun story: every line of dialog in Star Wars Episode II: Attack Of The Clones had to be redubbed, due to a prototype digital camera setup (this being only the third ever film shot on digital cameras).
Star Wars cameras and phones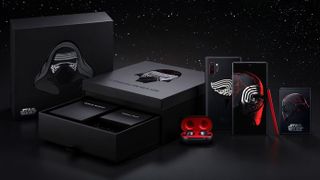 Star Wars is a merchandising machine, with just about every product under the sun having had a Star Wars logo slapped on it at some point – and cameras and phones are no different.
If you love Polaroid cameras and The Mandalorian, you might want to snap yourself up a Mandalorian Polaroid Now camera that's finished in a Din Djarin-approved Beskar-style finish. You can even get Baby Yoda Grogu-themed film to go with it.
We also loved the Samsung Galaxy Note 10 Star Wars Special Edition phone, which came in slick Kylo Ren-themed packaging with a red Lightsaber S(ith)-Pen, Dark Side Galaxy Buds and special themes.
Stunning Star Wars fan photography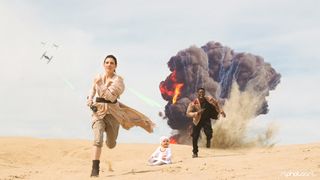 From cosplayers to toy photographers to Photoshop wizards, there have been some stunning examples of fan-made photography depicting the Star Wars universe.
These are four of the best Star Wars photographers we've seen, from the epic work of Sgt Bananas bringing premium action figures to life, Instagram sensation Hot Kenobi's hilarious and clever comedy shots, to some truly stunning cosplay shots.
Also check out our interview with toy photographer Gary Rivers, aka mr_gizmo_, who helps explain why Star Wars figure photography is a force to be reckoned with.
Star Wars Photoshop tutorials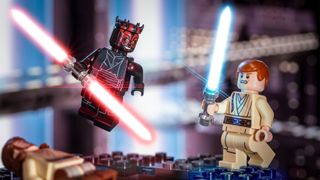 The Star Wars saga is such fertile ground for creativity, that we've done our fair share of tutorials on how to create its signature effects in Photoshop.
We've used Star Wars Lego as the subject matter for this pair of tutorials, firstly to create an action-packed recreation of the Millennium Falcon's daring escape from Hoth (as seen in Episode V: The Empire Strikes Back). We also show you how to create an incredible diorama of the iconic Darth Maul duel from Episode I: The Phantom Menace.
If you've ever wanted to make your own Lightsaber in Photoshop, now you know how. And this is how to create a jump to lightspeed effect to complete your own Empire-defying escape scenes.
If you can't get enough in-Hothspitable terrain, this tutorial shows you how to get the most of toy photography in snowy scenes – courtesy of a Rebel snow trooper.
And as a bonus story, since Star Wars toys are such a common theme, you might want to check out this fascinating Star Wars photo book featuring the original 1970s Kenner figures!
It probably goes without saying, but the entire Star Wars saga is available to stream right now on Disney+, so today is the perfect day to chill out and rewatch your favorite flick or series (for us, it's still Empire – though Mando's adventures have done the originals proud!).