Gary Rivers, aka mr_gizmo_, came to photography through a lifelong interest in action figures. His Instagram feed is a feast of meticulously staged cinematic shots – some recreating film scenes, some wholly new.
• Read more: Best cameras for Instagram
We sat down with the specialist in Star Wars toy photography about what he shoots, why he shoots it and what he shoots it with…
What led you to become a toy photographer?
I had a very active imagination as a child, which still continues today. Some of my earliest memories were receiving Star Wars figures for Christmas. From a very young age I've always loved action figures, and I've never really stopped collecting them.
Then Instagram came along; it was easy to find groups of like-minded people. I initially used the platform to show off my toy collection. I eventually started to see more and more people photographing their figures outside, or posed in a diorama to look like a real scene. When I started, many people were just using their phone cameras and lots of different editing apps to make the toys come alive. And I think that's the whole point of toy photography: to breath life into our toys and to tell a story with them.
Many toy photographers began upgrading to DSLR cameras and I soon craved one myself, as the phone camera was really showing its limitations. After doing a little research, I purchased a Canon 700D (Canon EOS Rebel T5i) with a kit lens, and it took my hobby to the next level.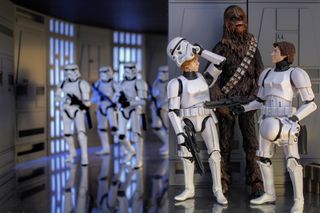 How do you go about designing and building your sets?
My sets / dioramas are used for the sole purpose of photographing the figures, so I try to think about how I can get the most use out of them, but also keep them practical for shooting. I've mostly created dioramas based on the locations in the Star Wars films. My most effective ones are made from simple materials like foam board, filler and paint.
What do you use for your special effects, like lasers and lighting?
I use a mixture of special effects depending on the result I want. If I'm shooting indoors, good lighting is essential, but it doesn't have to be fancy. With a lot of the more sci-fi type shots I do, and since I only use my iPhone for editing my photos, I like to use a variety of apps that can add lens flares or laser beams. I have used practical effects in the past; simply throwing dirt with a high shutter speed or burst mode can yield great results.
Do aspiring toy photographers need specialized lenses like macro to begin?
I would say you don't actually need any specialized lenses to begin with. Like I said, I started by using my phone camera. Apart from the kit lens, I did purchase a relatively cheap Canon EF 50mm f/1.4 USM lens. The shallow depth of field it provides is fantastic for focusing on the smaller figures.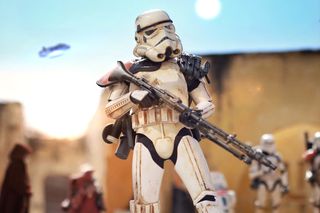 What inspires you to carry on creating?
Collecting action figures is a never-ending hobby. New ones are being released all the time, and there's such a diverse range to choose from nowadays. They are starting to look very realistic, too. The toy photography community has grown so much over the past few years, and everyone is so supportive of each other. I've made some lifelong friends through toy photography, and it drives me to continue to be creative every day.
What were the early challenges you faced, and how did you overcome them?
When I first started out, I didn't have any lighting, dioramas or photography gear. I was very limited with what I could do – but I still had a big imagination. I used to take photos of my figures with my phone camera, usually next to a window, where the lighting was good. Then I would use an array of apps to cut out the figure and place them into a more fantastical background.
I would say that an even easier way to get into toy photography is to take them outside, get down to their level, try to avoid objects that ruin the sense of scale, and most of all, have fun doing it!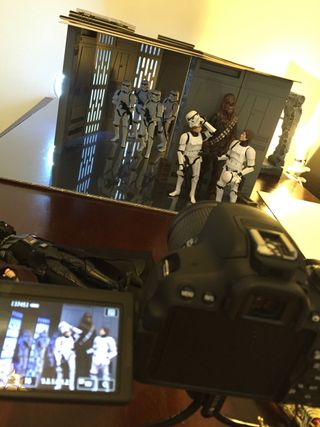 What were the limitations of a phone that drove you towards getting a DSLR?
The main reason was the ability to have more control over the actual photography. For example, a longer exposure time for shooting in low light, and a shallow depth of field for that lovely bokeh effect that works so well with toy photography.
What lighting do you use?
I have a small selection of cheap lights that all do the trick while shooting indoors – a warmer bulb in a lampshade, and a couple of cheap cooler-toned LED lights. I do have some more expensive Lume Cubes, although I would argue that they're unnecessary to get the desired result. I've used printer paper to diffuse lights and even the torch on my phone to add an extra key light in some scenes!
Check out Gary's work on Instagram @mr_gizmo_.
Read more:
Best photo editing software
Best macro lenses
Best photo-editing laptops
Best free photo editor
Best iPhone tripods and smartphone supports