The Canon EOS R attracted an enormous amount of attention before its launch and this has hardly slacked off now that it's official. We highlighted both good and bad points in our full Canon EOS R review, but it's early days for Canon and its new mirrorless full-frame format and we're sure there's a lot more to come.
We've already speculated about the development of a new sporty Canon EOS RX, a kind of mirrorless version of the company's flagship high-speed sports and press-orientated EOS-1D X II, and we think there may be another design waiting in the wings.
Sony, Nikon and now Panasonic have all chosen a dual-pronged approach to full frame mirrorless camera resolution, offering fast, lower-cost models at the 24-megapixel level and more expensive, higher-resolution 40+ megapixel models for pros.
So far, the EOS R and its 30-megapixel sensor seem pitched more towards that lower tier – so will Canon aim at the high-resolution market too?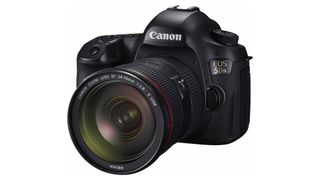 It's there already in the DSLR market. The Canon EOS 5DS seems oddly unloved, but its 50.6-megapixel sensor has bragging rights over all the rest with a slender resolution advantage that breaks that magical 50-megapixel barrier. So what if Canon was to put that sensor in a variant of the EOS R and call it the EOS RS?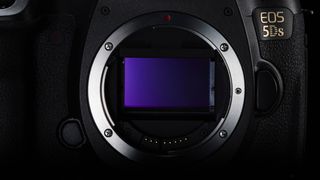 A new EOS RS sensor?
In principle, Canon could put the sensor from the EOS 5DS straight into an EOS R body. The sensor dimensions are pretty identical as both are full frame CMOS sensors measuring approximately 36 x 24mm. We could expect the extra 20-megapixels to have an impact on performance, but Canon has never attempted to make the EOS 5DS as fast as its DSLR stablemates and its users accept a trade-off in performance against that higher resolution. Why should it be any different for an EOS RS? (That's our name for this hypothetical camera, by the way, not Canon's!)
EOS RS autofocus
But there is a development hurdle to overcome first. Any EOS R variant will need a Dual Pixel CMOS AF sensor, and that was straightforward enough for the EOS R because the sensor in its closest cousin, the EOS 5D IV, already has Dual Pixel CMOS AF. However, the 50-megapixel EOS 5DS sensor does not have Dual Pixel CMOS AF. That's not to say it wouldn't be possible, but it would clearly take some development work on Canon's part.
The advantage of developing this new Dual Pixel CMOS sensor could be more AF points, as seen in the EOS R, broader coverage across the frame (88% horizontal, 100% vertical in the EOS R) and greater sensitivity. The current EOS 5DS DSLR can focus in light levels down to -2EV – but the EOS R is four stops more sensitive, right down to -6EV.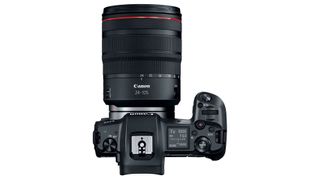 EOS RS shape, size and weight
We've seen from full frame Sony and Nikon mirrorless cameras that there's no size penalty in using a higher resolution sensor, so if Canon does commit to a 50-megapixel EOS R there seems no reason why it shouldn't match the existing EOS R's dimensions of 135.8 x 98.3 x 84.4mm and its weight of 660g body only, with card and battery. If so, that would make it 185g lighter than the current EOS 5DS DSLR.
Continuous shooting
The EOS 5DS is built for resolution not speed, and we'd expect Canon to take the same approach with a 50-megapixel EOS R. Canon might be tempted to nudge its continuous shooting rate from the EOS 5DS's 5fps up to 6fps, perhaps, but the existing EOS R is itself no great speed demon, topping out at 8fps, or just 5fps with AF tracking enabled.
The current EOS 5DS has a buffer capacity of 510 JPEGs and 14 raw files, while the EOS R can capture 100 JPEGs and 47 raw files in a burst. There seems no strong reason for Canon to try to close that performance gap and risk hurting sales of the EOS R.
ISO range
In the EOS 5DS, Canon's 50-megapixel sensor has an ISO range of 100-6,400, which is low by today's standards, even for a high-resolution camera, though it does increase to 50-12,800 in 'expanded' mode. This is one area we'd expect Canon to try to catch up with its rivals, perhaps upgrading the twin DIGIC 6 processors in the EOS 5DS to its latest DIGIC 8 generation, which should help with high-ISO image processing and extend the ISO range. The 30-megapixel EOS R goes right up to ISO 40,000 in normal mode and 102,400 in expanded mode.
Video
This might be another technical hurdle for Canon. As well as needing a Dual Pixel CMOS AF version of its 50-megapixel sensor, it would also need to make it capture 4K UHD video. The EOS 5DS only captures in full HD, and we can't imagine Canon launching a new camera with full HD only.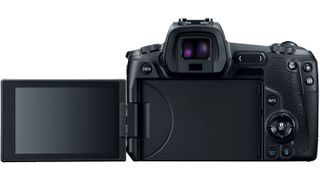 LCD display
One area where any 50-megapixel EOS R could have a major advantage over the EOS 5DS is in its size, weight, design and viewing system. The swap to an electronic viewfinder would please many photographers because of its potential for information display and exposure/colour simulation, and the 2.1 million dot vari-angle touchscreen display on the back of the current EOS R is a huge step up from the fixed 1.04 million dot screen on the back of the EOS 5DS – this alone would make a mirrorless alternative to the EOS 5DS very compelling.
Memory
The use of a single memory card slot on the new Nikon mirrorless cameras and the EOS R has proved controversial, but we wouldn't expect Canon to relent any time soon, so we think if it was to launch a 50-megapixel EOS R it would come with a single SD/SDHC/SDXC card slot with UHS II compatibility. UHS II SDXC cards are easily fast enough to cope with the modest video capabilities and continuous shooting speeds we'd expect from this hypothetical camera, regardless of the size of its 50-megapixel files.
When can we get it, what will it cost?
All of this is pure speculation right now. We have no evidence to suggest a 50-megapixel EOS RS is coming, but it does seem a highly logical next step for Canon. It would require some technical development work, however, and we don't believe Canon would ever be rushed into launching a product early, especially as it will want to take some time to absorb the market penetration of the EOS R.
Our best guess right now is that a camera like this might not arrive until later in 2019. When it does, we'd anticipate a price close to that of the current EOS 5DS DSLR – somewhere around £2,549/$3,499.
READ MORE:
The best mirrorless cameras in 2018