While the world was still reeling from Canon's 8K bombshell, Blackmagic came along and dropped a 12K warhead that absolutely flattened the battlefield.
Of course, it's important to remember that the Blackmagic Ursa Mini Pro 12K is in a completely different category to the Canon EOS R5. The Blackmagic is a dedicated, heavy duty cinematography system – as such, it's going toe-to-toe with the best cinema cameras like the Canon EOS C300 Mark III, rather than consumer cameras like the EOS R5 (which actually has a larger sensor).
Still, Canon's marketing blitz about the power of 8K has just been thrown into sharp relief by this 12K nuke from Blackmagic – which has a whole lot more going for it than just that raw resolution alone. And that includes the price, which feels really competitive at $9,995 / £9,714 / AU$19,745.
So, here are 12 ways that the Blackmagic Ursa Mini Pro 12K legitimately rewrites the rulebook for cameras and videography…
1) 12K resolution
The Ursa Mini Pro 12 features an outrageously pixel-dense 80MP sensor, which delivers an astonishing 12,288 x 6480 native resolution. In layman's terms, 12K video captures around 10 times more detail than 4K video, and about 2.5 times more detail than 8K.
It's worth noting, though, that it does so on a smaller Super 35 image sensor measuring 27.03 x 14.25mm – which is smaller than a full-frame (35mm) sensor, but larger than an APS-C sensor. Which actually makes that 80MP resolution even more impressive, as somehow Blackmagic managed to squeeze over 80 million pixels onto such a small sensor!
Of course, it's not just about recording a 12,288 x 6480 video; when you shoot at that resolution, you have an incredible amount of leeway to crop or reframe that footage. This means you can shoot, for example, an interview with a panel of speakers at 12K, and then crop into your footage for close-ups of each participant and still output in 4K resolution. No need for multiple cameras or lenses!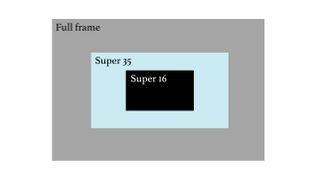 2) Up to 220fps
Almost as impressive as the headline 12K resolution are the camera's light-speed maximum frame-rates. The Blackmagic Ursa Mini Pro 12K can capture video up to a blistering 220 frames per second!
The proviso is that you can only shoot 220fps in 4K in the Super 16 format, which as you can see below is smaller than Super 35. However, you can shoot full-readout 4K or 8K at up to 110fps, and full-readout 12K at up to a mind-blowing 60fps.
Super 35
12K 17:9 full sensor up to 60 fps
8K DCI and 4K DCI full sensor up to 110 fps
8K 2.4:1 and 4K 2.4:1 up to 140 fps
Super 16
6K Super 16 up to 120 fps
4K Super 16 up to 220 fps
3) Supports virtually any pro lens mount
Blackmagic's Ursa Mini Pro line features an interchangeable lens mount that enables you to mount Arri PL (standard on the 12K), Canon EF, and Nikon F-mount optics, including anamorphic and servo assist glass.
That means you can put virtually any professional-grade optic on this camera, from photographic Canon EF and Nikon F lenses to dedicated PL cinema lenses – you'll never be stuck waiting for a specific manufacturer to make the lens you want! The EF mount costs $175, whilst the Nikon F mount is $375.
4) 4 (yes, FOUR) memory card slots
Some people get snooty if a camera doesn't have dual memory card slots. Well, the Ursa Mini Pro 12K packs a whopping FOUR built-in card slots! It comes with dual CFast 2.0 card slots and dual UHS-II SD card slots.
It can simultaneously record across two cards up to an 900MB/s if using a pair of CFast cards, or 500MB/s to a tag team of SDs. And that's not all…
5) Record to external USB drives
Quadruple memory cards not enough for you? Worried that you'll burn through all your SDs and CFasts with all that 12K footage? No problem – the Blackmagic Ursa Mini Pro 12K packs a SuperSpeed USB‑C expansion port for recording to fast SATA and NVMe drives.
Again, many photographers get snooty if a camera has USB charging but doesn't support power delivery, which means that it can't charge while shooting. Well, the Ursa Pro 12K's USB-C 3.1 Gen 2 expansion port turns this on its head – it has power delivery and will actually power your external drives during use!
It can record to USB-C flash storage at up to 900MB/s, giving you another choice for capturing crisp 12K footage.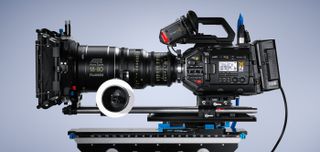 6) 14-stop dynamic range
Blackmagic is claiming an enormous 14 stops of dynamic range, which gives an enormous latitude for grading in post-production. Of course, we've seen this benchmark before (and higher, with cameras such as the Canon EOS C300 Mark III), but the whopping 80 megapixels of data per frame combined with new color science promises a leap in what is actually achievable.
The new Blackmagic Generation 5 Color Science is designed to accommodate this enormous amount of data for even better color response – which includes high-saturation and high-contrast scenes such as neon lights or car tail lights.
7) Built-in ND filters
Don't want to have to rescue 14 stops worth of exposure, but don't have ND filters for all those lenses and all those lens mounts you can now use? No problem – the Ursa Mini Pro has built-in ND filters.
Turn the dial and the mechanism will place these optical filters to restrict the amount of light entering the lens, at a strength of two, four or six stops. And they're designed to filter IR as well as optical wavelengths, to prevent the IR contamination that affects many ND filters.
8) Edit 12K on a laptop
Great, you've got 12K footage or 4K 120fps footage with 14 stops of dynamic range… but how do you actually edit it? Surely you'll need to trudge back to your office and hop on a suped-up desktop to handle that kind of video?
Nope, you can edit 12K footage right on your laptop. The Blackmagic RAW codec facilitates a 12K, 12-bit RAW workflow not only possible on a laptop, but as easy as editing 1080p or 4K vide. Work in any resolution, without rendering, while retaining full color accuracy – a true game changer for editors!
9) 4-inch touchscreen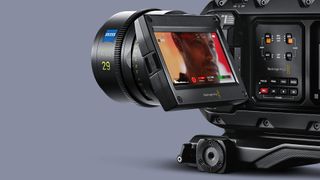 With some aspects of this camera – the 12K video, the 220fps frame-rate – it's definitely the big things that count. In other areas, though, it's the small things; half an inch might not seem like much, but when it comes to a screen for monitoring your video footage it's a ket factor.
Most of us are used to DSLRs and mirrorless cameras with a 3-inch or maybe a 3.5-inch screen, but the Ursa Mini Pro features a large 4-inch touchscreen. Sure, most people will probably prefer an external monitor, but having a larger screen as standard makes all the difference – especially since every setting and function can be controlled via the touchscreen interface.
10) Instinctive external controls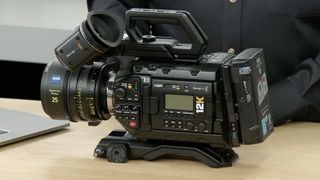 Stabbing at a touchscreen isn't always the best option, of course – especially on bright days when the sun makes it hard to see, or in challenging conditions where touchscreens are notoriously unresponsive.
The comprehensive external controls are instinctively laid out, enabling you to make crucial adjustments without button-fumbling, menu-hunting or having to take your eyes away from the action.
11) Professional, standard connections
When using a professional rig, the last thing you want to do is faff about trying to find leads or adapters to accommodate obscure connections. Fortunately the Ursa Mini Pro 12K possesses full-size, industry standard ports.
That includes 12G‑SDI out, LANC, balanced XLR audio with 48 volt phantom power, timecode in, reference input and a headphone connection, along with 4-pin XLR DC output to power viewfinders and other accessories, HD‑SDI output for monitors, and a 12 pin Hi‑rose connector for servo zoom lenses.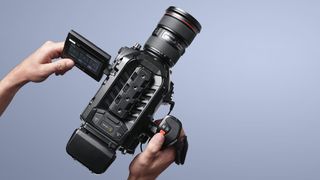 12) Handhold or shoulder-mount
Despite the horsepower it packs, the Blackmagic Ursa Mini Pro 12K is compact at 14.68 x 20.19 x 20.9mm, and weighs 5.1lbs / 2,313g. The evenly balanced weight means that it's suited to handheld shooting, but is adaptable to over-the-shoulder shooting as well.
An optional shoulder mount kit not only enables you to shoot from the traditional position, but features a quick-release mount so you can quickly switch from handheld shooting to shoulder-mounted to a tripod.
Pre-order the Blackmagic Ursa Mini Pro at B&H Photo
Pre-order the Blackmagic Ursa Mini Pro at Adorama
Read more:
Best cine cameras in 2020
The best cine lenses
Best cameras for filmmaking
The best on-camera monitors and external video recorders
What is 8K? And what does it mean to photographers and filmmakers