Every year, nearly half a million seabirds pack the cliff ledges between Bempton and Flamborough on England's Yorkshire coast – including thousands of the UK's largest species, gannets.
The RSPB's Bempton Cliffs Nature Reserve offers six safe cliff-edge viewing platforms, giving visitors (and photographers) stunning close-up views of life on the edge.
These are where I'm spending most of my day with professional wildlife and nature photographer Tesni Ward, as she guides me through her top tips for capturing coastal birds.
• More photography tips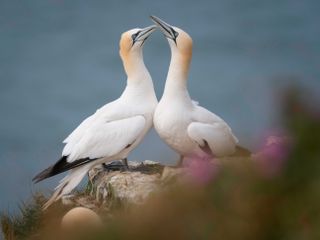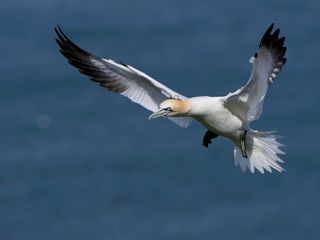 As the RSPB explains on its website, the chalk cliffs of Bempton are an ideal habitat for a huge range of species: "From April to October, they support England's largest population of seabirds, while grassland and scrub along the clifftops are home to breeding birds."
Although our shoot is at the very beginning of the season, Tesni is confident we'll still get our fix of gulls, gannets and puffins.
The mist and gales that we encounter upon meeting near the site's visitor centre make me less confident, but I lighten the mood by finding out more about Tesni's background in photography.
Tesni always had a passion for the natural world, but says that taking photos began on a family holiday as a teenager. "My parents were kind enough to give me my first DSLR, but outside of vacations it gathered dust."
It wasn't until 2013 that she started giving it more attention. With upgraded equipment and a new thirst, her passion steadily evolved, and in 2016 she became a full-time photographer.
Today Tesni is a busy pro, running wildlife workshops and tours through the year. Several of her popular tuition days take place at Bempton Cliffs: as we reach the first viewing platforms, it's easy to see why.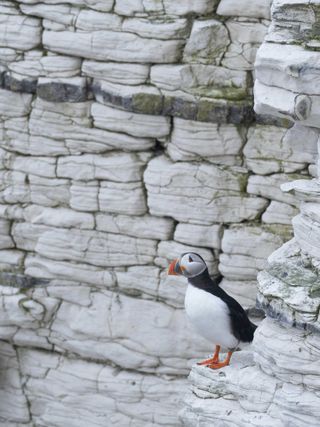 With hundreds of birds nestled around the cliffs, it's the perfect location to cater for shooters of all abilities. Here, you can hone and experiment with your wildlife settings and camera skills, with guaranteed subjects nearby.
"From complete beginners to seasoned shooters, my workshops are really tailored around people's individual wants and requirements," Tesni says.
"Sizes vary, too. I run workshops where the number of people isn't going to disturb the animals, but I also want everyone to have enough attention."
Behind the scenes of a Tesni Ward wildlife shoot
I'm curious to see how Tesni will begin. "I almost always shoot in manual mode to give me that extra level of control," she says. "For others who are less experienced, I might recommend a semi-automatic mode."
At the first viewing platform, Tesni gets out her 300mm lens with 1.4x teleconverter (a must-have for frame-filling shots of the birds) and starts to flex her shooting fingers. She points out the different species, as well as what to look out for in terms of behaviour.
Between shots, Tesni also explains her approach to composition. "I always use a grid. If there's a horizon line and I'm using my articulated screen, having the lines will help to avoid drunk horizons. If you've got tools in your toolbox, why wouldn't you use them?"
Tesni says that the grid lines don't impede the image, and she can even change their colour to make sure they don't become a distraction or get in the way.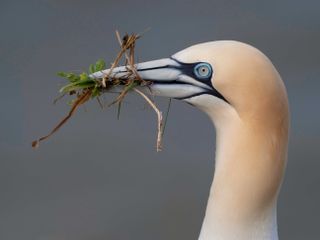 Throughout the morning we move to each viewpoint along the cliffs, but also stop between if there's a better opportunity.
"I know where you're more likely to see certain birds, and have flight shots, habitat shots and portraits," Tesni says. That observation and know-how of an area is what sets the best nature photographers apart, and what helps Tesni to deliver shots with impact.
In terms of settings throughout the day, Tesni sets her ISO manually and generally stays at f/5.6, the widest aperture possible with her lens and teleconverter combo.
"For flight shots, the shutter is the priority, but obviously nothing is fixed. It depends on the light. The depth of field is automatically wider because of the crop sensor."
I notice that Tesni favours looking through the viewfinder rather than using the screen. "If I'm trying to do low-angle stuff, and I can't or don't want to get into water, I'll use the LCD. It also comes into play when I'm recording video on a tripod."
A tripod rarely gets used on our shoot, something which traditional wildlife pros would once have sniffed at. This is partly thanks to the Olympus system: the 300mm lens is light enough to handhold, but sharp enough, too. Its 5-Axis Sync IS compensates for camera-shake by up to six stops.
Tesni's beautiful images aren't just down to her kit, though. Her work comes from the heart, not to mention the technical, artistic and fieldcraft skills she's learned over the years.
Her workshops are popular not only because she shares this knowledge openly, but because she gives them the chance to experience how wonderful (in our case, also wonderfully windy) the natural world is…
Tesni Ward's kit list for shooting seabirds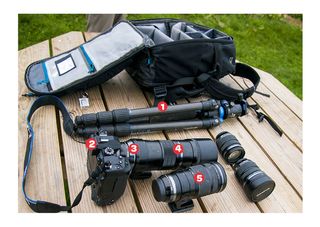 1. Benro Mach3 tripod. Tesni is a Benro ambassador, and uses a model from its pro range. With lightweight carbon-fibre legs, it provides reliable stability without weighing her down.
2. Olympus OM-D E-M1X. Tesni started using a pre-release version of this pro-level Micro Four Thirds camera at the end of 2018. She loves its ergonomics, balance and totally solid build quality:
"It just feels right, and the autofocus is cracking." The E-M1X has a 20.4MP sensor, but can capture 80MP wildlife images in High Res Shot mode.
3. Olympus M.Zuiko ED 300mm F4 IS PRO. This is Tesni's longest lens, but it's compact and nimble enough to use handheld. On the shoot, she used it with a 1.4x teleconverter, which took the focal length to 420mm (effectively a whopping 840mm in 35mm film terms). See our guide to the best lenses for bird photography.
4. Olympus teleconverter. This MC‑14 extends the focal length of Tesni's lenses by 1.4 times, giving her a telephoto zoom with a package that's just 15mm wide. Though the teleconverter causes a stop of light loss, Tesni still has fast super‑telephoto shooting when she uses it with her 40‑150mm f/2.8 Pro and 300mm f/4 Pro lenses.
5. Olympus M.Zuiko ED 40-150mm F2.8 PRO. This f/2.8 Pro lens is another favourite in Tesni's kitbag. The flexible zoom allows for speedy reframing, particularly when she's shooting larger animals such as wild badgers.
Technique tips and settings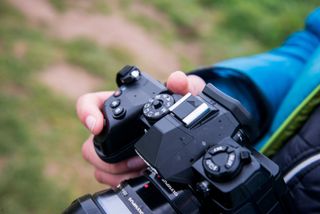 1. In changing light, use Auto ISO. "For the most control, I set the aperture and shutter speed manually, then change my ISO to get the correct exposure."
2. Do your research. "Spend time just watching the birds, and revisit a location throughout the year as well as at different times of the day. I'll often come to Bempton for a few days and sleep in my car just to capture species in the best early-morning light."
3. How to achieve perfect panning shots. "Aim to shoot them between 12 and 3 o'clock in the frame. This way, if you're keeping the birds on the right side of your frame, at worst they're going to be in the centre when you take the shot."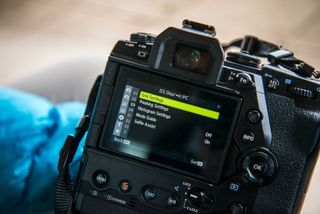 4. Be aware of other people. "Bempton is a public spot, so (on my workshops particularly) we can't hog a viewpoint for too long if it's busy."
5. You don't always need a tripod. "I use mine in low light and for shooting video, but the Olympus 300mm is light and stable enough to shoot handheld."
6. Dress for comfort and warmth. "I recommend waterproof clothes, gloves, boots, and a cover for your camera."
Tesni says that her settings and advice will vary for different cameras, genres and subjects.
Tesni Ward's on the Olympus OM-D E-M1X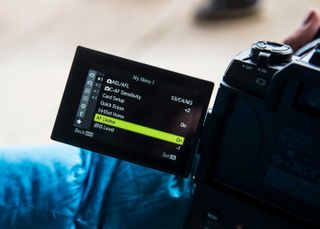 The Olympus E-M1X has a myriad of nifty tricks sitting in its menu. Another feature that Tesni shows me is the focus limiter.
"Let's say the sea is 100 metres below: I'll set the limiter to 70 or 80 metres, and this increases the hit rate for focused shots," she explains.
This feature might not be crucial at Bempton – where subjects are plentiful and used to human presence – but the accurate autofocus is a boon when you have only moments to capture a shy animal.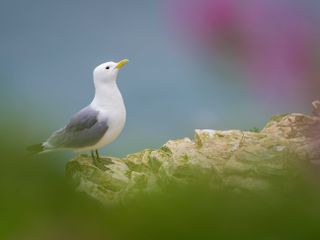 Another feature of the E-M1X is its integrated vertical grip, which I notice provides Tesni with the same grip and controls whether she holds it vertically or horizontally.
"In my early days, I didn't have a battery grip, so shooting in portrait mode was a pain. Now I have the extra grip, I shoot portraits a lot more. But again, the orientation depends on the scene."
For example, if Tesni is focusing on birds in flight, she's more likely to be in landscape. "I want space for the bird to move into. You don't want to cut off their wings or tails."
Read more
See more of Tesni Ward's photography
The best portable hides for wildlife photography
A day in the life of professional car photographer Amy Shore
A day in the life of pro landscape photographer Jeremy Walker
A day in the life of astrophotographer Alyn Wallace
A day in the life of professional landscapes photographer Jim Cossey