While I know very little about cars, I recognize a good car image when I see it. I came across Amy Shore's work on Instagram, and immediately wanted to find out how she creates her elegant and classy photographs.
Perhaps knowing little about a subject or genre makes it more intriguing, but fortunately for me, Amy invited me along to a 'Sunday Scramble' event at Bicester Heritage to see her at work photographing cars.
This location near Oxford in the UK has become a national hub for classic car enthusiasts and the Sunday Scramble runs several times throughout the year. Owners take their prized vintage, classic or modern classic vehicles out for a blast on this 425-acre former RAF WWII bomber base.
• More photography tips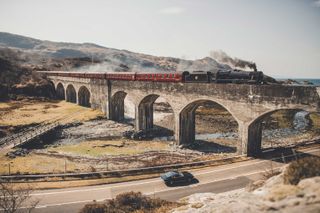 When I arrive, I find Amy already firing away with two Nikon DSLRs attached to her harness – one full-frame camera for each lens so that she doesn't have to keep changing them.
Amy has been briefed by Bicester Heritage to capture the atmosphere of the day: "When shooting events, I try to blend in and be unnoticed; I want to photograph true reactions as honestly as I can.
"Mostly, though, it's wandering – or running, if I see a good shot about to happen – and talking. Talking to people is by far the best way to get great images of people."
I don't mind running about like Amy does. (At times she'll take a lunge for camera stability, or crouch down for a dynamic low angle).
• Best camera for car photography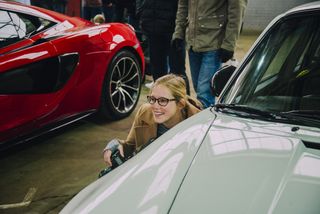 As I shadow Amy (looking very much like her new assistant) she tells me more about Bicester Heritage, as well as how she got into automotive photography.
"Bicester Heritage was one of my earliest-ever clients, around four years ago. At the time, it had only just begun renovating a couple of the buildings and I photographed one of the early Sunday Scrambles – it may even have been the first one.
"This event is a real comfort to me because of that: Bicester Heritage's growth has exploded, and it has seen me grow as a photographer, too."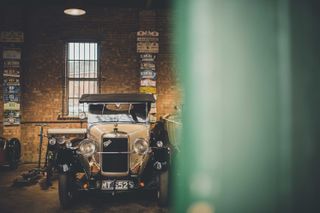 Amy's career has taken off and snowballed since her first event, but while she had always liked photography, she never thought it was a realistic job opportunity. In her final year at university, though, she bought her first full-frame camera, a Nikon D600.
"I started shooting weddings, and some friends of my dad asked me to photograph a car they had built. I had no idea how to photograph a car but agreed to do it, and shot it like I would a wedding couple – looking for the best features, angles and lighting.
"The same month, I went to a Goodwood Revival event and captured the incredible atmosphere of the classic car world. The images from these shoots kickstarted my career."
Behind the scenes of an Amy Shore car shoot
If you love cars, though, Amy has some interesting advice: forget that you're actually shooting them. "I think I've done well with car photography because I was never into cars when I started. It was purely an object I was attempting to highlight the best features of."
I'm slightly amazed by the amount of 'big' cameras I see flying around Bicester Heritage. Amy might have two of them, but she's definitely in favour of honing skills before buying new gear.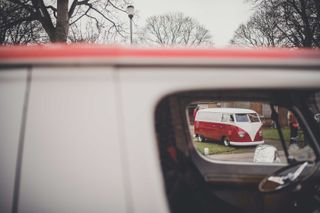 "To look like a 'proper' photographer, there's an assumption that you need to have the newest camera," she says, "But skill outweighs gear any day.
"You can learn composition, but it's something that then has to occur naturally. You can have a bad photographer with the best camera setup on the market, but they'll create high-quality bad photos."
As the day ends, gear and career tips aside, I consider Amy's best piece of advice for aspiring professionals. "Comparison is the thief of joy. Never stop trying to improve yourself, but stop comparing yourself to others."
Amy Shore's kit list for shooting cars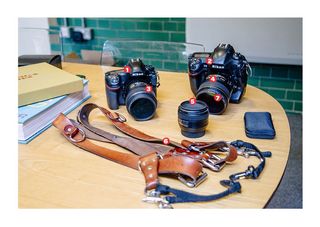 1. Nikon D850
The D850's weather-sealed body enables Amy to keep shooting, whatever the weather. "This is my primary camera, and a go-to combination with a 35mm lens attached."
2. Nikon D5
"I only moved to the D5 this year." The 153-point AF system on this full-frame DSLR provides Amy with wide coverage and precise focusing, for both moving and stationary vehicles.
3. Nikon Nikkor 35mm f/1.4 lens
This lens is mounted to Amy's D850. The 35mm focal length provides a natural angle of view, similar to the perception of the human eye.
4. Nikon Nikkor 85mm f/1.4 lens
"Attached to my D5, this is perfect for capturing those moments that are just that little bit further away from me."
5. Nikon Nikkor 50mm f/1.8 lens
"This was my first proper lens after a kit lens. Once I got it, I shot everything with it because I loved the 'blurry' background from the f/1.8 setting." Amy still switches to this lens regularly.
6. Hold Fast Money Maker multi-camera sling
The stylish leather Money Maker that Amy wears means that she can secure her two cameras where they're accessible and comfortable – on her shoulders. It's weather-resistant, too. There's a Solo edition for use with just one camera.
7. Polarizing filters
Amy uses circular polarizing filters to get rid of windscreen reflections in cars, and has one for each prime lens.
Technique tips and settings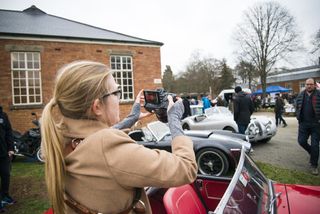 1. Work the angles: Amy always strives to make sure her shots have a clear subject – something the viewer's eyes can be drawn to.
2. Use the foreground: Amy looks for elements to shoot through and frame her pictures. "Light, color, shapes – that's all you're trying to arrange in your picture," she says.
"If it's a dull day, focus on color and shapes. If you're lacking color, focus on light and shapes. The best way I try to lead my viewer into the image is by making sure there's something in the foreground."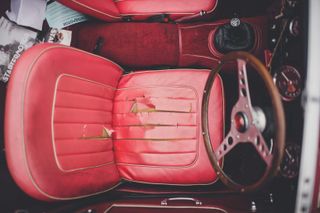 3. Viewfinder or vari-angle screen? Amy composes her shots mainly by looking through the viewfinder: "I like to really feel the images, and I don't find that Live View gives me that."
For trickier angles, though, she uses her camera's folding LCD screen. "Using the pull-out screen on my Nikon D850, I like to shoot car detail shots from above."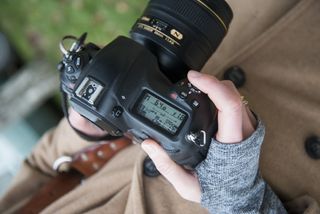 4. Manual mode – as Amy isn't shooting vehicles at high speeds, she is able to take a fully manual approach
5. Aperture – by setting her prime lenses to their maximum f/1.4, Amy achieves her characteristic wide-aperture look
6. ISO – because she is using a wide aperture and working in bright daylight, Amy doesn't need to set a high ISO as she shoots
7. Shutter speed – the light is even during the event. Outside, the shutter speed hovers at around the same value.
Other Day in the Life features in this series
• A day in the life of professional landscapes photographer Jim Cossey
• A day in the life of professional bird photography Tesni Ward
• A day in the life of astrophotographer Alyn Wallace
• A day in the life of pro landscape photographer Jeremy Walker
Post-processing - before and after
One thing that sets Amy's work apart from other photographers is its distinctive look. From the beginning of her career, she has worked hard to make her own presets without copying others, and batch-processes her images in Camera Raw.
"I am inspired by photographers such as Ragnar Axelsson, Sebastião Salgado, Harry Benson and Wes Anderson, but I'm pretty sure that none of my work looks like theirs," she says.
"When I first started shooting, I'd play around with settings, look at other people's images that I really liked, and really think, 'How have they made their picture look like that?' I created a preset I was happy with, and it worked as a really nice recipe."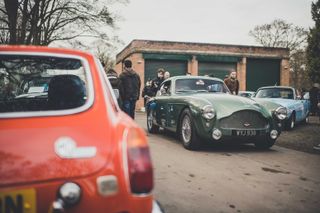 Read more
See more of Amy Shore's photography.
How to photograph a classic car with a single flashgun
How to shoot motion blur shots from a moving car
How to shoot a dramatic portrait of a driver