I've recently been writing a few articles on low-angle photography including ground-level street shots and macro subjects like mushrooms usually found on the forest floor. Leofoto was kind enough to send me its Ranger LS-223C carbon fiber mini tripod with LH-25 ball head so here's what I've found after a few months of using it in the field...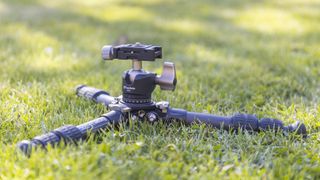 Before we dive into the bones of this review it's worth noting that the other way you'd conventionally shoot lower to the ground would be to either get down on one knee, or use a full-size tripod with a short centre column (or invertible centre column). Both of these methods have their pitfalls, as shooting handheld makes it harder to shoot long exposures, focus stacked images and your pictures will be more prone to camera-shake too. While a short centre column for a full-sized tripod is another small accessory you can easily misplace, and shooting with an inverted centre column is often a fussy ordeal as you'll be fumbling around with buttons and dials that are the wrong way up.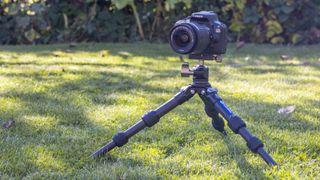 That means Leofoto's mini offering definitely has a niche target audience where its Ranger LS-223C mini tripod would be very beneficial. In fact there are already several miniature tripods on the market such as the GorillaPod 3K Pro and Manfrotto Pixi. Let's see how it stacks up...
Specifications
Price: $149/£159
Material: Carbon Fiber / Aluminum
Folded height: 20cm / 7.87"
Maximum operating height: 31cm / 12.2"
Minimum operating height: 5cm / 2"
Weight: 0.54kg / 1.2lbs
Load rating: 10 kg / 22 lbs
Sections per leg: 3
Center column: No
Locking leg angles: 3
Feet: Swappable rubber pads / spikes
Case/bag included: Padded soft case
Key features
Priced at $149/£159 this miniature tripod costs as much as many full-sized professional tripods, including the Vanguard Alta Pro 263AB 100 Aluminium Tripod with SBH-100 Ball Head and Manfrotto Befree Advanced Twist Travel Kit.
However, it's about 1/6th the size of a full-size tripod, so are you paying more to get less? The obvious benefit is that this mini iteration takes up much less space and weight in your kit bag. It will be perfect if you're specifically going out to take low-angle photos and will certainly be a hit with macro, travel and street photographers who need to get down low and keep weight and bulk to a minimum, but still want the creative possibilities you only get from a locked off tripod, such as long exposures and focus stacking.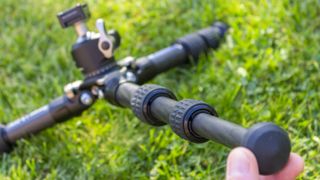 The construction is a mixture of Carbon Fiber and Aluminum giving it a weight of just over half a kilogram, yet can support up to 10kg - that's 20 times its own weight! Its three legs each have two twist leg locks and three sections, all of which can be set to three individual leg angles. In practice this means it can be extended to a maximum height of 31cm, or with the legs at their widest setting can get down to just 5cm from the ground for super low angle shots. When not in use the Ranger collapses down to a demure 20cm so easily fits inside of even the smallest camera bags - helpful if you don't like strapping your full-length tripod to the side of your camera backpack.
There's no center column, but then there's really no need for one on a miniature model and the rubber padded feet can be swapped out for metal spikes for better grip - these are found and stored in the provided soft case.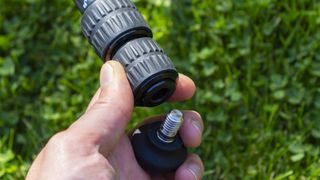 The Leofoto Ranger LS-223C features both 1/4" and 1/8" mounting studs to fit both types of popular tripod heads, though as stock it comes with the suitably portable Leofoto LH-25 ball head with Arca-Swiss quick release plate.
Build and handling
One of the first things you notice when unboxing the Leofoto Ranger LS-223C is its premium build quality. Which is to be expected on a product that costs the same as a professional full-size tripod, yet uses much less materials to produce. Leofoto also clearly believes in its build quality too, as the the LS-223C comes with a 10 year warranty. It comes with a nice padded case which also has a zippered pocket to keep the swappable metal spiked feet and the hex keys and instruction manual safe and secure.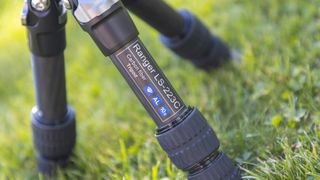 The metal parts feel well machined and many have been anodized for a premium look and feel. The leg locks are the twist type which makes it very quick to extend or collapse it down to size, they also feel very sturdy when locked off and only take about 1/16th of a turn to loosen or fasten, so you're not there all day wrenching them around.
The leg angles are set by pulling out a metal switch, this allows each individual leg to be set to one of three positions. This metal switch was extremely satisfying to use as once you extend it and set to the widest angle it clicks into place, and then clicks into each subsequent step when collapsing it down which is a great time-saving feature that save you from having to manual set it every time you need an adjustment.
There's a threaded 1/8" port on the side at the top of the tripod for attaching accessories such as an arm to hold a light or reflector which is another nice premium touch that makes the tripod design choices feel well thought out.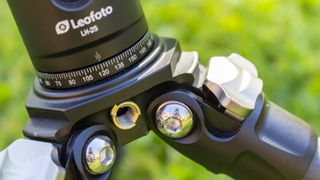 The Leofoto LH-25 ball head has the same super high build quality to match the tripod legs. It's machined and anodized aluminum has a rock-solid feel to it with one large lever to release or tighten the ball head adjustment.
My only issue with the LH-25 head is that the quick-release plate is quite small at just 1x1.5" - this doesn't offer a huge amount of contact with the camera you mount it to. You'll also need a screwdriver or coin to fasten it on as there's no thumbscrew.
That being said, it is an Arca-Swiss quick-release ball head so the ideal solution would be to attach an Arca-Swiss-type L-bracket to your camera so that you have a more solid connection over the small stock plate. An L-bracket also makes it easier to shoot in both the landscape and portrait orientations.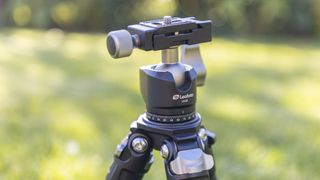 Performance
Despite being much smaller than even most travel tripods the Leofoto Ranger LS-223C isn't flimsy in the slightest and is a rock solid miniature option. Weighing just 0.54kg (1.2lbs) it is rated to hold up to a staggering 10kg (22lbs) of kit.
In our testing we used a lightweight Canon EOS 100D with 18-55mm kit lens which weighed just 622g (1.37lbs), unsurprisingly the tripod handled this no problem and was a breeze to set up and use. Turning up the heat, we progressed to a heavier setup to really test its chops. This time we used a full-frame Canon EOS 6D Mark II with a Canon EF 24-105mm f/4L IS USM II lens which has a much beefier combined weight of 1.56kg (3.44lbs). Even in this heavier setup the Ranger put in a rock solid performance and didn't budge, something I wasn't certain it would be able to cope with from my experience using other mini tripods in the past, so I was suitably impressed by this pocket rocket.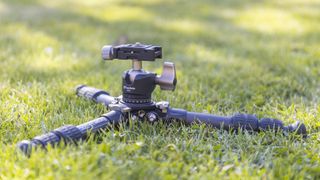 The control knob to lock or loosen the quick release plate is a bit awkward to turn when the plate is mounted parallel to the camera body, so instead needs to be pointed towards the lens, the knob then sticks out below your camera LCD and is much easier to get a hold of. It's not a deal breaker, you just have to remember to attach it the correct way, but once it's on it's not going anywhere.
One perk of the quick release plate being so small is that it doesn't get in the way of your battery door compartment, so you can swap batteries and SD cards easily (if your SD card is located there).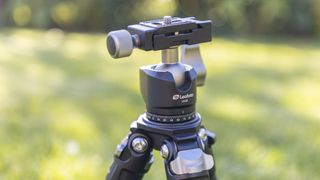 Many full-size professional tripods can get low to the ground with a short centre column, but I've never seen a full-size tripod with the ability to get as low to the ground as the Leofoto Ranger LS-223C does - just 5cm at the minimum height setting.
We were impressed not only by the high build quality but its speed of use too. All of the knobs, dials and levers have been well thought out and manufactured to a high standard, so adjusting a setting whether it's the height, leg angles or ball head adjustment all feel effortless and make it easier to take the shot when you're under pressure whether that's a time constraint or the natural light changing.
Verdict
I want to be clear, the Leofoto Ranger LS-223C won't be for everybody. It's quite expensive and for the same amount of money you could get a full-size tripod that will be a much more versatile option for everyday photography. This mini tripod is aimed at those who already have a professional tripod and are looking for an additional option to use on shoots where you're intentionally shooting low to the ground, such as street, travel or macro photography, and you want to keep your kit bag weight and bulk down to a minimum. In this area, the Leofoto Ranger LS-223C excels, and though pricey, it's premium build quality and ease of use make it a brilliant option.
Read more: check out our picks for the best tripod for photography, or if you are looking for something more specific you can find our guides for the best travel tripod or best carbon fiber tripod.