It's easy to get confused by Sony's camera range, so we're going to keep it nice and simple, and feed in some of the best Cyber Monday deals on the planet as we do it.
We are constantly checking the latest deals but these are changing hour by hour, so apologies for any items which are sold out, or for price changes made since our last check.
Quick links...
We'll get on to Sony's interchangeable lens cameras in a moment, but first we want to mention two Sony compact camera ranges.
Sony RX100 series
This is a pocket-sized camera that's now in its fifth version. It comes with a 1-inch sensor to deliver above-average quality for a camera of this size and newer models have high-speed continuous shooting and a built-in electronic viewfinder. The RX100 V is the latest model and it can shoot stills at an amazing 24fps. But look out too for the older RX100 IV, which can't match the newer camera's processing and shooting speed, but can still hit 16fps and is otherwise much the same – the RX100 IV could be a camera to watch this Black Friday.
The best Black Friday Sony RX100-series deals in the UK
Sony RX10 series
This is like the RX100's bigger brother. It too uses a 1-inch sensor, but this time in a long-zoom bridge camera design. The latest model is the RX100 IV, which has a terrific 24-600mm equivalent zoom and can capture images at 24fps – it's expensive, but considered the best bridge camera on the market. Look out for the older RX10 III, however, which loses out to the new model in continuous shooting speed and autofocus technology, but could still be a great deal this Black Friday.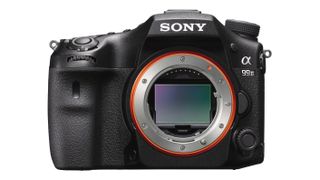 See also:
• The best camera deals on Black Friday and Cyber Monday 2017
• The best DSLR camera deals for Black Friday 2017
Sony's 'old' Alpha SLTs
So now for the Sony's interchangeable lens cameras, and when Sony first started experimenting with DSLR alternatives, it introduced its Alpha SLT range. SLT stands for 'single lens translucent', so these are like DSLR/mirrorless hybrids. The mirror doesn't flip up and down when you fire the shutter. Instead, its translucent surface simply lets the light pass through to the sensor at the back of the camera.
These Sony Alpha SLTs are still going, and the new Sony A99 II is a very powerful, high-resolution, high-speed professional model. But it does feel like the last of a breed and that Sony is now putting all its efforts behind its new mirrorless Alphas.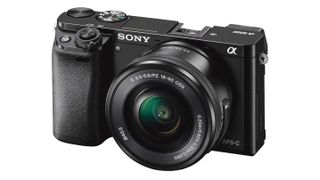 Sony's mirrorless Alphas
These come in two sizes, the APS-C models and the full-frame A7 series and A9, which are aimed at advanced amateurs and professionals.
The smaller APS-C range is now largely limited to the Sony A6000 and newer A6300 and A6500 models. All three are still on sale. The A6000 is the oldest and lacks the 4K video introduced on the A6300 and in-body image-stabilisation of the A6500 (there are numerous other differences) but it's a real steal at today's prices, coming in at well under £500 – and that's for an advanced 24-megapixel camera with a built-in electronic viewfinder.
It's the high-end full frame Alphas which are causing the biggest excitement, though, and here there are three main model lines all under the 'A7' umbrella.
Sony A7 and A7 II
This is the basic entry-level Alpha A7 camera. The original 24-megapixel A7 is still on sale, and now at knock-down prices that even we didn't believe when we first saw them. The downside is that the original camera does not have the 5-axis in-body image stabilisation introduced for the second-generation models. So even though the original A7 might look crazily cheap, we'd still advise paying more for the A7 II if you can afford it.
Sony A7R, A7R II and A7R III
This is the one that everybody wants. The original A7R came with a 36-megapixel sensor which was pretty hot at the time, though looks pretty ordinary now. You might still see it around at knock-down prices. The big breakthrough came with the A7R II, which brought Sony's brilliant 42.4-megapixel sensor and 5-axis in-body stabilisation. This model is still current, and still highly desirable, and we reckon prices could fall now that Sony has announced the A7R III…
The A7R III is essentially an A7R II but with a high-tech 399-point hybrid AF system and massively improved processing power to allow a continuous shooting speed of 10 frames per second. That's not a misprint. That really is 42.4-megapixel images at 10fps. Good luck finding one of these at a discount on Black Friday, but with any luck it might drive down the price of the A7R II.
Sony A7S and A7S II
This is a pretty specialised camera designed to offer 4K video and low light performance at the expensive of resolution. Its 12-megapixel sensor is unlikely to appeal to stills shooters, but it could be perfect for high-end videographers – the Mark II version incorporates Sony's in-camera 5-axis image stabilisation system.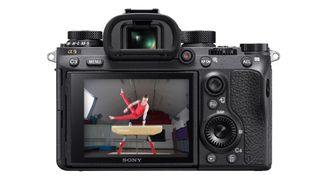 Sony A9
The A9 is an out-and-out sports shooter with some amazing features. Like most high-speed cameras it sacrifices resolution for speed, but even so its 24-megapixel sensor delivers highly detailed stills – and it can capture them at up to 20 frames per second in complete silence. This could open up whole new shooting opportunities for pro sports photographers previously banned from events or shooting situations where the clatter of a DSLR would get you thrown out. The A9 is pretty new, pretty specialised and pretty impressive, so we're not expecting any massive savings this time around.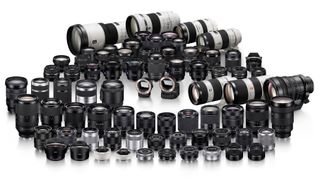 Sony lenses
These are just as complicated as the camera ranges, so here goes. First, there are the traditional Alpha lenses as used on the Alpha SLT cameras. These come in two sizes: APS-C and full frame, so you need to make sure you're getting the right size for your camera.
These Alpha lenses are compatible with the newer mirrorless Sony models via an adaptor, but you'd be better off buying the proper mirrorless lenses. There are some decent Alpha lenses in the range, even at a pro level, but you sense that Sony's attention is now on its mirrorless lenses.
Sony mirrorless E-mount and FE lenses
Sony's mirrorless cameras use different lenses and a different mount, to allow for the fact that the distance between the lens flange and the sensor is much shorter with a mirrorless camera.
The E-mount lenses are designed for Sony's APS-C cameras, like the A6000, A6300 and the A6500.
If you're using a Sony A7 or A9, however, you need full frame FE lenses. These can be used on the smaller APS-C mirrorless models, though as usual when using full frame lenses on APS-C bodies, the effective focal length with increase by about 1.5x (a 50mm lens effectively becomes a 75mm, for example).
So what's with the Sony, Zeiss and G Master brands?
Sony-branded lenses are at the affordable end of the lens range, and for some time Sony worked alongside prestigious lens maker Zeiss to market some higher quality lenses for serious photographers and professionals. Some of these Zeiss lenses are really nice, by the way.
But Sony has now raised the game even further with its premium G Master lenses. Using the latest optical design and manufacturing techniques, these are designed to deliver state of the art optical quality – at a price. Those we've seen and tested are stunning, but also big, heavy and expensive.
For now, the G Master and Zeiss lenses are the premium optics for Sony full frame mirrorless cameras.