Choosing the best camera is hard enough for professional photographers, but when you're just starting out the choice of types and price brackets can be overwhelming.
The best camera for photography isn't necessarily the most expensive, or the most powerful – it's about choosing the right camera for what you want to do. So before we list the best cameras across the whole spectrum, consider the following to see if they help you find what you really need.
Do you want a camera that's:
• User-friendly and cheap – Try the best point-and-shoot cameras
• Ideal to learn on – See the best cameras for beginners
• Great for vacations – Check out the best cameras for travel
• Child-friendly – These are the best cameras for kids
• Built for action – Look at the best GoPro cameras
• Made for aerial shots – Peep the best camera drones
• Analog and retro – How about the best instant cameras
• Water and weatherproof – Behold the best waterproof cameras
If you still need some inspiration, here are the 10 best cameras available right now!
The 10 best cameras for photography in 2023
Why you can trust Digital Camera World Our expert reviewers spend hours testing and comparing products and services so you can choose the best for you. Find out how we test.
Best cameras for photography: Top picks
Again, this all really depends on what, how and where you shoot, but for my money these are the premium picks.
First up is the Olympus OM-D E-M10 Mark IV. Don't let the complicated name fool you; this is a fantastic camera to learn on. But don't let the beginner-friendliness fool you, either; this is one of the best cameras for both travel and street photography.
Everyone should have an action camera, and the GoPro Hero 11 Black is the cream of the crop right now. With a high-res sensor for stunning stills and video, and incredible image stabilization to keep footage rock-solid, you can't go wrong.
Finally, if you want a ridiculously powerful camera that can shoot everything from 400MP photos to 8K video, look no further than the mighty Canon EOS R5.
The Canon EOS Rebel SL3 is a long-standing favorite of ours (and is sold as the Canon EOS 250D in Europe). It's by no means the most advanced DSLR you can get, but its simplicity, its controls, and the quality of the images it can create make it our top recommendation for anyone just starting out.
What's more, there isn't a lot the SL3/250D doesn't do – unlike other budget DSLRs, it offers 4K video, boasts a fold-out rotating LCD screen, and uses Canon's advanced Dual Pixel sensor technology.
But its 24-megapixel sensor delivers super-sharp, super-high-quality images. Do make sure you buy a kit that includes an 'IS' zoom lens - which gives you image stabilization that will help ensure your handheld shots are that bit sharper.
Read our full Canon EOS Rebel SL3 review / Canon EOS 250D review
These are the best cameras for beginners
With a flip-down screen for selfies and vlogging, along with very good in-body image stabilization, the E-M10 Mark IV is ideal for learning about photography and video and portable enough for daily use. With 4K video, some computational tricks, a guided user interface and attractive styling, the E-M10 Mark IV is an ideal entry-level camera that can do pretty much everything – and produces seriously impressive results in the hands of experienced users.
Its Micro Four Thirds sensor is smaller than full-frame or APS-C sensors, but the advantage is that the lenses are much smaller and lighter than those of its rivals – making this excellent for travel and street photography, too. This is a great all-purpose camera that's so much more powerful than it looks and could be with you for a long time to come.
Read our full Olympus OM-D E-M10 Mark IV review
Check out the best mirrorless cameras
The 'R' models in Sony's A7 series cameras are designed first and foremost for resolution – and the Sony A7R Mark V is the highest resolution camera yet with a full-frame sensor.
It's not just the detail rendition that's stellar, but this camera's 4K video capability and 10fps continuous shooting speed – all combined with in-body 5-axis image stabilization and one of the most powerful autofocus systems the world has seen, complete with the world's best (so far) eye AF.
One of the most compelling reasons for picking the Sony system, however, is the extensive lens range now available, both from Sony itself and third-parties, and the momentum the Sony brand has built up in the photographic community.
Read our full Sony A7R V review
See the best full-frame cameras

Despite the Hero 11 Black looking like every other GoPro this side of 2019, with upgraded hardware and software, it's a triumph on all fronts. The new, almost square sensor is supremely versatile, the camera's software has been simplified successfully, and GoPro's companion app, Quik, has also been improved.
With best-in-class stabilization, great-looking video in all but dimly-lit and dark scenes, and some fun new modes like light painting, the Hero 11 Black is an excellent addition to the line.
Its 8:7 aspect ratio is also a standout highlight for content creators. Able to shoot in 5.3K resolution at up to 30fps, its footage can be losslessly cropped to create new 4K portrait, landscape, and square clips from a single video. On top of 8:7 video, the Hero 11 Black captures 5.3K video at 60 fps, 4K at 120 fps, or 2.7K at 240 fps. You can also grab 27MP stills from the 5.3K video.
The Hero 11 Black might not have wildly improved the line's low light performance but, with its new sensor, a simplified interface, and enhanced horizon leveling, it's upgraded GoPro's offering in a meaningful way. Particularly appealing to folks who use multiple social platforms, nothing else can do quite what the 11 Black can.
Read our full GoPro Hero 11 Black review
Find more of the best action cameras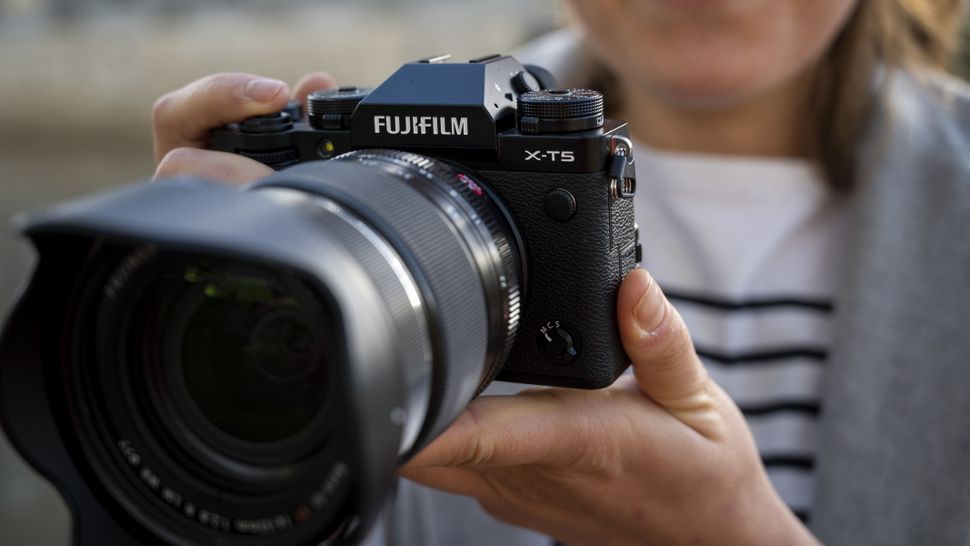 The Fujifilm X-T5 is a classically controlled SLR-style camera that is ideal for serious enthusiasts and old-school shooters, thanks to the traditional dials on the top of the camera that enable you to change ISO and shutter speed settings quickly.
The X-T5 takes the much-loved Fujifilm X-T4 further in terms of resolution but is still ideal for shooters who want a lightweight camera. Its specs are ferocious, with 40.2MP photographs, 10-bit 4:2:2 video at 6.2K 30p, and a 3-way tilting touchscreen for flexible image composition. In terms of the way that it looks, feels, and handles, the X-T5 is in a class of its own.
For more see our full Fujifilm X-T5 review
Take a look at the best retro cameras
We know that mirrorless cameras are all the rage, but we've included the Canon EOS 90D for all those DSLR fans we know are still out there – and for all the folk who've got drawers full of Canon lenses!
The 90D is an astounding APS-C workhorse of a camera, which combines a high-resolution 32.5MP sensor with a high-speed frame rate of 10fps, and it also manages glorious uncropped 4K video.
Its handling and ergonomics are a joy, reminding us of why shooting on a DSLR is such a tactile experience, and it's available for a welcome enthusiast price point – not to mention the fact that you get an optical viewfinder, which many people still prefer to the electronic viewfinders on mirrorless cameras.
Read our full Canon EOS 90D review
See more of the best DSLRs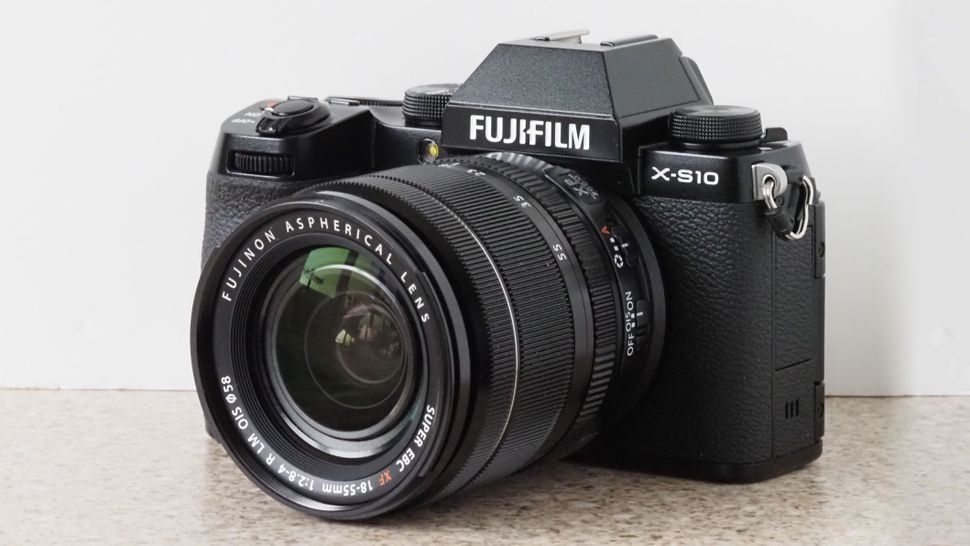 The Fujifilm X-S10 doesn't have the external exposure controls of the higher-level X-series cameras, but that's the only thing we can find to complain about, and it's clear this is no 'amateur' camera, as its build quality and handling stand out straight away.
The swap to a conventional mode dial might disappoint Fujifilm fans, but the excellent finish, build quality and handling, and the inclusion of IBIS (in-body stabilization) give this camera a very broad appeal, especially in this price sector, to produce perhaps the best combination of performance, quality, and value in the APS-C mirrorless camera market right now.
It even has a vari-angle rear screen, which is another reason why we rate this new camera above our previous favorite, the X-T30. This is a great choice for photographers looking to upgrade from an older DSLR or mirrorless camera. It is currently better value than the newer Fujifilm X-S20, which adds some more advanced video options (see our Fujifilm X-S10 vs X-S20 comparison for details).
Read our full Fujifilm X-S10 review for more details or Best cameras for enthusiasts
Normally we recommend interchangeable lens cameras for any kind of serious photography or filmmaking, but we'll make an exception with the Sony ZV-1.
It has a fixed 3x zoom lens and a 1-inch sensor that's smaller than its Micro Four Thirds and APS-C rivals, but it makes up for it with a super-compact body small enough to slip into a jacket or even a trouser pocket, and a body, controls, audio system and rear that are optimized brilliantly for vlogging. (The Sony ZV-1 II is more expensive and offers a wider-angle zoom, which is better suited for vlogging but otherwise is pretty much identical to the original.)
The woolly hat you see in the pictures is a muffler to cut wind noise while filming, and it comes with the camera, and the autofocus on this camera is blazingly fast – and copes brilliantly when you hold objects up to show the camera.
Read our full Sony ZV-1 review
Check out the best cameras for vlogging
We've gone really left-field with this suggestion, but the DJI Pocket 2 could be a great travel/vlogging camera. It wouldn't be the first choice for stills, but its 16MP stills (it can go up to 64MP) are likely to be better than a smartphone's and it can shoot programmable multi-row panoramas stitched-in camera, too.
There's even an optional wide-angle add-on for spectacular interiors and architecture. Its star turn is its video, though, with an in-built gimbal that provides a smoothness bigger cameras can only dream of.
It comes with a dinky controller for powered pan and tilt movements and has a trio of 'follow' modes, just like a proper gimbal. The difference is that this one will fit in a shirt pocket. The built-in touchscreen is very small, but you can plug the Pocket 2 into your smartphone and control it on a bigger screen via the DJI app.
Read our full DJI Pocket 2 review
The EOS R5 is Canon's most powerful all-round camera, and seems to be trying to corner every segment of the market at once. It's got a superb 45MP image sensor that produces images of incredible detail, and can even shoot 400MP photos (under strict conditions). It also boasts the best autofocus system I've ever used, which feels like cheating whether you're photographing people, animals or vehicles.
The video specs are equally exceptional. It can capture uncropped 8K RAW video internally at up to 30fps in 4:2:2 12-bit Canon Log, or HDR PQ (both H.265) in both UHD and DCI. On top of that, Frame Grab enables you to extract 35.4MP stills from your 8K footage, ensuring you never miss a moment and 4K can be captured at up to 120fps.
With weather-sealing, up to 8 stops of in-body image stabilization, dual memory card slots (including support for the high-performance CFexpress format), a fully articulating screen and plenty of other tricks, this really is one camera to rule them all.
Read our full Canon EOS R5 review
See more of the best professional cameras
Best cameras for photography: How we test cameras
We test cameras both in real-world shooting scenarios and in carefully controlled lab conditions. Our lab tests measure resolution, dynamic range, and signal-to-noise ratio. Resolution is measured using ISO resolution charts, dynamic range is measured using DxO Analyzer test equipment and DxO Analyzer is also used for noise analysis across the camera's ISO range. We use both real-world testing and lab results to inform our comments in buying guides.
Best cameras for photography: FAQs
Do I need a camera with interchangeable lenses?
Mirrorless cameras and DSLRs are the most popular type of camera amongst enthusiast and pro photographers - because they allow you to switch lenses to suit what you are shooting. They are often sold 'body only' without a lens, but are also available in kits with a budget standard zoom lens. But you can then buy long telephoto lenses to shoot birds, or ultra-wide-angle lenses for architectural interiors, or macro lenses for extreme close-ups. Most of these cameras will give you dozens of lens options.
A camera with a fixed, built-in lens - as found on compact cameras and action cameras - means that you buy something that doesn't mean investing extra in a lens. Many point-and-shoot cameras have zooms that can cater for most subjects - and bridge cameras in particular can feature super-telephoto settings for close-ups of the moon or distant wildlife.
Should I buy a DSLR or a mirrorless camera?
DSLRs use a traditional interchangeable lens design, where you actually view the subject through the lens - via a mirror that swings out of the way as you take the picture. Mirrorless cameras do away with this optical path - and you instead view your subject as you take the picture via a video screen (often built into the eyelevel finder).
Most manufacturers are now concentrating on mirrorless models, and we are seeing far fewer new cameras and lenses for DSLR systems nowadays. However, the cheapest DSLRs are less expensive than the cheapest equivalent mirrorless models - and the lenses are cheaper too - so are still be a viable budget choice for beginners.
See more in our DSLR vs mirrorless camera guide.
Want to drill down even more? Take a look at the best compact cameras, the best bridge cameras, the best cameras for vlogging, the best cameras under $500 and the best cameras under $100.