Thinking about buying a new Sony camera this year? It might be worth holding out for a great Black Friday camera deal, or possibly even a Cyber Monday camera deal on a Sony body or lens.
It's not that long to go now until Black Friday (29 November) and Cyber Monday (2 December). Together, the two days represent fantastic opportunities in the retail calendar to bag a super bargain on a new camera body, lens or accessory.
Last year, we saw lots of great deals on Sony gear – as well as some not-so-great options. Here, we'll only be showing you the very best Black Friday Sony camera and lens deals, followed by the best Cyber Monday Sony camera and lens deals. If you're thinking about dropping some of your hard-earned cash on one of these pieces of kit, know that you're safe in the knowledge that you're making a sound investment.
Sony frequently offers some of the best camera deals during these sales – as it has lots of older models in its range that, whilst already priced very competively, can be reduced that bit further to become monster bargains
So what are we anticipating that we'll see this year for Sony Black Friday and Cyber Monday deals? When can we expect to see the biggest savings? And which Canon models should you be looking out for in particular? We've got everything you need to know right here…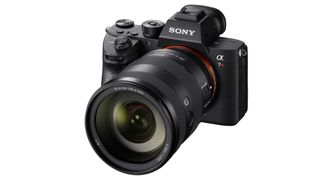 Sony camera Black Friday deals: what we expect
It's tricky to predict exactly which cameras will be part of Sony's Black Friday deals, but we can look towards what we have seen discounted earlier this year as a strong clue as to what you might find on offer.
Full-frame mirrorless cameras are often candidates great reductions. We have seen some fantastic reductions on the Sony A7 and Sony A7 II already this year - and they are already two of our favorite budget cameras for enthusiasts. Look out too for discounts on the video-centric Sony A7s, and the high-resolution Sony A7R .
Watch out too for discounts on the Sony A6000 series of APS-C sensored mirrorless cameras. The Sony A6000 has been a stalwart budget model for a number of years - and the company's best sellers everywhere. But recent additions to this range we would expect to also see discounts on the A6500.
There will be discounts on a range of Sony lenses to be found on Sony-fit zooms and primes to be found over Black Friday and Cyber Monday too.
In terms of compacts, the Sony RX100 range is a favorite for Sony Black Friday deals... There are, incredibly, six different generations of this one-inch sensor pocketable travel camera in the range. So we expect discounted older models to be discounted even further over the Black Friday period. The Sony RX100 IV is a particular favorite for big discounts...
The Sony RX10 bridge camera range is also one we see great discounts on the older versions in the range. The Sony RX 10 II was the model we saw great offers on last holiday period.
We can expect Black Friday deals to appear on Sony action cameras, such as the original RX0, and Sony camcorder deals too.
See below for the best prices we can find on some of Sony's most popular budget buys... but keep this page bookmarked, as we will be updating this with live deals as and when we spot them
Read more:
The best Black Friday deals for 2019
The best Sony cameras in 2019
The best Sony lenses in 2019