These days, the best tablet cameras can capture surprisingly decent images. Of course, that begs the question: why would you want to use a tablet to take pictures? Well, maybe you don't have your phone to hand at the time. Maybe you're using it for something else. Maybe your phone battery is low. Or maybe you just want a nice big tablet screen on which to view your shot.
Either way, tablets often come in handy for photography. And while of course, they're never going to match up to the best camera phone or the best cameras, they are getting much better at it.
With that in mind, if you're going to buy a tablet anyway, you may as well get one with a decent camera. And to help you out, below we've gathered together the very best tablet cameras on the market today, for Windows, iOS and Android.
The best tablet camera 2022
(opens in new tab)
The best tablet camera experience you can get at the moment comes from the iPad Pro 12.9 M1 (2021). On the rear you get 12MP wide and 10MP ultra-wide rear cameras, along with a time-of-flight (ToF) LiDAR scanner for depth. This setup offers video capture up to 4K at up to 60fps, and Full HD (1080p) capture at up to 240fps.
It's worth noting that these stats are exactly matched on the previous model, the Apple iPad Pro 12.9 (2020). Subtle improvements to performance have been made, though. For example, the 2021 iPad Pro boasts Smart HDR 3 software compared to Smart HDR on its predecessor; and offers extended dynamic range for video up to 30fps.
Overall, though, if the rear camera was your only concern, you might opt for the cheaper 2020 model (number 3 on our list). Where the 2021 Pro truly trumps its predecessor, however, is in the front-facing camera. That's jumped up in quality from 7MP on the previous year's model to 12MP. It also now boasts an ultrawide view which, thanks to the 'Center Stage' feature, means you're automatically cropped into shot when on a video call or taking a selfie.
The iPad Pro 12.9 M1 (2021) is also a fantastic tablet in general, with a high resolution screen, excellent levels of brightness, the superfast M1 processor and generous battery life making it one of the best iPads for photo editing too. To learn more, read our Apple iPad Pro 12.9-inch M1 review.
Released this March, the 10.9-inch iPad Air 2022 matches many of the specs in the iPad Pro 2021 (number one on our list), yet at a significantly lower price. For example, you get the same M1 chip, support for 5G, 12MP selfie camera, and the same Centre Stage feature.
On the back, though, you just get one 12MP wide sensor, so you're missing the ultrawide lens and the LIDAR scanner of the iPad Pro 2021. On the plus side, it does match the latter's digital zoom (up to 5x) and Smart HDR 3 for photos. 4K video is supported at up to 60fps, and 1080p maxes out at 240fps.
On the whole, the iPad Air 2022 is a less powerful tablet than the iPad Pro 2021, with storage just 64GB or 256GB (the Pro offers up to 2TB), and RAM only 8GB, to the Pro's 16GB. But frankly, that's not much of a climbdown in specs. And so overall, anyone looking for a modern iPad with a great camera will find much to like here.
See also: Best 11in laptops (opens in new tab)
(opens in new tab)
Want an iPad with a decent tablet camera, but on a tight budget? As we mention above, the latest iPad Pro is the absolute best there is; but the more affordable 2020 model comes a very close second.
After all, you're still getting the same 12MP wide and 10MP ultra-wide rear cameras, along with a time-of-flight (ToF) LiDAR scanner for depth, video capture up to 4K at up to 60fps, and Full HD (1080p) capture at up to 240fps.
The main compromise is that the front-facing camera drops down from 12MP to 7MP and doesn't have the automatic centering feature. The other big difference is that the 2021 iPad Pro is much, much faster; so if you're doing very resource-intensive tasks such as video editing, that might make a difference to your productivity.
If that's not the case, though, and the front camera isn't important to you, we'd probably advise opting for the more affordable 2020 iPad Pro.
(opens in new tab)
Want a Windows tablet with a decent camera? Then we recommend the latest Microsoft Surface Pro. This 2-in-1 tablet/laptop hybrid boasts a 10MP rear-facing autofocus camera with 1080p HD and 4K video, plus a 5MP front-facing camera with 1080p full HD video.
The rear camera offers clean and clear images, and the extra 2MP bump from the Surface Pro 7 really makes a difference to the level of detail you can capture. The front camera, meanwhile, does a surprisingly good job of conducting video calls, as long as your room isn't overly dim.
That's thanks to an Ambient Color Sensor in the front camera, which Microsoft has added to this Surface Pro for improved brightness and colour. It also allows you to log into Windows Hello using just your face.
There are plenty of other improvements over the Surface Pro 7 too, including a boost in RAM from 4GB to 8GB, a bigger and brighter 13 inch display and longer battery life, plus it runs the latest Windows 11 operating system. That means this isn't just the best tablet camera for Windows users available today, it's the best Windows tablet, period.
The Samsung Galaxy Tab S8 Ultra has the best tablet camera for Android users we've seen to date. On the rear you get two cameras, a wide and an ultra-wide. The first sports a 13MP sensor, measuring 1/3.4-inch, an f/2 lens and a 26mm focal length. The second boasts a 6MP ultrawide sensor with an f/2.2 aperture.
There are also two selfie cameras, both featuring 12MP resolution. With auto-framing, you can position your tablet and move around in front of it, and it will chooses the optimal framing for you. And both front and rear cameras support 4K at 60fps.
This is a great tablet in general too. It's ultrathin at just 5.5mm thick and boasts a huge 14.6-inch Super AMOLED screen that's great for watching movies and working in creative apps like Photoshop. It offers superior picture quality, with a 1848 x 2960 resolution, deep blacks, zingy colors, and a fast refresh rate of 120Hz. The Qualcomm Snapdragon 8 Gen 1 processor, with 8-16GB RAM, does a great job of running Android 12. The S-Pen has been redesigned and improved. And a powerful 11,200mAh battery promises up to 14 hours of video playback. For more details, see our full Samsung Galaxy S8 Tab Ultra review (opens in new tab).
(opens in new tab)
The Samsung Galaxy Tab S7+ isn't quite as powerful overall as the S8 Ultra (number 4 on our list). But in terms of the cameras, it's not far off at all. And so if you can save money by buying this slightly older tablet, it is definitely worth considering.
On the rear, you get 13MP wide and 5MP ultrawide cameras, and you can capture 4K video at 30fps. On the front, meanwhile, you get an 8MP front facing camera for your video calls and selfies.
This is a pretty great tablet in general too. Its Qualcomm Snapdragon 865 Plus processor is super speedy. The 10,090mAh battery will keep going for hours. The S Pen stylus is a joy to use for photo editing, and the 12.4in Super AMOLED screen delivers a lovely, hi-res picture quality.
(opens in new tab)
If you're looking for an affordable Windows tablet with a decent camera, then look no further than the Surface Go 2. Despite the low price, you're getting a very good 8MP autofocus rear camera that shoots 1080p video.
The 5MP front camera lets you stream in 1080p too, which gives it the edge over many similarly priced laptops, which tend to be stuck around the 720p mark.
More generally, the Surface Go 2 is a 2-in-1 device that can be transformed into a laptop when combined with Microsoft's Type Cover (sold separately). It's not the fastest or most powerful device, hence it runs by default in Windows 10 S Mode, which restricts you to apps from the Windows Store only. However, battery life is good, and overall this is a great budget choice for kids, students, or just anyone who wants to keep their costs low.
(opens in new tab)
If you're seeking a cheap Android tablet with a good camera, check out the Samsung Galaxy Tab A 10.5 (2018). It's a few years old now, hence the reduced price, but it's still a good performer.
Photography wise, you get an 8MP f/1.9 camera on the rear, while on the front you'll find a 5MP f/2.2 selfie camera. These perform as well as you can expect in an older model, plus there are some nice tools in the camera app, including Night Capture, Panorama, and a Pro mode that lets you adjust things like white balance and ISO. Both can capture 1080p video at 30fps.
Obviously this is not the most powerful or up-to-date Android tablet, with just 3GB RAM, and running an older version of the operating system (8.1). But it copes with most things pretty well, and for this price, you won't find better.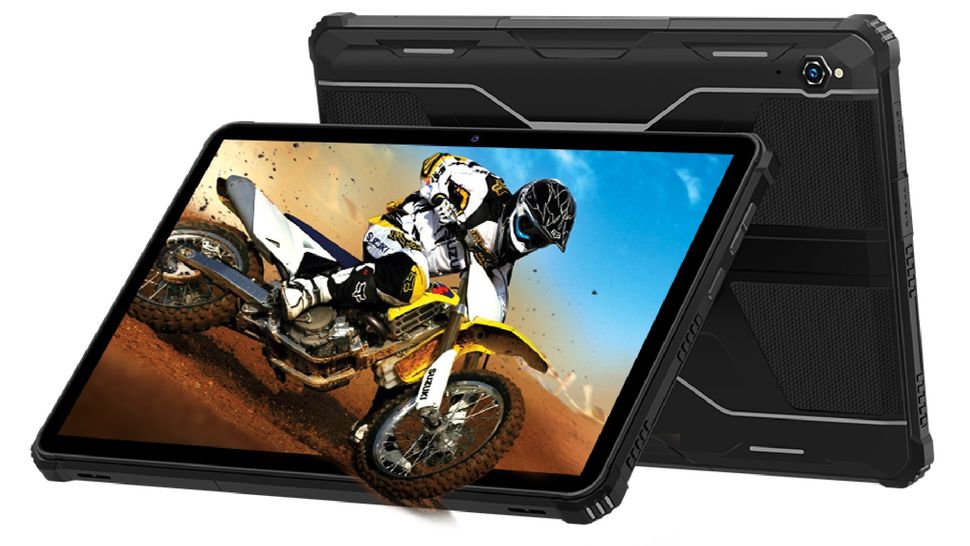 Heading out into rough terrain or hazardous conditions? Then you'll want one of the best rugged tablets. And the Oukitel RT1 offers our favorite combination of tough protection, great cameras and overall performance.
Conforming to MIL-STD-810G military standards and IP68-certified, this super-tough device is waterproof to five feet for 30 minutes, and boasts drop protection to an incredible 30m. Plus you'll benefit from 360° all-round dust resistance, to IP69K certification.
It's not a bad choice for capturing images either. Both the front and rear feature 16MP Samsung cameras with built-in photography modes such as Panorama, Night and Pro. The selfie camera offers 1080p video recording for video calls.
Plus it's a very nice tablet in general, too. Running Android 11, it has a 10,000mAh battery, which the makers say will keep your device running on standby for up to 350 hours. The 10.1 inch touchscreen, which has an aspect ratio of 16:10, offers Full HD resolution, and works even when you're wearing gloves. On the downside, the P22 processor isn't the most advanced, so it can run a little slowly. Also, the screen offers only 350 nits of brightness, so isn't great in sunlight.
See our guide to the best rugged tablets (opens in new tab), for other waterproof and drop-proof alternatives.
(opens in new tab)
Tablets tend to be quite big and cumbersome, making them not-so-great for taking pictures with. If, for this reason, you'd rather opt for something on the small side, we'd recommend the latest iPad Mini.
The best tablet camera you'll find in a compact size, its rear camera sports the same 12MP sensor as the iPad Pro. This is capable of capturing 4K video at up to 60fps. On the front, meanwhile, there's an excellent 12MP selfie/video call camera. This employs the Center Stage feature that automatically centers you in picture, and can capture 1080p video at up to 240fps.
Elsewhere, the 8.3 inch screen offers a gorgeous hi-quality display, with vivid colours. You get excellent performance thanks to the speedy Apple A15 processor. And the tiny size and weight means it's easy to carry everywhere.
Want an iPad but short of funds? The best budget iPad available today is the iPad 10.2 (2019), and it's got quite a bit to offer photographers. Its 8MP rear camera provides sharp and clear images, with good, strong colours. It features HDR, and can capture 1080p video at 30fps.
On the downside, the 1.2MP front facing camera is not great at all. And on the whole this model is more basic than the latest, expensive iPads. But as long as you're not using it for important voice calls, and you're not bothered about selfies, this is the best iPad available for a cheap price today.
Read more:
• Best budget tablets (opens in new tab)
• Best cases for iPad Pro (opens in new tab)
• Best cases for iPad Mini (opens in new tab)
• Best cases for iPad Air (opens in new tab)
• Best stylus for iPads and iPhones (opens in new tab)
• The best phablets (opens in new tab): big-screen smartphones
• The best monitors for photographers (opens in new tab)
• Best drawing tablets for photo editing (opens in new tab)
• The best photo-editing laptops (opens in new tab)
• The best desktop computers for photo editing