The most striking thing about the new 'base' model of the Apple iPhone 15 is its new colorways. A new process embeds the color directly into the glass back and sides, and as a result, the multi-colored models have a far more 'pastel' appearance compared to previous incarnations, more of a 'white with a hint of' color.
Apple iPhone 15: Specifications
Processor: A16 (6-core CPU, 5-core GPU, 16-core Neural Engine)
Display: 6.1" 2556 x 1179, 460ppi Super Retina XDR display
Main camera: 48-megapixel with ƒ/1.6 aperture
Ultra-wide camera: 12-megapixel with ƒ/2.4 aperture
Front camera: 12-megapixel with f/1.9 aperture
Operating system: iOS 17
Interface: USB-C
Capacity: 128GB, 256GB, 512GB
Color options: black, pink, blue, green, yellow
Image stabilization: Sensor-shift optical image stabilization
Max video resolution: 4K @ 60 fps, 1080p @ 240fps
Water resistance: IP68
Battery: 20 hours (26 hours for Max)
Weight: 171g (201g for Max)
It's a love-it-or-hate-it kind of thing – and I have to say that the color versions are just a bit too pastel for my tastes. So while my previous-generation iPhone was blue, this time around I opted for the standard black coloring. Then again, as the first thing that most of us do is stick our smartphone into a protective case, the color of the thing will be largely academic.
Perhaps the reason that Apple has gone for such a radical cosmetic change is that, at first glance, there's not a huge amount else that is different from previous models. It otherwise has roughly the same dimensions as the iPhone 13 and 14 before it (there's a millimeter or so difference here and there, but not so much that you can't squeeze it into a case designed for these older models while shopping around for a brand-new iPhone 15 case). The control layout is identical (it doesn't have the new multifunction Action button of the Pro models, but sticks with the ringer/silent switch), and on the back, there's the familiar 'bump' housing the dual camera modules arranged in a diagonal layout.
Powered on, the differences become more apparent. The display notch that houses the front 'selfie' camera and face detection sensor assembly has been moved down the display to form a cutout rather than a notch, which Apple has cleverly disguised within a 'dynamic island' – a display-within-a-display area that expands and contracts to keep you alert of various background tasks, such as incoming messages or timers. It's a brighter display too, and easier to read in daylight.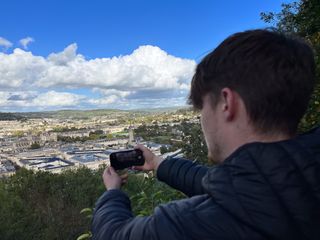 Apple iPhone 15: Key features
While there are only two rear cameras, Apple boasts of three native optical zoom settings: a wide-angle 0.5x (equivalent to 13mm in full-frame DSLR terms), standard 1x (if still quite wide at 26mm), and telephoto 2x (52mm setting). How so? Well, a little skullduggery is at play here. The resolution of the main camera has increased from the 12MP of previous generations to 48MP, and so the phone produces the 2x image by simply only using the pixels as the very center of the sensor and binning the rest.
The upshot is that you get just as much resolution in the final image as you do when using the wide setting (a 12Mp 4032 x 3024 image) or as in previous iPhones. Even at the 1x zoom setting, the full image image is downsized to a 24Mp 5712 x 4284 resolution. However, there is also the option of 'super high resolution' 48Mp 8064 x 6048 image in the HEIF format, though these don't have the same editing flexibility as those taken at standard resolution.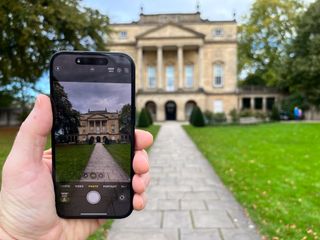 Trickery aside, having perfectly usable 2x images is a big improvement on previous generations of iPhones. You can actually go further still; if you hold rather than tap the zoom area, a swipeable display pops up, allowing you to enlarge the image up to 10x with digital zoom, though here you are severely cropping into the picture, and the low-res result isn't good for much.
Apple iPhone 15: Build & handling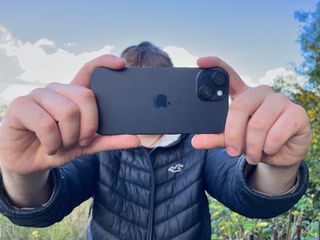 The phone is constructed from a toughened and (as previously mentioned) color-infused glass frame, giving it a very different look and feel from the Pro models' titanium bodies.
With very similar dimensions and control layout to the previous five generations of iPhone, upgraders will feel immediately at home, although perhaps also feel that they're getting more of the same. There are no radical design departures here.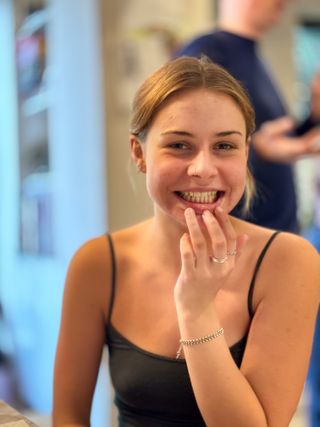 The dynamic island may have been engineered primarily to disguise the move of the various sensors to further down the display, but it feels completely natural and soon becomes an integral part of the functionality of the phone.
And of course, being an iPhone, it fits seamlessly into the Apple ecosystem and runs iOS, the best phone operating system out there. It comes with the very latest iOS 17 out of the box, although of course owners of previous models can also upgrade to this over the air.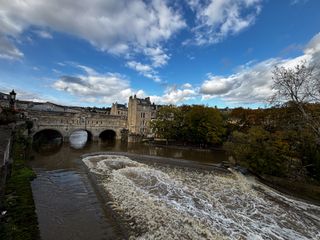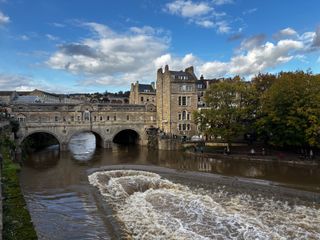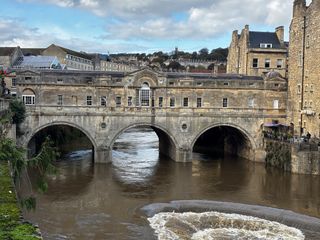 Apple iPhone 15: Perfomance
This year's base model inherits last year's Pro model processor, Apple's own custom A16 'Bionic' processor (by comparison, the iPhone 15 Pro and iPhone 15 Pro Max get the all-new A17 silicon), and with this chip at its core, the phone is zippy in all aspects of performance.
This extra processing grunt no doubt enables much of the behind-the-scenes functionality that enables some of the phone's most stunning photography features. As with previous models, there's a portrait mode that uses the main camera to take the image but the secondary wide camera to create a depth map, from which the device can work out how far different elements in the image are from each other and blur out the background convincingly to make the subject really stand out.
But this time around, you can apply this after you've taken the shot, switching the focus between two people in a scene, for example. You don't even have to have shot the original picture in portrait mode to do this, though it does have to be taken at the standard 1x zoom.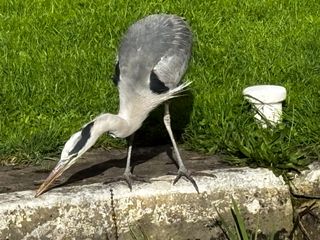 Video is similarly slick, allowing smooth focus transitions by simply tapping on the area of the frame that you'd like the focus to pull to. It's capable of recording 4K at 30fps, and 1080p HD video in slow-mo at 120fps or 240fps.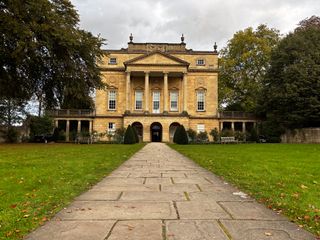 Apple iPhone 15: Verdict
The iPhone 15 has some major improvements in its camera capabilities over the iPhone 14 and previous generations. Eeking three native 'optical' zoom levels from two lenses is downright clever, and the ability to decide where the focus should be in a shot after it has taken allows for something of a 'shoot first, ask composition questions later' approach.
However, with the Pro model only costing an extra $200/£200, most phone photographers will find the additional camera and increased functionality that the iPhone 15 Pro or Pro Max brings well worth the modest additional outlay – and that's before factoring in the superior build, more advanced processor, always-on ProMotion display, Action button, and longer battery life.
But all that said, it's a very good smartphone in its own right that's brimming with features and is hardly underpowered, and if photography functionality is a nice-to-have rather than your prime reason for buying a phone, and you really can't stretch to a Pro, then is the lowest-cost route to getting a latest-gen iPhone.
Apple iPhone 15: Competitors
This is the base model iPhone 15, but also consider: the iPhone 15 Max, which has a bigger 6.7in screen for an extra $100/£100; the iPhone 15 Pro, which has has an additional 'true' 3x telephoto camera module, faster processor and snazzy titanium construction for $200/£200 more; and the iPhone 15 Pro Max, which as the name suggests combines the improved specs of Pro and bigger display of the Max, while also increasing the telephoto lens to a 5x zoom and doubling the base memory from 128GB to 256GB, and costs $400/£400 more than the base model.
Read more: for our top picks of the best camera system you can buy right now on a phone, check out our guide to the best camera phone, or if you have a little less to spend, check out our picks for the best budget camera phone.