Creating starbursts is an essential technique to have in your landscape photo armoury. Preparation is key. You need to find out at which time of year the sun will set through your subject; when the weather conditions will be suitable; and, for seascapes like this, how the tide will affect access and safety.
How to add a starburst to your landscape photographs
1. Be prepared
I think that good preparation alone gives you a 50 per cent chance of success. I use Google Maps' satellite view to scout locations; The Photographer's Ephemeris to provide sunrise and sunset times; AccuWeather for an hour-by-hour forecast; and Windfinder to keep tabs on wind conditions.
2. Early riser
Arrive early so you have time to set up your tripod and find the best composition. You must be facing the sun, and it must not be obscured by any clouds. Notice how I've made the starburst intersect with the arch's pillar; the effect is much more visible against the dark rock than in the middle of the sky.
3. Grad skills
As you're shooting into the sun, I recommend using an ND grad filter to help balance the extremely bright sky with the darker ground. Make sure your lens and filter are clean, as the sunlight amplifies dust spots. Never look directly at the sun through an optical viewfinder – only Live View. I used a NiSi GN8 (3-stop) Medium Graduated ND filter for this shot.
4. Narrow-minded
Use a narrow aperture to create a defined starburst effect, although your shot will suffer the effects of diffraction if you go too narrow. I've found that f/16 is a good compromise. Use single-point AF (AF-S), and focus at the hyperfocal distance. Apps like Focus Finder on iOS help you calculate this.
5. Go wide
A wide-angle field of view is my preference, and I've found that top-quality lenses tend to produce a more beautiful effect. Still, while facing the sun, you will probably witness some flare. Get around this by capturing multiple exposures and blending together the bits with no flare in post.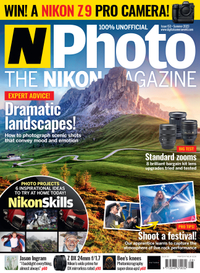 N-Photo: The Nikon Magazine is a monthly publication that's entirely dedicated to Nikon users. For the best news, reviews, projects and more, subscribe to N-Photo today!
Read more:
The best tripod for photographers
Best cameras for landscape photography
The best camera bag for travel