Canon EOS cameras feature sensors that offer amazing low-light image quality, yet still sports photographers require large, long, fast-aperture telephoto lenses. Factor in that the aperture value is a ratio of the effective diameter of the aperture divided into the focal length; so a 600mm f/4 lens needs a 150mm diameter aperture, making lenses big and requiring large optical elements.
There are multiple factors that determine what kind of gear is needed to succeed: fast shutter speeds, a high ISO performance, fast, accurate and responsive AF, and high frame-rates. Capturing dynamic action invariably requires fast shutter speeds to avoid subject blur.
• Take a closer look at the best Canon telephoto lenses for fast apertures and great reach
No amount of optical or image stabilization can compensate for a moving subject. Also, in busy sporting action, it's good to isolate the key players from the surrounding scene, and only a fast aperture creates a shallow depth of field that this requires.
Autofocus systems work better with more light, and 2 stops of aperture from f/5.6 to f/2.8 lets 4 times as much light into the camera. On overcast days, or in low light, that makes a big difference to how responsive and accurate autofocus will be. Most Canon cameras require a minimum aperture of f/5.6 to focus; only a few models can focus with f/8, usually with a limited number of AF points.
Many advanced DSLR cameras have central focus points that automatically switch to high-precision AF operation when a lens with an f/2.8 or faster aperture is used. This responds to the extra light available and also counters the limited depth of field that requires extra precision when focusing.
While noise performance is very impressive in the latest Canon bodies, even a stop lower ISO improves the quality of an image. Most pro sports photographers shoot to exceptionally tight deadlines, even sending images direct from the camera – which means that the pros are invariably shooting JPEG, not RAW, and therefore rely on in-camera noise reduction and no post-processing, as journalism ethics require using unedited images.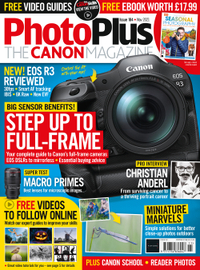 PhotoPlus: The Canon Magazine is the world's only monthly newsstand title that's 100% devoted to Canon, so you can be sure the magazine is completely relevant to your system. Every issue comes with downloadable video tutorials too.
You might also like the best Canon lenses and the Canon EOS R10 review.