Welcome to part 3 of our new Canon School tutorial series. Canon EOS DSLRs have a relatively large mirror positioned in front of the imaging sensor. This mirror reflects the light up to the optical viewfinder so that you can compose your shot, and it also allows light to strike the camera's dedicated AF module.
In order for the sensor to create an image, the mirror has to be lifted out of the way before the shutter curtains open to start the exposure. When the shutter curtains close to end the exposure, the mirror thumps back down and the AF module can get to work again. This happens multiple times a second when continuous drive has been selected, so it's no wonder it can make a bit of a racket.
Of course, you can use Live View with the mirror locked out of the way, but in most cases you'll still have the noise of the shutter opening and closing. It's the same with a mirrorless camera, which doesn't have a mirror assembly and is basically in permanent Live View mode. As a result, it's quieter than a DSLR, but it still has the mechanical shutter starting and stopping an exposure.
Taking the next step towards truly silent shooting, Canon has started introducing an electronic shutter option to the EOS range. The electronic or 'silent' shutter works by switching the sensor on and off to start and stop the exposure, rather than using a moving mechanical shutter to do so.
1. Silent shooting modes
Several different 'silent' shooting options are available in the Canon EOS DSLR range. The most common of these is the Silent drive mode, which you can find in the EOS 90D and upwards. This mode slows the action of the mirror mechanism and, while it's not silent – it appears to have been rebranded as 'soft shooting mode' in the Canon EOS-1D X Mark III – it does soften the 'thunk' of the mirror when using the optical viewfinder (it doesn't work when the camera's in Live View mode).
There are Silent options for both the single shot and continuous drive modes – look for the ones marked with an 'S'. One thing to bear in mind is that continuous shooting speed is noticeably slower with the Silent option engaged. With the EOS 7D Mark II, for example, it drops from around 10 frames per second (fps) to approximately 4fps.
There is another factor you'll need take into account when shooting with Silent drive mode: shutter lag. With the mirror movement slowed down, there is a slight delay between the shutter button being pressed and a picture being taken. While this is fine for subjects that aren't moving, it can be a problem for images where split-second timing is important.
You can, of course, work on your timing to try and remedy this, but sometimes there's no option but to shoot with a little more clatter in order to get the shot that you need.
2. Live View silent shooting
As well as having 'silent' drive modes or an electronic shutter, some advanced EOS cameras, including the EOS 5D Mark IV, 7D Mark II and 6D Mark II have an additional 'Silent LV Shooting' option available in the red Shooting menu. This is designed to reduce the noise level when taking pictures in Live View, and there are two different modes to choose from, as well as an option to switch it off.
Mode 1 is the default setting and is designed to suppress mechanical noise, but Mode 2 takes a slightly different approach. Unlike Mode 1, you can only shoot a single frame even when you've set the drive mode to continuous. The reason for this is that once you fully press the shutter button and a photo is taken the camera will suspend operation. It will only resume operation again when you lift your finger and the shutter button returns to the half-way point. This gives you control over when the noisy part of taking a shot kicks in; if you don't want to disturb a subject, you can move somewhere else – or hold the camera under your coat or behind your back – before you release the shutter button.
3. Electronic shutter
Canon EOS mirrorless cameras like the Canon EOS R and Canon EOS RP are quieter in operation than DSLRs because they don't have the mirror mechanism slapping around inside.
Most still use a mechanical shutter to start and stop the exposure, however, so they aren't exactly silent. But the introduction of electronic shutters has changed all that.
Although the number of cameras that offer an electronic 'silent' shutter function will certainly grow, there are currently five EOS bodies that offer it as an option: the EOS R, RP, R5 and R6 and 1D X Mark III.
The function is disabled by default as there are some trade-offs that come with using an electronic shutter. In the EOS R you have to dip into page 6 of the red Shooting menu to enable it. You can use the function in any of the Creative Zone modes, and choose to shoot in single or continuous drive modes too. When the camera was first launched, silent shutter was only compatible with single shot drive mode, but a firmware upgrade has amended this. If your EOS R doesn't allow you to combine the silent shutter with continuous drive, you can download the firmware from Canon's website.
You won't find the same silent shutter option in the EOS RP's menu. Instead, you have to set the mode dial to 'SCN' (Special Scene Mode) and then select Silent Mode from here.
The reason Canon have designed it a little bit differently is that the RP is aimed at those photographers taking their first-steps into full-frame photography. As such, they are unlikely to be aware of the side effects of using an electronic shutter in photography.
4. Shooting 'silent movies'
Keeping a lid on noise becomes even more of an issue if you're recording an audio track.
This is especially true if you're using the camera's built-in microphones. Not only will these pick up button and dial clicks, they can potentially record mechanical noises from the lens, such as autofocus and image stabilization. Even the sound of the aperture opening and closing may be audible if you're shooting in an especially quiet environment – although, to be fair, changing the aperture while recording a video isn't recommended as changes in the exposure may also be recorded.
One way to reduce lens noise is to use an STM (Stepping Motor) or Nano USM (Ultrasonic Motor) lens. These are designed with video in mind and are much quieter in operation than standard USM lenses. The STM (Stepping Motor) lenses are generally not as fast as USM lenses, as they're designed to produce smooth, near-silent autofocus.
Nano USM focusing technology was first seen in the 18-135mm f/3.5-5.6 IS USM launched in 2016 and made its 'L' series debut in the RF 24-105mm f/4L IS USM. Rather than using a large rotating ring-type AF motor like the majority of professional USM lenses, it uses a much smaller, thinner unit that fits into the lens barrel itself and which moves the focus lens backwards and forwards. It combines the best bits of USM (high-speed autofocus for stills) with STM (smooth and quiet autofocus for video).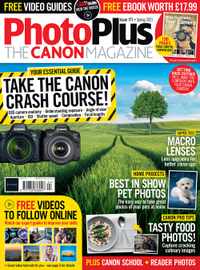 PhotoPlus: The Canon Magazine is the world's only monthly newsstand title that's 100% devoted to Canon, so you can be sure the magazine is completely relevant to your system.
Read more:
Canon DPP: Canon Digital Photo Professional tutorials
Best Canon lenses
Best Canon RF lenses
Best Canon EF-M lenses
Canon EOS-1D X Mark III review