Welcome to our new Canon School tutorial series part 7. Learn all you need to know about Canon's Image Stabilization options in-camera and on lenses for sharper images and videos.
Can you believe that Canon's Image Stabilizer (IS) technology is over 25 years old? Launched in 1995, the EF 75-300mm f/4-5.6 IS USM was the first interchangeable camera lens to boast built-in optical image stabilization – by today's standards though, two stops of shake reduction is hardly something to boast about. Canon continues to be at the forefront of stabilized lens design, with the latest IS lenses typically offering four or five stops of shake reduction for sharper results at slower shutter speeds.
Canon had been a bit slow off the mark is with in-body image stabilization (IBIS) in its EOS cameras – a number of rival mirrorless camera manufacturers are already using this technology – however Canon's EOS R5 and EOS R6 now have 'true' IBIS.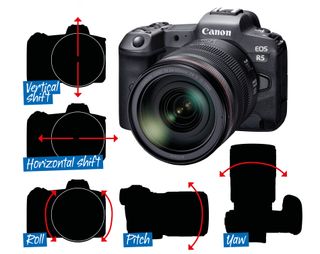 1. Strong and stable shooting
When vibrations are detected by an IBIS system, the imaging sensor is adjusted via electromagnets in order to keep the image as stable as possible. The EOS R5's implementation will offer 5-axis stabilization, meaning that it'll minimize vibrations in five directions: vertical and horizontal shifts, plus pitch, yaw and roll movements. Canon also says the EOS R5's IBIS will 'work in harmony' with the optical IS of Canon RF lenses – presumably giving even more stops of shake reduction when shooting.
IBIS has a few advantages, chief being it can stabilize almost any lens that doesn't have IS. A possible drawback, though, is it isn't usually as effective at longer focal lengths, where the greater magnification (and bulk) of a telephoto lens can require more compensation.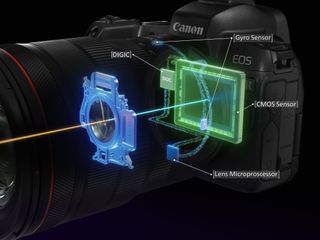 2. Canon gyroscopic technology
Each of Canon's IS lenses uses gyro sensors inside the barrel to detect horizontal and vertical movement of the lens. It then counteracts this movement by shifting a group of internal elements in the opposite direction to stabilize the image. But while the process is the same, the way it's implemented across the IS lens range varies.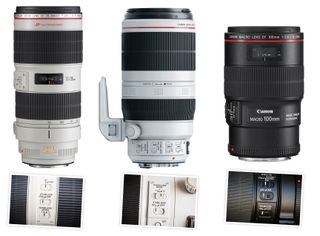 3. Canon lens Image Stabilization
The majority of IS lenses have a simple switch to turn the IS function on or off. With IS enabled, the camera automatically shifts from standard all-round stabilization to one that's designed for panning when it detects the camera being moved in a single direction for a short period of time. The panning stabilization corrects camera movement in just one plane – so if you're panning the camera from left to right to track a car, for example, only vertical vibrations will be reduced.
Many of Canon's L-series telephoto lenses have an IS mode switch that gives you manual control over the type of stabilization. Older lenses offer a choice of two modes: Mode 1 is the general purpose option, while Mode 2 optimizes the stabilization for panning. L-series telephotos add a third mode, which only stabilizes the image when the exposure is made. This can give a more natural-looking image when shooting action. With the other modes, image stabilization kicks in the moment the shutter release button is half-pressed.
Some of Canon's macro lenses have a Hybrid Stabilizer. This system has a on/off switch and corrects for angular shake as well vertical/horizontal 'shift' shake that's more common with close-up photography.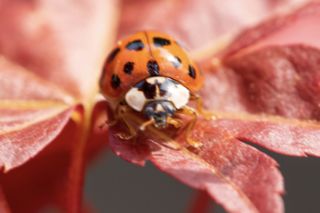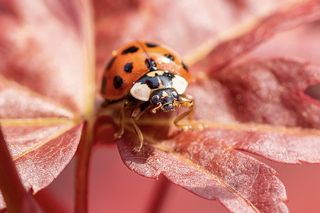 4. How slow can you go?
The rule of thumb for sharp handheld shots is to ensure the shutter speed is at least equivalent to (ideally faster than) the focal length of the lens. So with a 60mm lens, the shutter speed should be at least 1/60 sec to avoid the effects of camera shake. But if you're shooting in low light, or you want to use a smaller aperture, the shutter speed may be slower. You can, increase the ISO to achieve a faster shutter speed, but you may not be able (or want) to push it. This is where an IS lens can save you.
Canon's image stabilization systems, whether they're in-lens or in-camera, are rated in 'stops'. A stop is a measure of exposure. When a lens says it offers four stops of image stabilization, this means the camera shake reduction is equivalent to using a shutter speed that's four times faster. So, with IS switched on, a shutter speed of 1/25 sec could potentially give an image that's as sharp as one taken at 1/200 sec. This is because each 'stop' is equivalent to a shutter speed that's twice as fast: 1/25 sec – 1/50 sec – 1/100 sec – 1/200 sec.
I say 'potentially' because your mileage may vary when it comes handheld shots. If your technique isn't so good, or the lens is bulky, or you're shooting in windy conditions, then you might not be able to get sharp results at the number of stops indicated. Canon measures the effective performance of the IS system using a vibrating machine, rather than actual handheld shots, so your experience of using the lens may be different.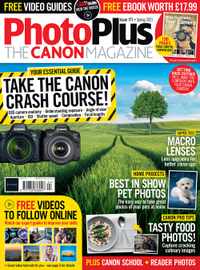 PhotoPlus: The Canon Magazine is the world's only monthly newsstand title that's 100% devoted to Canon, so you can be sure the magazine is completely relevant to your system.
Read more:
Canon DPP: Canon Digital Photo Professional tutorials
Best video lights: continuous video lighting for vlogging and filmmaking
The best laptops for video editing: edit your footage easily, wherever you are
The best keyboards for video editing!
Canon EOS M6 Mark II is better than the Canon EOS R