Welcome to part six of our Canon School tutorial series. Learn all you need to know about the latest high-resolution video formats on Canon EOS cameras.
Canon's EOS 1D-X Mark III might be the first Canon DSLR to offer Raw video recording, but the EOS R5 mirrorless camera introduces 8K capture. So what is exactly 8K – or 4K for that matter – and why are these big resolutions such big news?
Resolution is the number of pixels that make up a digital image, but it's expressed in different ways for photos and videos. The maximum resolution of still images produced by an EOS camera is determined by how many pixels are on the imaging sensor. The EOS 2000D's sensor, for example, is approximately 6000 pixels wide and 4000 pixels high, giving a resolution of around 24 million pixels.
If you need to fit more images on your memory card, you can select 'M' (Medium) or 'S' (Small) image quality settings to reduce the pixel count as appropriate.
Read more: The best Canon R5 deals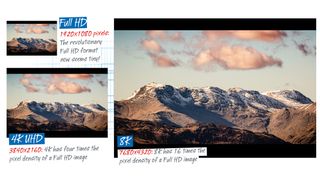 1. Full HD, 4K & 8K videos
Video resolution doesn't change in the same way. A Full HD image is always 1920 pixels wide and 1080 pixels high, whether it's recorded with a 24Mp EOS 2000D or a 50.6Mp EOS 5DS. It's the same principle with 4K, although Canon uses two different flavours of 4K; each frame is either 4096x2160 pixels (4KI DCI) or 3840x2160 (4K UHD). Full HD is also known by its vertical resolution – '1080p' – while 4K gets its name from its horizontal resolution.
An 8K image is built from 7680×4320 pixels. This is 'only' twice the horizontal and vertical resolution of 4K, which in turn is twice the resolution of Full HD. But it's the pixel density that matters. There are four times the number of pixels in an 8K image than there are in a 4K one, and 16 times the number of pixels in an 8K image, compared to a Full HD image. More pixels gives you more clarity, smoother edges, and more creative editing options.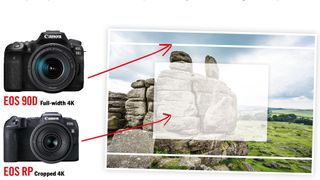 2. Reducing the pixels
Canon EOS camera sensors are packed with millions more pixels than are needed for 4K video recording, so Canon have employed different methods to deal with this disparity. The simplest option is to use a 1:1 pixel crop, where a 3840x2160 (or 4096x2160) pixel portion in the middle of the sensor is used, and the rest of the sensor is ignored. This is used for 4K capture in the EOS 5D Mark IV, EOS R, EOS RP and EOS 250D. While this gives sharp results and puts less pressure on the camera's sensor than other options, it effectively increases the focal length of the lens. This is good if you're filming wildlife, but less useful if you want to capture a wide view. It's also a pain when you want to quickly move from shooting photos to video, as the framing will change. The shot becomes more magnified if you activate 'Movie digital IS' to reduce camera shake.
Canon offers 'uncropped' 4K recording in a few cameras, including the EOS 90D and EOS M6 Mark II. Here, the full width of the image sensor is used to shoot an image, with the height of the image being cropped to give the correct aspect ratio for video playback. The camera then processes the image to reduce it to the correct 4K resolution. The chief drawback is that you can end up with a little less detail.
The EOS R5 will also offer full-sensor-width 8K video, making it easier to achieve the 'cinematic' image that comes from combining a full-frame sensor with a large aperture to create a shallow depth of field.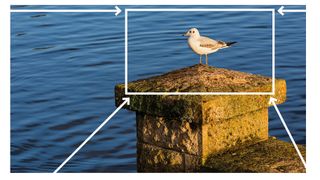 3. High-res in, lower-res out
With still images, more pixels give you more flexibility when it comes to cropping. You can make the subject look bigger in the picture or fine-tune the composition, while still retaining enough resolution to produce large, detailed prints. When it comes to videos, the resolution your films will be played back in dictates how much cropping freedom you get in video-editing software. For example, if your movie is going to be displayed in Full HD, and you've recorded clips in Full HD, then any crop you make in post-production will make the image look softer. This is because you're simply blowing up a smaller image to fill the Full HD display. The same is true if you play a Full HD movie on a larger 4K display; it will look softer than a clip that's been recorded in 4K.
You do, however, get a massive advantage if the playback resolution is lower than the resolution used to record a video clip. If you've recorded your movie in 4K resolution, but will be outputting in Full HD, say, then you have an abundance of pixels to work with. You can simply crop a Full HD section from the larger 4K image, or resample the full 4K image to give you a better-looking Full HD framing in post. Record an 8K video with the Canon EOS R5, and you get even more pixels to play with when it comes to all that post-production goodness.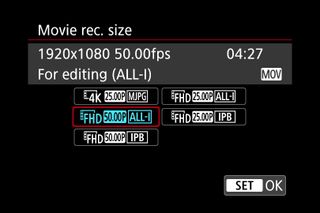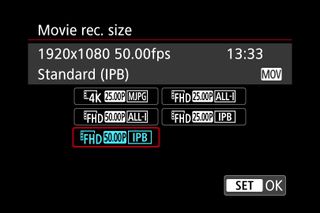 4. Bigger memory cards!
There are some caveats that come with shooting at very high resolutions, the biggest of which is the extra storage requirements. Video recorded at a resolution of 4K or higher creates large file sizes that eat up space on cards and hard drives. To help alleviate this, many EOS bodies offer various video compression options.
Take the EOS R: it has a choice of ALL-I or IPB compression when recording 4K. ALL-I is what's known as 'intraframe' compression, this means each frame of video is compressed individually. IPB uses 'interframe' compression, which compresses groups of frames together. In order to do this, it retains full detail in a few 'key frames', and then only records the info that changes in subsequent frames. As a result, IPB gives smaller file sizes and longer recording times, at the expense of a potential loss in quality: a 32GB card fills in 8 minutes with ALL-I, but 35 minutes with IPB.
Your camera may also offer IPB in standard or light varieties. Both compress multiple frames at a time, but the light version uses a lower bitrate for smaller files (and reduced quality).
Another limit of shooting at 4K is it may involve sacrificing Canon's great Dual Pixel CMOS AF, so the camera defaults to the slow (by comparison) contrast-detection AF. You also might be limited by frames. The standard frame rate is 25fps, but a faster rate, such as 50fps, will allow you to record crisper action, and play back clips in slow mo. You may have to switch to Full HD and even HD to get faster frame rates.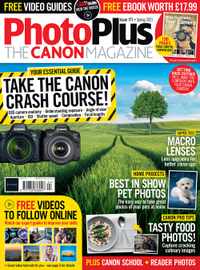 PhotoPlus: The Canon Magazine is the world's only monthly newsstand title that's 100% devoted to Canon, so you can be sure the magazine is completely relevant to your system.
Read more:
Canon DPP: Canon Digital Photo Professional tutorials
Best video lights: continuous video lighting for vlogging and filmmaking
The best laptops for video editing
The best keyboards for video editing