The Canon EOS M6 Mark II is Canon's best mirrorless camera. Yes, it's better than the Canon EOS R. In many ways, the M6 Mark II is the camera that the EOS R should have been.
Revealed almost a year ago, the EOS R is the company's flagship full-frame mirrorless – and its flagship mirrorless camera, period. The Canon EOS M6 Mark II is the company's flagship APS-C mirrorless, yet it outguns the headline act in just about every meaningful way.
• Hands-on: Canon EOS M6 Mark II review
We've broken down the key differences between the two models in the table below. In terms of pure specs, the supposedly junior model (due to its smaller sensor) actually leaves the EOS R in the dust in every category except ISO range – and let's be honest, nobody shoots above ISO25,600 unless they reeeeeally have to.
The only genuine advantages the Canon EOS R has over the M6 Mark II are in terms of physical build, not internal specs. It has an integrated (and very, very good) electronic viewfinder and a fully articulating touchscreen, which is inarguably more useful for composing shots when using the EVF isn't possible.
The in-built EVF contributes to the added size of the EOS R, of course, which is in no way pocketable – unlike the diminutive M6 Mark II. So that advantage may actually be in the smaller camera's favor.
Swipe to scroll horizontally
| Header Cell - Column 0 | Canon EOS R | Canon EOS M6 Mark II |
| --- | --- | --- |
| RRP (body only) | $2,299 / £2,349.99 | $849.99 / £869.99 |
| Sensor size | Full-frame (35mm) | APS-C |
| Sensor resolution | 30.3 megapixels | 32.5 megapixels |
| ISO range | 100-40,000 (expandable to 50-102,400) | 100-25,600 (expandable to 51,200) |
| Video capabilities | 4K up to 30fps (cropped), 1080p up to 60fps | 4K up to 30fps (uncropped), 1080p up to 120fps (no sound) |
| Continuous shooting | 8fps | 14fps (plus 30fps RAW burst mode) |
| Maximum image size | 6,720 x 4,480 | 6,960 x 4,640 |
| LCD screen | 3.15-inch fully articulating touchscreen, 2.1m dots | 3-inch tilting touchscreen, 1.04m dots |
| Viewfinder | EVF, 3.69m dots, 100% coverage | (Optional Canon EVF-DC2, 2.36m dots, 100% coverage) |
| Size | 135.8 x 98.3 x 84.4mm | 119.6 x 70.0 x 49.2mm |
| Weight | 580g (body only; 660g with battery and card) | 398g (body only, with battery and SD card) |
Every single technical advantage, bar ISO, goes to the Canon EOS M6 Mark II. It has more megapixels (32.5 to 30.4), it has faster continuous shooting (14fps to 8fps), it records uncropped 4K video (Hallelujah!), it captures 1080p up to 120fps (albeit with no audio or autofocus), it has a 30fps RAW burst mode and focus bracketing… it delivers a lot more capability.
And, of course, it's so much smaller and lighter. There's still a bizarre resistance to smaller mirrorless bodies, sneered at pejoratively as 'compact system cameras' by some DSLR users who are married to the myth that bigger, bulkier kit is somehow superior. For our money, though, if technology can be made more compact then we're all for it – we've certainly moved on from CRT televisions and bulky desktop computers.
Still, differences over sizes and specs aside, there are two defining characteristics that separate the Canon EOS M6 Mark II from the Canon EOS R: the sensor format and the mount.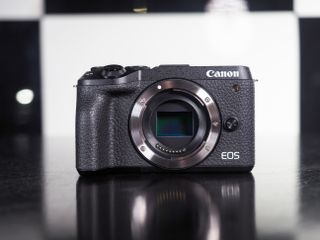 Canon EOS R vs Canon EOS M6 Mark II
Full-frame sensors aren't better than APS-C sensors, or vice-versa; they each imbue a camera with very different properties. A full-frame sensor has superior low light performance, generally better dynamic range, and of course delivers a shallower depth of field.
APS-C sensors enable the camera body – and, crucially, the camera lenses – to be much smaller and lighter. The crop factor does mean that the equivalent depth of field isn't as shallow, but it also works to your advantage in increasing the effective focal length of your lenses.
Which brings us to the second point: the mount used by those lenses. There's no denying that the line-up of native lenses for the EOS-M mount is decidedly lacking, since it doesn't even crack double digits.
Of course, even with the release of the two new trinity lenses, there are currently even fewer native lenses for the RF mount – though the Canon RF lens roadmap is miles much more robust, and the company is working hard to populate it.
The answer, in both cases, is to adapt existing EF lenses – something that both the Canon EOS R and M6 Mark II can do capably, though the EOS R has the edge thanks to its faster communication that occasionally improves the AF performance of EF optics.
Which boils right down to our opening premise. The Canon EOS M6 Mark II has higher resolution, shoots better video, is faster, smaller, lighter, and is just as reliant on EF lenses as the Canon EOS R. As things stand right now, we think it's Canon's best mirrorless camera.
Read more:
Hands-on: Canon EOS M6 Mark II review
Canon EOS R review
The best Canon camera in 2019: from DSLR to mirrorless to PowerShot and Ixus