From the well-known South Korean manufacturer of manual-focus lenses, the Samyang AF 14mm f.2.8 is an ultra-wide prime that's among the relatively small but growing number of autofocus optics. In North America, the lens is sold as the Rokinon 14mm F2.8 AF which is identical in all-but name.
Available for Canon and Nikon full-frame DSLRs, it enables you to pack a reasonably compact and lightweight yet fast lens in your bag, for when a standard zoom simply won't go wide enough. Samyang also makes a 14mm f/2.8 autofocus lens for Sony E-mount fully-frame cameras, but that one has a different optical design with one fewer elements.
• Read more: Best wide-angle lenses for Canon
Samyang AF 14mm f/2.8: Specs
Mount: Canon EF, Nikon F
Lens construction: 15 elements in 10 groups
Angle of view: 117 degrees
Diaphragm blades: 7
Minimum aperture: f/22
Minimum focusing distance: 0.2m
Maximum magnification ratio: 0.15x
Filter size: N/A
Dimensions: 91x96mm (C) 91x93mm (N)
Weight: 484g (C) 474g (N)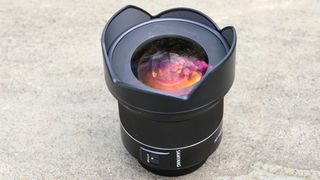 Samyang AF 14mm f/2.8: Build and Handling
The lens looks deceptively simple from the outside, with just a large focus ring and auto/manual focus switch to play with. Typical of ultra-wide lenses, the hood is an integral part of the design and gives physical protection to the protruding front element. The Canon-mount version is marginally larger and heavier than the Nikon-fit edition but there's very little in it. Both feature weather-seals.
Even some of Samyang's latest manual-focus lenses have no built-in electronics whatsoever, including the MF 14mm f/2.8 for Canon and Nikon mirrorless cameras. By contrast, this autofocus lens has a full complement of electronics, enabling focus distance information to be relayed to the camera. The aperture can also be controlled from the camera body, rather than via a control ring on the lens, so you can use the full range of PASM shooting modes.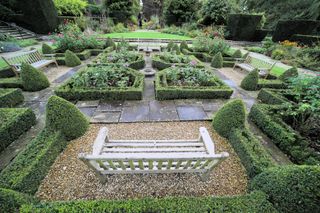 Autofocus is driven by a linear stepping motor. As usual with this type of system, there's no focus distance scale featured in the lens and manual focus is via an electronically coupled 'fly by wire' focus ring. This means that manual override of autofocus is available, but that manual focusing can only be applied while the camera's focus/metering system is active, for example after a light press of the shutter button.
Samyang AF 14mm f/2.8: Performance
Autofocus is fairly fast and virtually silent in operation, while precise manual focusing is easy to apply, thanks to the fly-by-wire control ring. We found autofocus accuracy to be consistently good in our Canon-mount sample of the lens. Exposures also remain consistent, when stopping down through the aperture range.
Compared to the simple physical look of the lens, the optical path is quite complex, featuring 15 elements in all and including two aspherical elements, one ED (Extra-low Dispersion) element and four HR (High Refractive index) elements. The reward is mostly very good image quality.
Sharpness is very good across most of the frame and barrel distortion is pretty well controlled for such a wide-angle lens. There's also very little lateral chromatic aberration, even in the extreme corners of the frame, and vignetting is fairly minimal, even at f/2.8.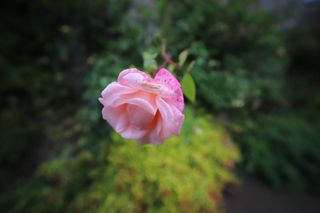 Samyang AF 14mm f/2.8: Lab Tests
Sharpness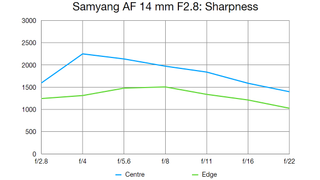 Sharpness in the central region is very good at f/2.8 and excellent between f/4 and f/11.
Fringing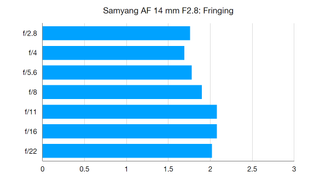 Lateral chromatic aberration is well controlled even in the extreme corners of the frame.
Distortion
Barrel distortion is of quite a low order for such a wide-angle lens, and easy to correct.
Samyang AF 14mm f/2.8: Verdict
Wide-angle lenses aren't just for shoehorning more of a scene into the frame. They're also great for exaggerating perspective and stretching the apparent distance between close foreground objects and the background. This Samyang lens does particularly well in this respect, thanks to a very short minimum focus distance of just 20cm.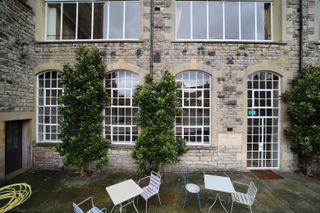 Naturally, you also often need a wide viewing angle when you're shooting indoors and can't get as far back as you might like. Another plus point of the Samyang is its fairly fast f/2.8 aperture, which enables sufficiently quick shutter speeds for handheld shooting or reducing motion blur in most indoor environments.
The AF 14mm is quite pricey for a Samyang lens – but then it does offer autofocus. Furthermore, it's only about a third of the price of the competing Canon EF 14mm f/2.8L II USM and the antiquated Nikon AF 14mm f/2.8D ED competitors. It's worth pointing out that the Samyang can autofocus on all Nikon DSLRs, whereas the Nikon AF lens can't autofocus on entry-level DX bodies like D3xxx and D5xxx series cameras. Considering its build, handling and overall performance, the Samyang is a very good buy.
Read more
Best wide-angle lenses for Nikon cameras: for DSLRs and Nikon Z
Best Canon lenses: go longer, wider and closer with your Canon camera
Best fisheye lenses