The Samyang AF 135mm F1.8 FE goes head to head with Sony's own-brand Sony FE 135mm f/1.8 G Master lens. It boasts many of the same high-end features and handling exotica, as well as a tough, weather-sealed construction, but costs less than half the price to buy. It's ideal for tight head shots in portraiture, as well as for sports and wildlife photography, and any time you want medium telephoto reach with a fast aperture for isolating the main subject with a tight depth of field, or for freezing motion under low lighting conditions.
Specifications
Mount: Sony E (FE)
Full frame: Yes
Image stabilization: No
Autofocus: Yes
Lens construction: 13 elements in 11 groups
Angle of view: 18.9 degrees
Diaphragm blades: 11
Minimum aperture: f/22
Minimum focusing distance: 0.69m
Maximum magnification ratio: 0.24x
Filter size: 82mm
Dimensions: 93x130mm
Weight: 772g
Key features
Autofocus accuracy is critical, given the very shallow depth of field that this lens can achieve. As such, it features a linear stepping motor which is both fast and virtually silent. It works particularly well with Sony's eye-tracking AF mode in portraiture, and is also consistently accurate for still life and other types of photography. The lens also features Samyang's Astro-Focus Mode complete with LED Index for accurate infinity focusing at night.

Although not a macro lens, the Samyang has a short minimum focus distance of 0.69m which delivers a generous 0.24x magnification factor. The optical layout includes a U-ASP (Ultra-precision Aspherical) element, three ED (Extra-low Dispersion) elements and two HR (High Refractive index) elements.
Build and handling
Build quality is very good, with a robust and weather-sealed construction. Handling exotica includes a focus hold button that can be customized to perform other functions, like the selection of Eye-detection AF where featured in the host camera. There's also a dual-mode 'Custom' switch that enables you to use the focus ring for alternative functions like stepless aperture control, when in autofocus mode. You can set this up using Samyang's optional Lens Station.

Another handling refinement is the autofocus range limiter, which can lock out either the long and short ends of the range. For a fast telephoto lens, the Samyang is fairly compact, lightweight and easily manageable, measuring 93x130mm with an 82mm filter thread and weighing 772g.
Performance
Although sharpness is very impressive, the quality of bokeh is arguably a bigger plus point in terms of image quality. It's beautifully smooth when shooting wide-open at f/1.8 and remains excellent when stopping down a little. The 11-blade aperture diaphragm ensures that bokeh disks, formed by defocused bright spots, remain very well rounded.

As well as being super-fast for stills, the autofocus system enables smooth focus transitions for video capture, along with negligible focus breathing. All in all, the Samyang performs brilliantly well in all aspects of performance and image quality.
Sample images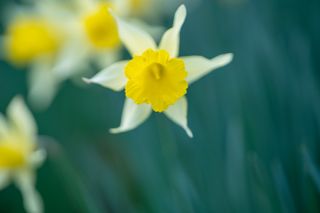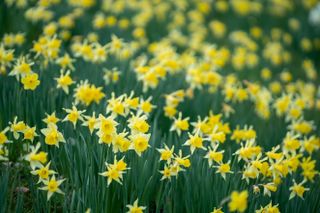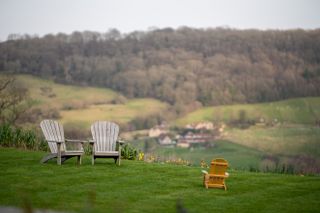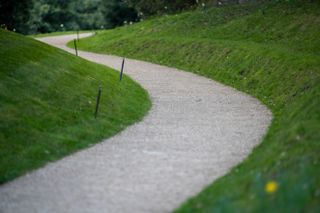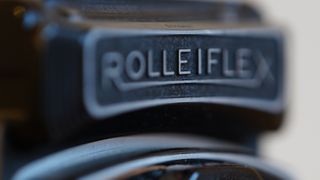 Lab results
We run a range of lab tests under controlled conditions, using the Imatest Master testing suite. Photos of test charts are taken across the range of apertures and zooms (where available), then analyzed for sharpness, distortion and chromatic aberrations.

We use Imatest SFR (spatial frequency response) charts and analysis software to plot lens resolution at the center of the image frame, corners and mid-point distances, across the range of aperture settings and, with zoom lenses, at four different focal lengths. The tests also measure distortion and color fringing (chromatic aberration).
Sharpness: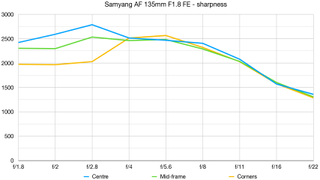 Sharpness is spectacular right accross the image frame, even wide open at f/1.8. And by f/4 the lens has incredibly consistent sharpness from the centre to the corners - a very rare and impressive result.
Fringing: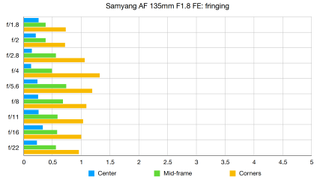 Lateral chromatic aberration in the corners of frame is just enough to be noticable in some scenarios, but it's nothing distracting.
Distortion: 0.32
There's a trace of pincushion distortion, but you wouldn't notice any in real world shooting.
Verdict
With its 135mm focal length and fast f/1.8 aperture, this Samyang is perfect portrait lens for tight head shots. It's sharp and crisp where you need detail, and the quality of its bokeh is lusciously soft and dreamy. Moreover, its fast autofocus system works brilliantly well with the eye-detection and tracking systems in Sony's E-mount mirrorless full-frame cameras, ensuring excellent shot-to-shot consistency.
Read more:
• Best camera lenses to get
• Best Canon lenses
• Best Nikon lenses
• Best Sony lenses