The Pentax ME Super is a vintage film camera that today is not on many people's radars. Pentax made some of the best film cameras of the era, and the Pentax K1000 is celebrated as the go-to camera for learning photography due to its incredible longevity and simple design, but many of its other cameras are overlooked.
Pentax is not really a brand name with the same cool factor as Leica or Contax, but maybe it has not just had its celebrity moment yet, so get in now while you can still pick these cameras up for a low price.
The Pentax ME Super was produced between 1978 and 1984, as a replacement for the original Pentax ME, adding manual controls, or the 'Super' to the original ME's aperture priority-only setup. While the ME Super lacks the professional features found on Pentax's higher priced Pentax MX, these 'pro' upgrades like depth-of-field preview and aperture viewfinder indicators are easy enough to get by without.
Today on the second-hand market it is easy to cheap to pick up an ME Super body, or additional bodies for spares and repairs. Pentax K-mount lenses are also plentiful and won't break the bank to expand your shooting opportunities.
Pentax ME Super Specifications
Lens mount: Pentax K mount
Recording medium: 135 film
Focus: Manual Focus
Exposure/metering: Aperture priority, Manual
Flash: Hot shoe
Shutter speeds: 4 – 1/2000s
Dimensions: 131.5 × 83 × 49.5 mm
Weight: 460 g (1.01 lb)
Pentax ME Super Features
The Pentax ME Super has a manually selectable shutter speed, ranging from 4 to 1/2000 of a second, it is controlled by up and down buttons on the right-hand side of the camera, or can be put into aperture priority mode, and the camera metering will decide on the appropriate shutter speed based on the manually selected aperture on the lens and the available light. The selected shutter speed is displayed with LED lights in the viewfinder. The aperture is controlled manually on compatible K-mount lenses.
A clever feature of this quite electronically controlled camera is that in the case of battery failure, the camera can still be operated manually using a 1/125 shutter speed, so in a pinch (and with a light meter or a lot of experience), you can keep on shooting until you find new batteries.
Speaking of batteries, the ME Super takes two LR44 batteries, which are still cheap and readily available today, so you don't have to worry about the camera becoming obsolete any time soon.
The camera has a 0.95x viewfinder, covering 92% of the field, and uses a TTL (through the lens) center-weighted metering system to calculate exposure. The ME Super can be used with film rated 12 through to 1600 ISO, the ISO can be manually selected.
Pentax ME Super Build & Handling
The ME Super has a mixed metal and imitation leather build, and is available in black or silver, although silver appears to be the much more common color available today. The build quality is very good, and the camera is very light, but it feels very solid and like it could take a bit of rough treatment. Some of the dials are not the most secure feeling, the lift and twist function of the ISO dial feels very unsteady, and some of the right-hand dials and buttons are cheap-looking plastic, which lets down the otherwise very nice aesthetics.
The lens slap is not obtrusively loud but does make a satisfying confirmatory sound. The buttons are nicely spaced and dampened, with the wind level easy to quickly whip back if you need to get more shots quickly.
The viewfinder is fantastic, it is really large, light, and clear, this is one of the easiest and most pleasurable 35mm cameras I have ever focused on. The LED indicators for the shutter speeds are really bright and easy to see, even in strong daylight, and manually going through them is a breeze, although this might take a while to get used to for those who are used to lots of dials on their cameras rather than buttons.
Pentax ME Super Performance
The Pentax ME Super is a really fun camera to shoot with. I personally prefer aperture priority over shutter priority shooting, so I am right at home with using this camera. The camera reads situations very well and the auto exposure is spot on every time, which is impressive for a 40-year-old camera.
The camera is still incredibly responsive after all this time, manually changing between aperture values provides instantaneous changes to the auto determined shutter speed, and in manual mode, switching between shutter speeds is lighting fast. Also, while the camera has a mode for if you run out of power, I wouldn't worry about it, as the batteries in this camera last months and months on end, I regret my purchase of a multipack of spare batteries.
This is not a full lens review, but the photos that come out of the camera are excellent using the SMC Pentax-M 50mm f/1.7 lens (probably the most common lens on the second hand market). The sharpness, colour and contrast are fantastic, Pentax's lenses are renowned for their quality, and it is definitely worth exploring the myriad of options available.
Pentax ME Super Sample images
Below are sample images shot using the Pentax ME Super and a mix of 35mm film types including Kodak Portra 400 and Kodak Gold 200.
Pentax ME Super Verdict
Pentax really made the perfect camera for almost any shooter with the ME Super. With intuitive and easy to use full manual control, and a huge selection of excellent Pentax K-mount lenses, the most seasoned shooters can have creative freedom. Or for those who are learning photography, or don't want the hassle of full manual control, the simple and effective aperture priority mode will mean anyone can get out and start shooting quickly.
With features like a decent (for the time) 1/2000 of a second shutter speed, ISO speeds of up to 1600, a big beautiful viewfinder, and a build that will just keep on going, this camera is fantastic. Get one before someone cooler than me decides to make it popular!
Where to buy the Pentax ME Super
There are a few things to be wary of when buying an old camera, check that mechanically it is in working condition – the wind lever turns smoothly, the aperture rings are not stuck and the light meter is functioning. Ask to see images of the lens and eyepiece to check for fungus damage, as this is very hard to repair.
You may always need to do minor repairs on any old camera no matter the condition unless it has been serviced or refurbished before the sale. Common jobs include replacing crumbling light seals or lubing internal mechanisms that have dried out.
Check out the latest deals for eBay in the US or the UK below!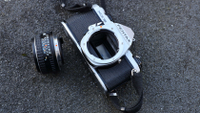 Find the Pentax ME Super on eBay US
You can usually find good copies of the Pentax ME Super for around $100 on eBay. As a bonus, these usually come with a lens thrown in so you can get shooting right away. There are a few issues with the camera, sometimes the wind lever gets jammed or the mirror stuck up, so be sure to ask about these issues.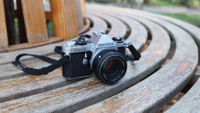 Find the Pentax ME Super on eBay UK
You can usually find good copies of the Pentax ME Super for under £100 on eBay. As a bonus, these usually come with a lens thrown in so you can get shooting right away. There are a few issues with the camera, sometimes the wind lever gets jammed or the mirror stuck up, so be sure to ask about these issues.
---
Love shooting film? You might also like the best darkroom equipment, the best film scanners and the best Lomography cameras.