Pentax K-1 II lab tests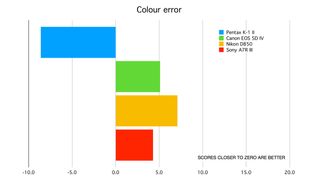 Colour error
We tested the Pentax K-1 Mark II against three key rivals: the Canon EOS 5D Mark IV, Nikon D850 and Sony A7R III. In our colour error test it returned a negative error, indicating slight undersaturation, but most users of full-frame cameras like this will be shooting Raw files and making their own colour adjustments.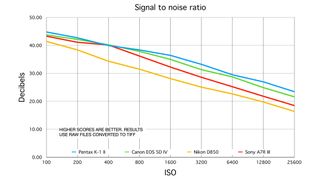 Signal-to-noise ratio
The new accelerator unit certainly seems to work. It narrowly beats the EOS 5D Mark IV across most of the ISO range for noise, and leaves the D850 and A7R III trailing. It's only at the highest settings (ISO 51,200 and beyond) that the quality becomes unacceptable.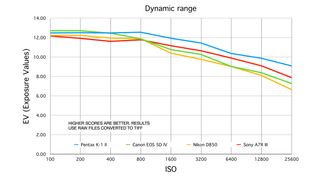 Dynamic range
The dynamic range figures from the camera are even more impressive, easing ahead of its rivals from medium ISO settings onwards – and that's without the added effect of the optional Shadow and Highlight correction modes.