In 2018 Nikon broke the optical zoom record for a superzoom camera with its 125x Coolpix P1000. Now we've got the Nikon P950, which slots in just below the P1000 in the company's superzoom camera hierarchy and replaces the P900. The P950 boasts an 83x optical zoom range, equivalent to 24-2000mm in full-frame camera terms.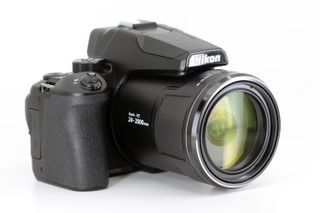 Specifications
Sensor: 16.0MP 1/2.3-inch CMOS
Image processor: Expeed (unspecified)
AF: Contrast detect
ISO range: 100 to 6400
Viewfinder: 0.39-inch, 2359k-dot OLED
Metering modes: Matrix, center-weighted, spot
Video: 4K UHD up to 30fps, 1080p FullHD up to 60fps
LCD: 3.2-inch vari-angle touchscreen,921k dots
Lens: 83x optical zoom, 4.3-357mm (24-200mm equiv.), f/2.8-6.5
Connectivity: Wi-Fi, Bluetooth 4.1, Bluetooth LE, USB Micro, Micro HDMI
Size: 140.2 x 109.6 x 149.8 mm
Weight: 1005g (with battery and SD card)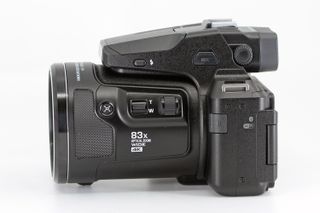 Key features
Headline specs include an 83x optical zoom range - identical to the outgoing P900. This gives a 35mm-equivalent focal range of 24-2000mm, so you can shoot everything from a close-up group shot, through to craters on the moon, with a single lens. Nikon's Dynamic Fine Zoom extends the reach to a whopping 166x, though with inevitable image quality reduction from digital zoom. The lens also gets Nikon's Dual Detect Optical Vibration Reduction, which is essential if you're to get sharp shots when shooting at extremely long focal lengths.
The P950 packs a 16MP 1/2.3-inch sensor with a sensitivity range of ISO 100-6400. As far as we can tell, it's identical to the sensor inside the P1000. Like the P1000, the P950 can also shoot 4K UHD video at 30 frames per second, and 1080p Full HD at 60fps - the latter being the max video res of the outgoing P900.
Other improvements over the P900 aside from the addition of 4K video include a larger 0.39-inch electronic viewfinder (compared to the 0.2-inch EVF in the P900), RAW images are now supported, and there's now a hot shoe on top of the camera. This is particularly useful as it enables compatibility with Nikon's DF-M1 Dot Sight attachment. With such a long zoom lens, it's easy to loose track of fleeting subjects like birds, but a Dot Sight makes it much easier to follow moving objects.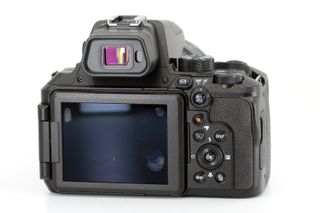 Build and handling
At first glace you'd be forgiven for thinking the P950 was a DSLR camera, such is its bulk and exterior design. However, the camera and lens are a single fixed unit and cannot be separated. Though the P950 is slightly bigger than the P900 at 140.2 x 109.6 x 149.8mm, it's appreciably smaller the seriously hefty P1000, and also lighter at 1005g. But even this size and weight is still significantly more than a DSLR like Nikon's D5600 equipped with a 18-55mm kit lens.
Build quality is on par with an entry-level camera like the D3500 DSLR, though there's a greater sense of 'hollowness' to parts of the body like the pop-up flash housing and lens barrel. That said - no part of the plastic shell flexes or generally feels weak to the touch.
The sheer size of the camera makes it feel secure in the hand, with sizable front and rear gripping points, and the ergonomics are further helped by good-sized and well-spaced controls. These are, however, more similar to what you'd find on a budget Coolpix compact camera, so don't expect dedicated controls for functions like white balance or ISO sensitivity. There is at least a useful control wheel above the thumb rest, and a handy multi-function vertical wheel on the lens barrel which by default adjusts exposure compensation.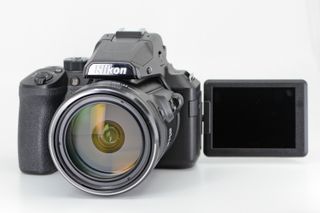 The 3.2-inch, 921K-dot vari-angle LCD monitor is carried over from the P1000 and is a handy upgrade on the 3-inch monitor found on the P900. Its flip-forward hinge makes selfies a doddle, and it gives an accurate preview of colour and contrast. The only slight bugbear is with most smartphones now having Retina-effect screens which effectively make the boundaries between pixels invisible, you can spot individual pixels on the P950's screen when viewing at a typical distance, making it appear a little low res next to a phone.
We've got no complaints with the P950's electronic viewfinder, though. This has been upgraded from the 0.2-inch, 921k-dot LCD EVF found in the P900, and the P950 gets a 0.39-inch, 2359k-dot OLED unit. The size and resolution increase makes the EVF genuinely useful in the P950, whereas you'd need to be a big fan of squinting to find the P900's EVF any use.
With so much optical zoom on tap, it can be tricky to find the right focal length to frame your subject. Fortunately the P950 has several zoom controls: the zoom ring around the shutter button is the fastest way to zoom in and out, but when you need to make a more subtle focal length tweak, there's a rocker switch on the lens barrel that moves the zoom more slowly. Alternatively, just in front of the this is Nikon's Snap-Back button: press and hold this and the lens zooms out from its current focal length while retaining an outline indicating your previous framing. Once you've relocated your subject back into this frame, release the Snap-Back button and the lens automatically zooms back in.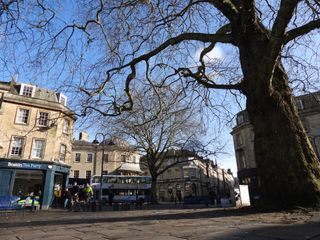 Performance
The P950 is an enjoyable camera to use thanks to its fast autofocus, which only slows a fraction when shooting in low light. While it is bigger than an entry-level APS-C DSLR with a modest lens, it's not ridiculously bloated like the P1000 and doesn't attract as much attention as a result. The zoom range is also more manageable, and we never had any reason to want more than 83x optical zoom, rendering the 125x reach of the P1000 more of a bragging right than an actual necessity.
Nikon's Vibration Reduction system does a superb job of ironing out camera shake, even when zoomed in to the max. You'd still need to give it a helping - stable - hand, but take care and you should be able to get consistently sharp shots in decent light when zoomed in.
Here's how the P950's zoom range looks in a series of shots of the same scene taken at various focal lengths from maximum wide angle through to full optical zoom (equivalent to 2000mm!):
However, while the P950 handles and performs well, you may not be quite so impressed once you get home and review your shots. Though this is a big camera and one which commands a fairly hefty price, at its heart is only a small 1/2.3-inch sensor, the likes of which you'd expect to find in a budget Coolpix pocket compact camera. It is, to all intents and purposes, the same sensor as in the P1000, and we weren't exactly bowled over by that camera's image quality. While the physical sensor size is comparable to an image sensor in a current camera phone, the P950 doesn't pack anything like as much image processing trickery as a top-end camera phone, and consequently its images are mediocre at best.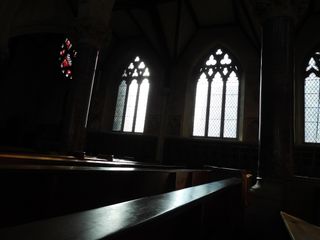 Dynamic range is particularly poor now we're used to the pixel-perfect auto HDR results from modern camera phones. Expect the P950 to blow some highlights, yet shadows are still dark and murky in high-contrast scenes. Colours also lack vibrancy, which combined with the lackluster contrast makes images look bland an uninspiring.
At least wide-angle sharpness is good across the image frame, and impressively the P950 still retains good sharpness and detail when zoomed in to around 1000mm-equivalent. Only at full zoom do images look noticeably softer, but the performance still isn't bad given this extreme focal length.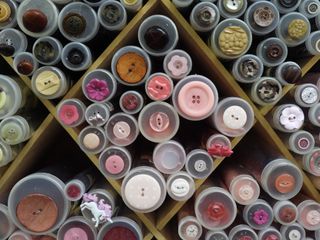 Low light image quality is adequate but nothing special. Noise is kept at bay pretty well up to ISO 3200, but largely due to aggressive noise reduction processing which also smears fine detail, though not to an extent where images look unsightly and painterly.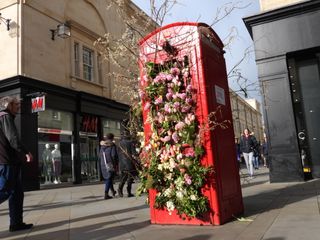 Verdict
You can't have everything in one camera. If you want the best possible image quality, you'll need a large sensor and a prime lens. Whereas if you need a huge telephoto zoom reach, and don't fancy dropping a five-figure sum on an exotic and unwieldy paparazzi-grade lens, a superzoom camera like the P950 is your next best bet. However, to get this much zoom reach in such a handy package inevitably requires a small sensor, and with that comes compromised image quality.
It's this portability and zoom reach versus image quality trade-off that you'll need to seriously consider if you're deciding whether or not to buy a P950. While this is a camera that's capable of getting your closer to a distant subject than almost any other camera can, this is also its only selling point. Strip away the colossal zoom and the P950 performs much like a basic point-and-shoot camera, and one which even a mid-range camera phone will thrash in terms of image quality.
Factor the P950's $797/£799 price tag and you'll really need to have zoom reach at the top of your priority list, far above all other features, for the P950 to be worth the outlay.
Read more:
The best bridge camera: ultra-zoom cameras for far off subjects
The best superzoom lenses for Canon cameras