Everyone's vlogging on their phones, but no-one knows how to capture decent audio or light the scene. At least, that's what Movo thinks, and it's not alone. Hot on the heels of the Shure MV88+ smartphone microphone kit, the all-in-one Movo Sevenoak SmartCine promises to upgrade audio and a whole lot more with a selection of lenses and lighting on a portable rig that's compatible with iOS and Android devices.
Is this a mobile filmmaking production studio for camera phones, or merely a jumble of accessories better purchased separately … or not at all?
Movo Sevenoak SmartCine: design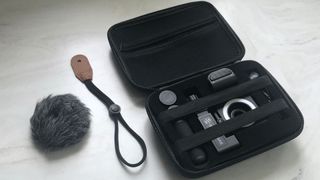 Arriving in a good quality zipped-up canvas-style carry case with a foam inlay that keeps everything separate, the kit contains a phone rig that takes Android phones and iPhones complete with a built-in stereo microphone (with a +10dB PAD switch for increasing sensitivity and a low cut filter for ignoring low frequency din in the background), a 'ring' LED light (whose 36 separate LEDs muster 46 Lumens for four hours, rechargeable via micro USB), and both wide-angle (0.45x) and fish-eye (180º field of view) lenses.
Movo Sevenoak SmartCine: setup
The grip itself can take smartphones between 56mm to 96mm/2.2-inch to 3.8-inch wide, which it safely hosts thanks to a double-lock mechanism. In practice it fits almost every phone; an iPhone 7 worked fine, and even stupidly huge phones like the 7.2-inch Huawei Mate 20 X 5G fit in with 10mm to spare. Just don't expect an iPad mini to fit. The real issue isn't the size of the phone you want to use, but where its designers put its camera(s).
There's an adjustable viewfinder to align the lens mount, which then locks into place via two thumbscrews, but it's just not exact enough for lining-up precisely to the screw-on lenses. It also blocks the other lenses on a phone, which if you have a 'quad camera' phone, is a lot to sacrifice in terms of creativity. What's the point on attaching a wide-angle lens if your phone already has a wide-angle lens? It's just extra glass.
There's an adjustable (but tiny) grip handle that's rubberized and soft, and a wrist strap to keep everything secure if you drop it. That's important because the entire rig can feel quite heavy; it all weighs 291g as well as the weight of a phone.
The microphone sends its results to a phone via a 3.5mm audio cable, so phones without 3.5mm jacks will need an adaptor cable at hand for attaching to an Android phone's USB-C slot or an iPhone's Apple Lightning slot, depending on the models. Happily, there's a universal 1/4-inch tripod thread on the bottom of the grip handle for stable pieces to camera (or selfie sticks). For vloggers and filmmakers, that's essential.
Movo Sevenoak SmartCine: performance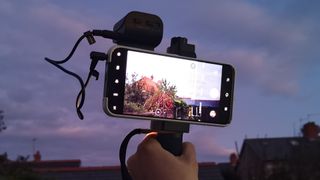 Although it's supposed to be an all-in-one solution, it's the built-in microphone that will attract potential buyers because that's the most troublesome part of filmmaking with a phone, whose own built-in microphones are routinely terrible. We tested the regular version of the Movo Sevenoak SmartCine, which came with an integrated condenser mic with a 90º pickup pattern (though there is also supposed to be a wireless version featuring Lavalier mic that clips-on to a lapel). The Movo Sevenoak SmartCine is best used with a pair of headphones on so the user can monitor the sound coming through the mic. There's a toggle for enabling that 10dB gain on the audio it's recording.
The audio results are fabulous and make the Movo Sevenoak SmartCine a worthy accessory on its own, though optically it proves itself a little more limited. Its LED light ring has three brightness settings, though none have much reach, so it's best used only for close-up pieces to camera. So for vloggers and reporters looking for a portable rig to cope with pieces to camera in all kinds of conditions, it works really well. Less impressive are the lenses, particularly the fisheye, which we had trouble focusing while using.
Movo Sevenoak SmartCine: conclusion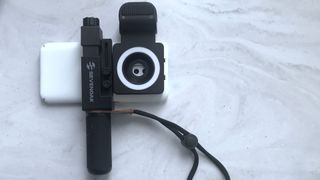 Smartphones aren't the future of vlogging and independent budget filmmaking, they're the present. Which makes devices like this hugely on-trend. However, while the Movo Sevenoak SmartCine is excellent value and definitely makes videography easier in some ways, it's tricky to use the wide-angle lenses supplied. However, if you want a simple rig for vlogging – particularly stationary close-ups, interviews and news-style reporting pieces to camera – the Movo Sevenoak SmartCine is well worth auditioning for its built-in close-up lighting and excellent mic.
Read more:
• The best microphone for vlogging and filmmaking
• The best gimbals for your iPhone, GoPro and camera
• The best 4K camera for filmmaking in 2019
• 12 best cameras for vlogging in 2019
• The best laptop for video editing