As good as smartphones are, when you're watching grainy, phone footage shot in poor lighting, coupled with scratchy, pitchy audio, it's an unpleasant reminder that you didn't use a 'real camera'. Manufacturers like Huawei are doing their bit to address the low-light issue with phones like the P30 Pro, but what about sound quality? Shure's on the case with its MV88+, a $249/£199 external microphone that wants to put an end to anaemic sounding smartphone audio.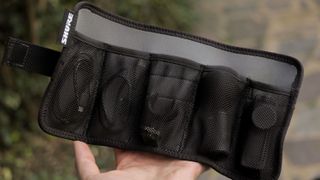 What's in the box?
Starting with what you get with the mic, it's rare that a manufacturer includes a suite of accessories in the box – but that's exactly what Shure's done with the MV88+ Video Kit. Naturally, the microphone is the highlight, but there's also a wind guard too, two cables – Lightning and USB-C, and a shoe mount to fix the microphone to, as well as a tripod mountable clamp for your smartphone.
Everything we've mentioned so far fits in a roll-up, neoprene style case that's also included in the box, as too is a Manfrotto Pixi mini tripod.
Shure MV88+ : Design and build
That's an excellent start, but what about the microphone? It's pocketable, solid and simple to navigate your way around. There's no power button or battery to swap out, it draws its power from your smartphone, so you don't have to charge another accessory – another win for Shure.
Around the back is a 3.5mm jack so you can hear live levels as you're recording, which is especially handy for singers, and next to the headphone jack is a micro USB port which connects the MV88+ to your smartphone or tablet.
Shure MV88+ : Setting it up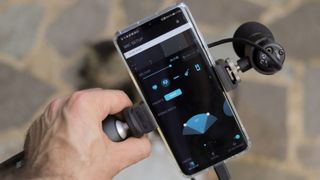 Shure has a companion Android and iOS app called Shure Motiv. It's easy to find in the Play Store or App Store, and is quick to install. There's no lengthy set-up process to pair your microphone either - once the app is on your device it's very much a case of plug and play.
When it first launched, the MV88+ was a much more versatile bit of kit if you had an iPhone or an iPad. With iOS, the default camera app can record video, coupled with audio from Shure's microphone – and there's a very good chance it'll sound great.
Android phones won't all give you the same assurance. That said, since we first got our review sample, it didn't work with the Huawei P30 Pro's native video app, and now it does. In addition, the Pixel 3 produced inconsistent levels which have also been ironed out.
Shure has also launched the Motiv Video app in Beta since the MV88+ was announced, enabling video and audio recording simultaneously for devices that have yet to support the MV88+ in its native video app. That said, the video quality of content shot on the app paled in comparison to that shot on phone's default video recording app, specifically when it came to image stabilization, so if you're using it, take advantage of the tripod included in the pack.
Shure Motiv app and audio quality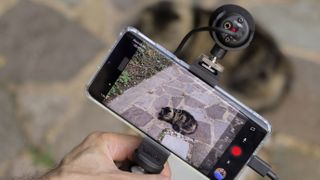 Shure's Motiv app, however, is what we'll focus on in this review as it focuses solely on audio recording, and taps into the MV88+'s capabilities virtually identically across iOS and Android. Within it, you can control a range of sound settings and manage recordings directly.
When recording in a loud environment, for example, directional recording as narrow as 60 degrees can lock onto a presenter or vlogger's voice. It won't isolate vocals as well as a lapel mic, but it will capture a rich sound, discernible articulation and a healthy dose of ambience too – we tested it by a busy main road and while it didn't blow us away, results were really respectable. If you want to a bit more range, you can grab a full 135 degrees, or grab bidirectional audio, ideal for interviews.
One area the MV88+ wipes the floor with smartphone mics is wind handling. A couple of smartphones we tested alongside it crumbled in a windy environment, distorting sound horrifically, while the MV88+ coped much better – the wind was audible, but there was no clipping or robotic distortion.
In a quiet environment, the recording quality is significantly fuller than that of smartphone mics, with much more depth and resonance. It won't stack up to that of a studio mic for professional voice-overs or the like, but for YouTube audio and podcasts, it's more than up to the task.
The app also features a limiter toggle for environments with a lot of volume variability, as well as compressor and a high-pass filter options too.
The customizable five-band EQ gives you scope to tune the nuances of the mic's highs and lows in the recording phase nicely, and the option to swap left and right channels is handy too, potentially saving the need to edit sound in post-production.
As for the sound recording component of the app, it's simple enough and saves recordings as WAV files, featuring an option to add bookmarks to your recordings as you go, rounding off the app nicely.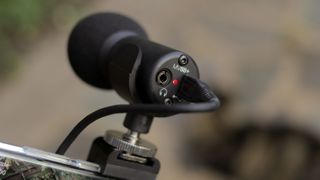 Shure MV88+ : Verdict
Ultimately, the Shure MV88+ does what it's supposed to do and it does it well. If you're an iPhone user, you can pick one up with 100% confidence. The Android experience has also improved tenfold since we first got our hands on the microphone, and we can confirm it works with flagships like the Huawei P30 Pro and Samsung Galaxy S10. The mic also comes with a suite of accessories that help you get the most out of it, and in turn, while it isn't cheap, it still represents good value.
Read more:
The best microphone for vlogging and filmmaking
The best 4K camera for filmmaking
12 best cameras for vlogging
The best laptop for video editing