As the digital photography revolution got going in earnest some 20 years ago, the emerging Lomography took a different tack, reinventing and to an extent resurrecting the film camera as a low cost novelty. Defiantly analogue, it perversely stood out when everyone else was 'going digital'.
Instead of seeking perfection in pixels, its pocket money priced cameras were all about willingly embracing their imperfections. Light bleed, fuzzy focus, vignetting and dodgy colors were seemingly all part of the charm, as were camera designs that harked back to classic looks, or were garishly rendered in brightly coloured plastic. Because of this it built up a fan-base among photographers who were not only willing to go against the grain, but accept the appearance of visible film grain, dust spots and worse – something digital photography had sought to banish.
With a younger crowd as well as an older generation now discovering or re-discovering film, prompted by the old-school effects now to be found via smartphone filters, fashion may just have ticked back around in Lomography's favour. Seems timely then to focus on its wonderfully named analogue-only product the Sprocket Rocket, a panoramic camera shooting on 35mm format film.
It's so named because it exposures the image across the full height of a frame of 35mm film, including and extending past the sprocket holes, those small rectangular perforations used to guide the film out of its canister, through the camera and back again. Sounds typically wacky, right? Well, read on to find out how it pans out in practice.
Specifications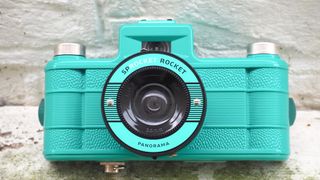 Lens: 30mm fixed, with choice of f/10.8 or f/16 apertures
Film type: 35mm
Viewfinder: Optical
Dimensions: 3x6x3.3-inches approx.
Weight: 215g
Key Features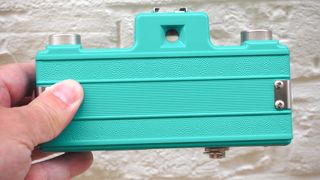 We were sent the camera for review in a lovely sea green/ teal colour, but our UK representative tells us this particular hue has been discontinued, which is a shame. Fortunately, alternative colours are available.
The Lomography Sprocket Rocket is very much set up for daytime use. There are two settings just above the lens, accessed via a metal lever, with 'N' denoting its Normal setting of 1/100-sec capture speed and 'B' indicating Bulb mode, intended for longer exposures with use of a tripod. In the latter mode the camera's shutter remains open for as long as we hold down its release lever. A screw thread is provided at the base of the camera for anyone wishing to try out longer exposures, but Normal setting is the better option for everyday handheld snapping.
Beneath the 30mm lens there is a further manually operated metal lever for swapping between the camera's aperture settings, which are simply sunny at f/16 or cloudy at f/10.8. We were advised to keep the setting on cloudy, as, with a glance at those apertures, it's obvious the camera will work at its best with lots of available light and preferably a roll of ISO400 film loaded. Should we wish to go further there's even a vacant hotshoe for use of a flashgun – which isn't provided – atop the Sprocket Rocket.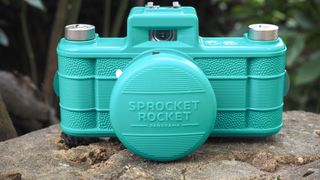 In terms of focusing, we just have two zone focusing options. A twist of its lens ring either arrives at its closest shooting setting of 0.6 to 1 metre, or alternatively one metre to infinity, the latter preferable for the sort of landscape shots we may be considering this camera for.
Then it's a question of flicking the shutter release, located to the right of the lens if viewing the camera from the back, or to the left if viewing it front-on. This makes a satisfying 'slap' to indicate the shutter firing. On a couple of occasions when we didn't hear this noise, we noticed the lever that swaps between Normal and Bulb mode had been accidentally nudged somewhere between the two settings.
We get a stated 17 or 18 shots per roll of inserted 120 roll film, depending on how competently we've wound it on, or haven't. As the camera is essentially exposing the width of two frames of 35mm film to produce a single 1:3 aspect ratio panoramic image, we don't get the regular 36 exposures one might initially expect. As there's the ability to manually wind and rewind, the possibility is also here for creative double exposures, or overlapping shots – something that can happen unintentionally if we've forgot to wind on the film from the previous exposure, or simply haven't wound the film on far enough.
After a couple of decades of increasingly sophisticated digital camera use, the Sprocket Rocket comes across as very bare bones by comparison. It has the potential to both charm and frustrate us in equal measure.
Build & handling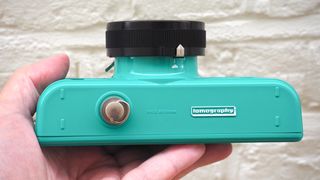 The Chinese made Sprocket Rocket's construction is mainly plastic with a few metal accessories – chiefly its controls. That said it manages to feel reasonably robust when held in the hand, with little in the way of give to its frame. After 25 years of shooting digitally, we had to remind ourselves of the basics of loading a roll of film, however, making sure it's been taken up by the internal sprockets and winding it on before we can take our first shot.
With the back of the camera held on by a pair of metal clips and its plastic seal not appearing uniformly light tight, we weren't overly confident that our exposures wouldn't suffer from light bleed. Other reviewers have also complained of the metal clips / clamps catching something accidentally and the camera back inadvertently being pulled off, thereby losing several exposures. Carrying it in our bag, we took to winding an elastic band around the body, just so the back wouldn't unintentionally spring off. Alternatively a piece of strong tape could be used.
While the camera body is plastic, so too are the optics, but we can't grumble too much about that given the camera's price point. Best view this as a tool for fun and experimentation with film photography, rather than producing the sharpest pictures possible. While the camera overall looks a little bulky compared to a regular 35mm snapshot, the plastic construction at least ensures the Sprocket Rocket remains relatively lightweight and portable with it.
Performance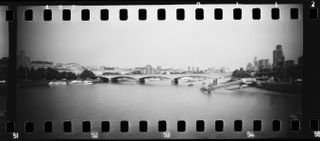 We had a roll of Lomography's ISO400 'Lady Grey' monochromatic film to use with our Sprocket Rocket review sample. As noted in our intro, the difference between shooting with a standard 35mm camera and the Sprocket Rocket however is that this device exposes literally right into the sprockets of our film roll, so we get those little telltale rectangles at the top and bottom of our images, further highlighting the fact that these aren't images from a digital camera.
Obviously the panoramic shooting ratio provided by this camera makes it perfect for group shots and landscapes – with the view through the plastic viewfinder giving a rough indication of what we'll get, rather than being faithfully precise.
Slightly confusingly at first, the shot indicator atop the camera jumps from exposure number one to a dot indicator, then on to shot number three. So it was only when we'd advanced to the third shot we realised we'd missed out shooting a possible second frame. In short, every second frame is denoted by a dot, rather than showing a number. Once we'd realised this, it ceased to be an issue, but it did throw us at first, especially as there is no hard stop each time we advance a frame, as even a throwaway film camera provides.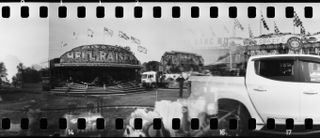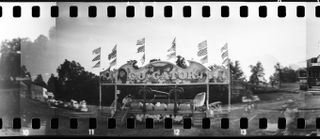 Because a panoramic image takes up the width of two frames of 35mm film, we also felt we were winding on further than we needed to at first, compared with shooting on a standard 35mm camera. Again it's a simple case of familiarization, as well as embracing any mistakes. It's also wise to manually advance the film after each time we take a shot, as it's easy to forget whether we've wound the film on or not when retrieving the camera after a period of inactivity.
When we've come to the end of the film and it's time to rewind it into the canister and send for developing; we could have done with an extra little crank on the side of the top dial marked 'wind', to speed up the process, which felt like it took ages. If you're into mindfulness or simply want to enjoy photography at a slower pace we guess this process could be quite meditative, however.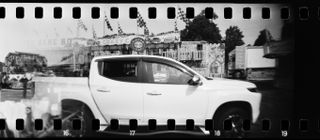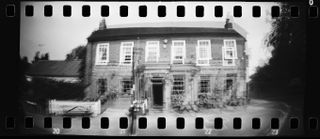 While typically images from this camera are reasonably sharp in the centre despite the cheap plastic lens, to nitpick there's visible fall-off and vignetting towards the edges. Imperfection is part of the character and charm of most Lomography products however, and it's all about going for something 'different', so it would be churlish to be too judgmental. If we know we're buying a toy camera at the outset and prefer a unique look rather than a perfect one, then we aren't going to be massively surprised when we get toy camera like results.
Verdict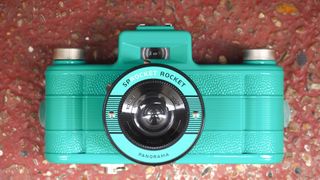 If you can get over the impatience and inconvenience of having to get the roll of film processed before you can see the results – as well as needing to find a lab who can cope with a different format – or simply want to try a slower and more considered photographic approach, then the retro Sprocket Rocket comes up trumps. The accent here is on photographic fun and experimentation for an almost pocket money outlay, though, as advised, lots of light and a roll of ISO400 35mm film is required to get the best out of it. Its uniqueness, slightly wacky functionality and imperfect results are all part of the Lomography Sprocket Rocket's appeal however, and at this price it's surely worth a punt.
You might also like...
If you like the idea of either re-discovering or getting freshly into shooting film, and don't want to simply track down a second-hand film camera or SLR, then Lomography has a plethora of toy-like or even more sophisticated alternatives to the Sprocket Rocket that let you go as wild as you want in terms of experimentation and seeking a unique look. There are different models for differing film types too, not just regular 35mm; for example its Diana F+ camera shoots rolls of 120 film. The results from these cameras all require developing however, so if you hate to wait, also check out the Fujifilm Instax range of instant cameras. These popular glorified toys are likewise available at pocket money prices.
Read more:
Best film cameras
Best 35mm film
Best Lomography cameras