The Google Pixel 7 Pro flew to the top of our best camera phones list when it launched because of its fantastic value and powerful camera system, but for 2023, the Pixel 8 Pro's main selling point seems to be software.
Marketing for the new Pixel 8 series has focused on tools like its Magic Editor and Best Take rather than camera resolution or zoom, and a glance at the specs puts the Pixel 8 Pro behind the best from Apple or Samsung when it comes to gaming power.
The most impressive thing about the Pixel 8 Pro looks set to be future-proofing. It will get seven years of software updates, according to Google. iPhones typically receive six years of software support, while Android phones get four years or less.
The 8 Pro also brings back the Pixel line's traditionally superb imaging capabilities and a triple camera setup with a wide, ultra-wide, and telephoto camera. But do software and futureproofing really sell phones, and can its smarts argue away the Pixel 8 Pro's sub-flagship power?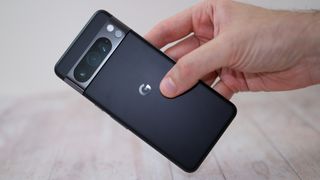 Google Pixel 8 Pro: Design
From the back, the Pixel 8 Pro looks a lot like the 7 Pro. It has that visor-style camera bump, but in-hand and from the front, it sports a different look and feel.
The glass around the back of the 8 Pro is frosted, so it doesn't cling to fingerprints as readily as the glossy glass of past Pixels, especially in its darker color options. It also has a flat screen versus the curved display of the Pixel 6 Pro and 7 Pro.
Packing premium appeal, the Pixel 8 Pro feels great with its polished, stark metal frame that's curved for a comfortable hold. The phone has all the usual ports and buttons: a USB-C port at the base, power and volume buttons, and a SIM card tray.
While the Google Pixel 8 Pro has some weight to it at 213g, it's still lighter than the 234g Samsung Galaxy S23 Ultra and the 221g iPhone 15 Pro Max. Durability matches the key competition, with Gorilla Glass Victus 2 on the front and back and IP68 dust and water resistance.
Available in three colors: Obsidian (pictured in this review), Porcelain, and Bay, Google's kept things a bit more muted for 2023 when compared to past-gen pixels.
Google Pixel 8 Pro: Screen
The big 6.7-inch screen on the Pixel 8 Pro is a key upgrade when compared to the 7 Pro in one key area: brightness. While we quite liked the 7 Pro's screen, if you live somewhere sunny, its viewability couldn't stack up to the best Galaxys and iPhones. With a through-the-roof peak brightness of 2400 nits, the Pixel 8 Pro addresses that and is easy to use even in direct sunlight.
With a 20:9 aspect ratio, the 8 Pro packs a tal display, and with a 1344 x 2992 resolution, it's sharp with 489 pixels in every inch of screen. That's a little crisper than an iPhone 15 Pro Max, and a little less crisp than a Galaxy S23 Ultra – but all three phone displays look fantastic in the flesh.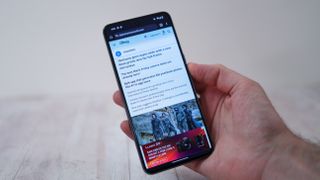 The screen credentials check a lot of boxes out of the gate, with 24-bit color depth and HDR10 support, though no Dolby Vision. Blacks and dark colors look deep and inky, while highlights sing with saturation and punch. If it's all a bit much, you can dial the colors down with a Natural display profile for a more sRGB-style look.
The Pixel 8 Pro brings back a 120Hz display for a smooth scrolling experience, and you can drop this to 60Hz to save a bit of power.
The fact the 8 Pro's screen is flat and not curved like other premium Android phones is neither here nor there for us. Yes, it makes the whole phone feel a bit chunkier, but it also makes the entire display area a little more usable. The overriding takehome regarding the screen: we found responsiveness and quality to be where it needs to be.
Google Pixel 8 Pro: Camera specs
Google has become the safe bet camera phone maker. Whichever phone you pick up, from the cheap and cheerful Google Pixel 7a to the pricey Pixel Fold, point, shoot, and your picture will reliably be good enough. Don't get us wrong, Pixels are also known for shots that aren't particularly croppable, and its camera hasn't had a pro mode for manual control, holding the line back.
For the Pixel 8 Pro, everything changes. Google's introduced a full-resolution 50MP capture option for unbinned JPG and RAW shots, grabbing loads of extra detail, as well as a powerful new Pro mode.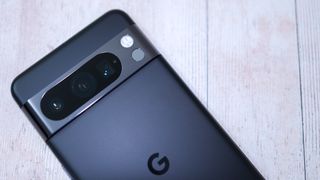 Starting with camera specs, there are three rear cameras on the Pixel 8 Pro and one front camera:
Wide camera: 50MP resolution with 1.2-micron pixels, an f/1.68 aperture lens with an 82° field of view, and a 1/1.31" image sensor size.
Ultra-wide camera: 48MP resolution with 0.8-micron pixels, an f/1.95 aperture lens with autofocus, and a 125.5° field of view. While the sensor size is unconfirmed, based on the 0.8-micron pixels, it should be a 1/2" sensor – competitive for an ultra-wide camera.
Telephoto camera: 48MP resolution with 0.7-micron pixels, an f/2.8 aperture lens with a 21.8° field of view, equivalent to a 5x optical zoom, and a roughly 120mm focal length.
Front camera: 10.5MP resolution with 1.22 μm pixels, an f/2.2 aperture lens with auto-focus, and a 95° ultra-wide field of view.
This all translates to a competent camera mix that's very comparable to the iPhone 15 Pro Max's setup, though with higher-resolution secondary sensors than the iPhone, there's potentially more scope for detail in bright environments.
As for shooting modes, the new Pro mode, pictured above, adds long-awaited manual controls to the Pixel mix. The phone also captures RAW photos and high-resolution JPG and RAW photos from all three cameras and brings back Google favorites like Night Sight, Astrophotography, Portrait Mode, and more.
The Pixel 8 Pro captures videos at up to 4K resolution, 60fps. While there are no standout shooting modes, the phone introduces Audio Eraser to the line, which is effectively retrospective noise canceling to help vocals pull through while suppressing other sounds. This works with any video, even if it isn't captured on the Pixel 8 Pro, and does a great job.
Google Pixel 8 Pro: Magic Editor
Smart AI and AI-like features are peppered throughout the whole Pixel 8 experience. Live transcriptions of voice notes and videos, Google Assistant call-screening, and even battery management are tuned based on your specific needs with machine learning algorithms. But the aspect of AI that Google's pushing the hardest in its marketing is photography, or more specifically, photo editing.
Open a photo on the Pixel 8 – it doesn't have to have been taken on the phone – tap Edit, followed by the Magic Editor icon in the bottom left corner of the UI, and once your photo is backed up to Google's cloud, the reality distortion begins.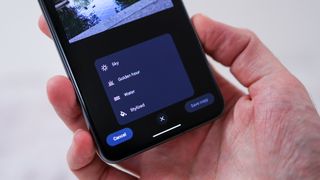 Depending on what's in your shot, you can access portrait optimizations, totally swap out the sky for a different one, generate some heavily stylized options, or apply a Golden Hour filter. Each time you generate a new set of images, you have four options to pick from, and if none fit the bill, you can keep generating another four until one does.
If your photo has an object in it, draw around it with your finger to select it, then move it around the frame at will. Generative AI will fill in the background behind the moved object or, using the same smarts, it can erase objects altogether.
Google Pixel 8 Pro: Camera review
In some shots, a strange camera bug has been rearing its head on our Pixel 8 Pro. It introduces bizarre artifacts. See the photo below; taken in a backlit, relatively bright room, we wouldn't expect these kinds of results from a flagship.

This only seems to happen at 12MP resolution for us, suggesting it's down to binning and computational photography, and Google is reportedly working on a fix that might have already rolled out.

Even without a fix, owing to how infrequently we encountered this issue, it doesn't hold the camera experience back too much but is definitely worth noting.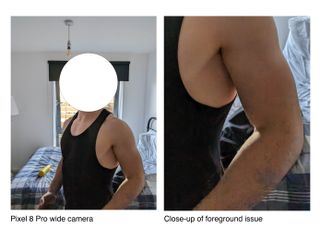 The three photos below illustrate what you can expect from the three optical focal lengths. These were all captured at 12MP, so they benefit from all Google's computational smarts, and each one balances all the elements nicely. Foreground shadow detail in the buildings retains texture, while the central subject and sky look inviting and warm.
The Pixel has a wider set of optical focal lengths than the iPhone, so it doesn't reach quite as far despite both phones packing roughly 5x zoom equivalent tele lenses.
If you're wondering how the 8 Pro's zoom stacks up, the answer is: very well indeed. Below are four shots, wide, telephoto, and two digital zoom photos at roughly 10x and 25x zoom. When you go past the 5x optical reach, sharpening does creep in as resolved detail falls off, however, the Pixel 8 Pro is still a powerful zoomer.
Like the iPhone 15 Pro Max, Google's flagship struggles just before the telephoto camera kicks in, so results can start to crumble between the 3-4.9x range (roughly 65mm-110mm).
While the Pixel 8 Pro doesn't have a telemacro periscope camera like the fantastic Huawei P60 Pro, it's periscope is better than the iPhone at capturing relatively nearby photos. With a nearest focus-distance of under a meter, you won't need to rely solely on the wide camera for high-impact close-up shots with natural depth.
The ultra-wide camera is also a powerful macro tool, and when the sun's out, does a fantastic job of high-impact close-up shots.
When you flick on high-resolution capture, all three cameras snap large files with loads of croppable detail. This is game-changing for any photographers who have loved Google's Pixel line, until they come to crop into shots.
As you can see below, there's an abundance of resolved detail, specifically when taking photos in bright environments. Google hasn't compromised on overall picture quality; contrast is pleasingly high, and saturation is on the balanced side of vibrant.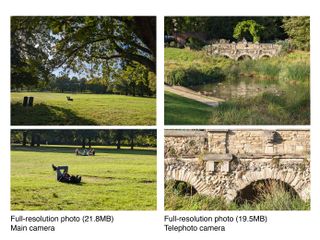 Take the phone indoors and Night Sight automatically kicks in to great effect. The phone seems to know what your subject probably is, and gives it a helping hand at standing out, while managing noise well without losing too much detail.
The front camera benefits from Google's impressive portrait mode and autofocus, though its photos aren't as rich in detail as those of the rear camera mix. This is especially true in low light, with indoor selfies seeing some noise creep in. On the plus, selfies are flattering without looking overly beautified.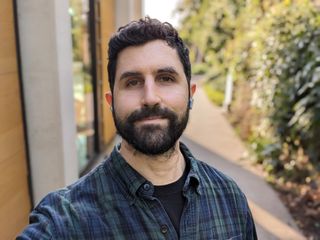 As for video, Google's upped its game in a big way this year. The front camera captures 60fps 4K footage, and it looks great in bright scenes, stabilized at up to max resolution, and the rear cameras do an even better job. While editors will still prefer ProRes capture on the iPhone 15 Pro and 15 Pro Max, casual creatives will really enjoy the picture and audio the Pixel 8 Pro records.
Google Pixel 8 Pro: Additional features
Running with a Tensor G3 chip, Google's latest smartphone processor, the Pixel 8 Pro is powerful and clever, but won't deliver the gaming phone grunt you might expect when paying its asking price. It also starts with just 128GB storage, which feels very dated in 2023 for a high-end flagship, especially considering the phone misses out on an SD card slot.
Plenty of highlights are exclusive to the Pixel line: Google's most pure Android experience, filled with charming visuals and excellent performance, a VPN at no extra cost, loads of security features, and a best-in-class software update promise.
Google says it will support the Pixel for a staggering seven years, so while it's launching with Android 14 in 2023, we can expect the final update to drop in 2030.
There's an under-display fingerprint scanner, and the phone supports face unlock, too, so it's quick and easy to fire it up securely.
With stereo speakers, audio from the 8 Pro is loud, though it isn't as deep as that of the iPhone 15 Pro Max or ROG Phone 7. On the plus, the Pixel 8 Pro does support Spatial Audio when paired with compatible buds or headphones.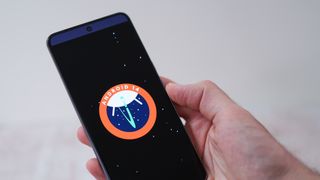 Interestingly, there's also a thermometer on the back of the Pixel 8 Pro. We're not sure what it's doing on the phone, but it's here, and it works.
A large 5050mAh battery ensured that unless we were hammering the phone with max-resolution Genshin Impact gaming and loads of camera use, we easily got through a full day on a single charge.
While the Pixel 8 Pro only charges at 30W, which is relatively slow for a 2023 flagship, it does pack wireless charging. Whichever way you want to power it up, the charger is sold separately, with box contents including a cable, a USB-C to USB-A converter, a SIM eject tool, and the phone itself.
Google Pixel 8 Pro: Verdict
The Pixel 8 Pro delivers a refined experience and it's also a great camera phone. With the higher price compared to the 7 Pro come higher expectations, and for the most part, Google meets them.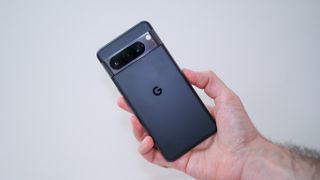 There are a few things we'd have liked Google to do differently. 128GB is too little storage for a phone of the Pixel 8 Pro's price. If you're considering buying one, we would suggest going for the 256GB option if you plan on using it for a year or more, taking loads of photos or videos, and installing many apps and games.
The camera gremlins that crept in occasionally also threw us. But as the performance was so good most of the time, we are willing to give the 8 Pro and Google the benefit of the doubt, and anticipate this will be fixed. The entire imaging experience is improved versus the 7 Pro and is one of the best available on a smartphone right now, a fact that stops the processing issue from being a deal-breaker.
Other than those grumbles, though, the Pixel 8 Pro won us over, and is without a doubt the Pixel to buy if you're a keen photographer, with the Pro mode and high-resolution capture changing the game and unlocking a new level of cropping for the line.
If you're thinking about a Pixel but don't want to spend 8 Pro prices, read our guide to the best Google Pixel phones, and if you're happy to look further afield, check out some of the best camera phones of 2023.